We always want to keep our computers safe and clean. For this, we delete %temp% files, recent files in a regular way. It is also helpful for our privacy. I always exercise with these files and keep my system neat and clean as well as private. If anyone wants to peep into my PC, cannot succeed.
To clean history and recent files in Windows 8, you will have to make a change in PC Settings. Here tips for cleaning Search History is being provided. Follow the steps below and Change your PC Settings.
Managing Windows 8 Search History
First Step
Press Windows logo key + C shortcut on your Keyboard.
Now select Settings option at the bottom of Charms Bar in right panel.
In the setting tab, Click on this option – Change PC settings at the bottom.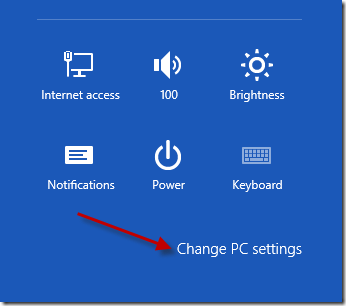 You get new window like More PC settings before the screen.
Second Step
You have to choose Search option in left panel at the PC settings window.
 Now click on option Delete history. It will erase the entire search history of your Windows 8 computer.

Third step
If you want to disable or delete search history tracker from Windows 8 computer, move your mouse cursor to change settings by dragging as on to off in this option – Let windows save my…………… suggestions.
Now Delete history option will be hidden after disabling the history tracker.
The search history will be removed automatically.
4. If you like to make anything private, go down to Use these apps to search and switch the bar from on to off in front of every application.