The commonly and regularly running programs or items stamp their data on jump lists on the taskbar and Start Menu on Windows 10. But the Jump Lists become overcrowded after a certain period of time as it piles up all the active items. So, in this article, we will pen down the steps of How to Delete Jump Lists Data at a Time in Windows 10.
The Windows 10 OS does not provide an easy option to clear off the Jump Lists of all items at a time. Though it offers you an option to remove a specific item from the Jump Lists. When you open a Jump Lists of any program either in Taskbar or Start Menu, you can view plenty of lately used items. And when you do a right-click on each item, "Remove from this list" option is observable. It is definitely a tiresome task to remove each and every item from all the Jump Lists of so many programs.
Hence, we found a way out applying which the Jump Lists of all the programs will get cleared off at a time. So, let us now get into the steps for How to Delete Jump Lists Data at a time in Windows 10 however you could clear it separately one by one via its Context menu but not in a lump sum.
Note: The below procedure deletes the Jump Lists data of all the items at a time whereas it also removes the items that are pinned under Jump Lists.
How to Delete Jump Lists Data at a Time in Windows 10
There are two hidden locations in File Explorer that store the history of the Jump Lists.
Navigate to these two mentioned places on your File Explorer. If unable to locate it, copy these paths one at a time and paste them on File Explorer –


%APPDATA%\Microsoft\Windows\Recent\AutomaticDestinations

%APPDATA%\Microsoft\Windows\Recent\CustomDestinations

After getting into the location, a series of files with long and complex names is observable. The reason is they all are encoded. The entries represent the items of Jump Lists.
Select all the entries of both the locations using Ctrl and A keys.
Press the Delete key and remove all of them in a single click.
Now, view the Jump Lists of programs on the taskbar and Start Menu and see the data to be cleared completely.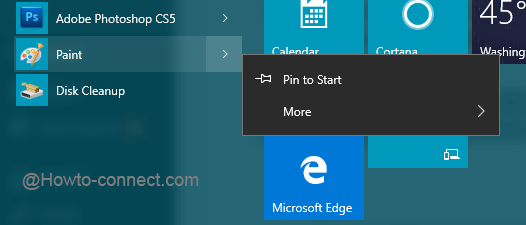 If you don't want the taskbar and Start Menu programs to show the Jump Lists, there is an option under the Personalization settings which can turn it off. Just travel through
Start Menu => Settings => Personalization => Start.
The opposite area of the Start exhibits many options with sliders where Show recently opened items in Jump Lists on Start or the taskbar is one of them. With the aid of its slider, toggle off the option, and then onwards Jump Lists will not exhibit you the lately viewed items. Just give it a shot and share your views if this process works well for you.