Delhi Police has launched android app recently. The people who own Android phones, tablets can now lodge lost report of an article or document without any hassle using their phones. But if you are a beginner or non techie guy you might have faced problem in doing the same. Downloading the android app from play store, installing, opening the app, filling up blank spaces and submitting are  the steps stipulated to lodge lost report. After you lodge lost report you get a LR No. for your further use. Here we are writing tips to use Delhi Police Lost Report android app to Lodge report.
How to get Certificates Online in Delhi – Birth, Marriage, Income, Caste
How to Get a New Electricity Connection From BSES Delhi
How to Pay online Bill of MTNL Delhi and Mumbai
How to Lodge Document Lost Report Delhi Police Lost Report Android App on Phone
1. Start with downloading the app by Clicking on this link: Delhi Police Lost Report Android App.
2. You reach the Google Play store where this app exists. Click on INSTALL button.
3. A pop up opens to accept terms and conditions. Click on ACCEPT.
After download is finished it will be automatically installed on your phone.
4. Tap on the app icon in your phone to open the application.
5. You find the homepage. Here you need to write your Name, Mobile Number and your Email ID. Click on Submit after filling up the blank boxes.
6. In the next page you find Terms of Use Page. Tap on Agree. If you tap on Disagree the application will get closed and you will need to open it again.
7. A page opens where you have to choose your option. If you have lodged your lost report earlier and want to get copy of the report click on retrieve. If you want query click on FAQs. But here you are lodging lost report so click on Register.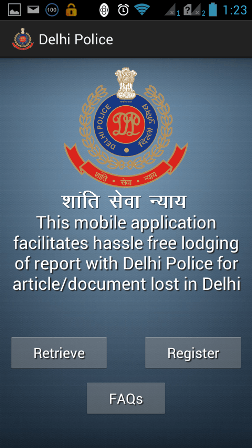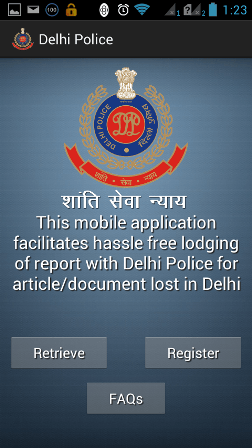 7. You find an application form for filling up full detail. Fill up the Form with exact information. In the last box you need to write how and where your document or article lost. Click on Register.
8. You will get confirmation page. Click on Save. But before you click, write LR No. (Lost Report number) on a safe place so that you can utilize it again.
Your report is saved and registered. On a page you could read full information of your lost report.
If you want to get a copy of earlier report from Delhi police Lost  Report application tap on Retrieve.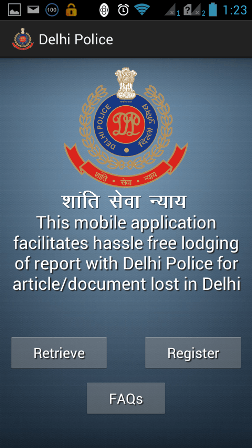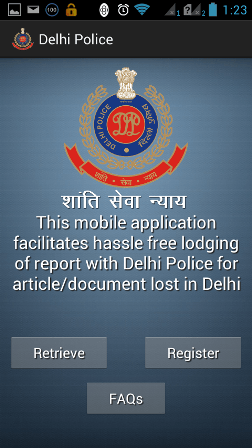 To download your lost report click on Download And View.
Download your report.
Taking help of latest technology Delhi Police has made a great enhancement. With this application Delhi Police has hunted two words with a stone. At one side people will get a very useful tool to avoid pain which they usually got in running to police station and the other police will be free from a crowd which gathered to lodge lost report. Delhi police can use his free employees in more important works.
Important Points regarding Delhi Police Lost Report Android App
You can lodge a report for only document or article, but not  for a criminal or any type of cases.
If you are getting trouble you may also visit the SCRB, Delhi Police, Delhi at 011-23237006.
False report is punishable.
You can lodge your report using Android 2.2 and above.
Delhi Police Lost Report is a free application.
Internet connection is must to use this application. With a fast speed internet connection you can do it in faster way.
There is no need to login.
You report will be sent to the Email ID you have written.
You have to click + button if you want to add another report.