Delhi  Traffic Police Android App helps people in Delhi to Know Traffic situation on Different roads in Different Areas, Traffic Alerts, Distance between different places and fare of Auto Rickshaw, Taxi, as well as radio cab. This app helps you to Lodge complaints against these vehicle if you face harassment or  misbehave or overcharge from their part, locate of nearest pit if your vehicle is dragged from a non parking zone by Delhi Traffic Police. Besides of these you can in case of urgency you can call to and query from Delhi Traffic Police.
But all these are helpful for them who have android phone and know how to use this app. Here I am presenting tips reading which you can use Delhi Traffic Police Android App in Easy way.
Recommended:
How to use Delhi Police Lost Report Android App on Phone
LICMobile Official Android App – Calculate, Pay Premium
How to use Delhi Traffic Police Mobile Application on Android Phone
1. Click to Download  the app from this link: Delhi  Traffic Police Android App.
2. Tap on INSTALL Button.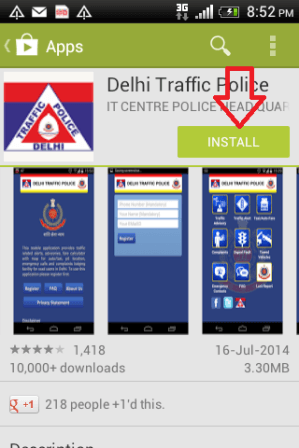 3. You will get a page to accept terms and conditions. Tap on ACCEPT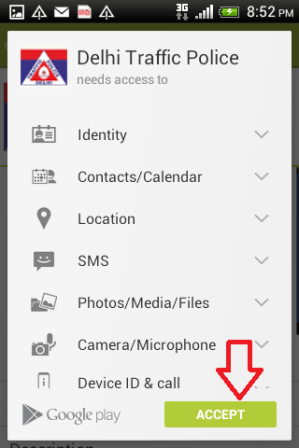 4. After a short while Delhi Traffic Police App will be installed on your phone. Now open your phone and tap on icon like the image below:
5. A page containing Register, FAQ, About US and Privacy Statement will open. At first click on Register button.
6. Write Phone Number, Name and Email ID in the given boxes. You may leave the Email ID box because it is optional. Then click on Register Button.
7. Now you get options page having different buttons like Traffic Advisory, Traffic Alert, Taxi Auto Fare, Complaints, Signal Fault, Towed Vehicle, Emergency Contact, FAQ, Lost Report.
Click on the choice you are needing.
Get Traffic Advisory
Traffic Advisory allow users to know traffic instructions made by Delhi Traffic police on particular occasions in public concern. By clicking on the Traffic Advisory Button you can see long-term and short-term advisory. The advisory informs you to where traffic is closed or restricted by traffic police.
To see Traffic Advisory
Tap on Advisory button.
Know Traffic Alert
Traffic alert is for the purpose of giving people alert for sudden blockages of roads due to different causes like break down, water lodging and more.
To get Traffic Alert
Tap on Traffic Alert Button.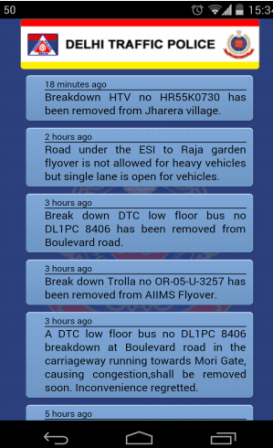 Get Fare calculator and Distance between two Locations
Fare calculator helps you in calculating distance between two stoppages and its fare. This distance is the shortest route distance and approximate fare. If you need to know fare of different vehicles like Auto Rickshaw, Taxi or Radio Taxi you can click the buttons given on this page.
To calculate Fare between two locations
Tap on Fare Calculator Button.
A new page prompts. Write both location's name – journey starting place and destination in the empty boxes at the upper part of the page.
and tap on the vehicle image button whether it is Taxi or Auto Rickshaw or Radio Taxi to select the vehicle.
To know route of your destination click on Show on Map. This will show you map of your route along with traffic congestion on that very route.
Lodge Complaints

Complaint button helps passengers to lodge complaints for misbehave, overcharge, harassment, etc.
To lodge your complaint:
Tap on Complaints button.
An application form displays.
Fill up the form with correct information.
Tap on vehicle image on which you were moving.
Tap on the problem whether it is Overcharging or Harassment and Refusal to Hire.
A complaint Number will be generated or your future reference. Write the number safely.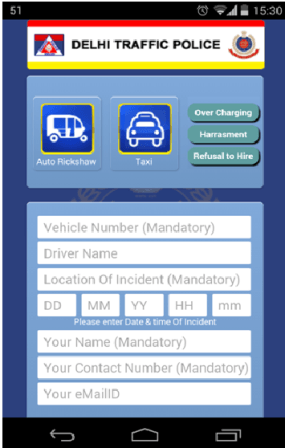 Lodge Complaint for Signal Fault
You can lodge complaint about signal fault. Each signal in New Delhi has its unique number.To lodge complaint of a signal fault in New Delhi you need to
Tap Signal Fault button
Write correct information about defaulted signal and
Click on Submit button.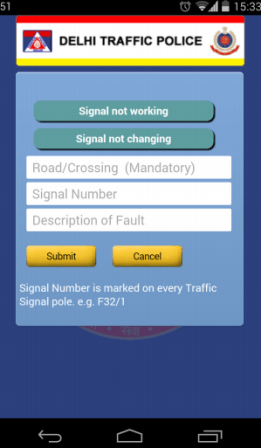 Know Location of Towed Vehicles
Delhi Traffic Police tows the vehicle parked in non parking zone illegally and take it to the nearest pit. If your vehicle is towed away and want to know the location where your vehicle is kept:
Click the button Towed Vehicles and get address and contact number of towed vehicles.
Get Emergency Contact Numbers
Emergency contact avails you the contact numbers you can use in urgency.
You will come to know about frequently asked question after tapping this button.
Lodge Complaint for Lost Report
Lost Report is another application you can use to report your lost document in Delhi. You can Lodge document or article lost report from this link – Document or Article Lost Report in Delhi Police