Design It! is a nice Windows 8 App to Design and makeup beautiful outfits for babies. In this app, you will find 4 babies whom you can make up with your own imaginations and dreams. Sets of stylish and beautiful garments, Hairs, footwear, jewelry, costumes, lipstick, eyeliner stylish clothes are ready to wear the babies. Opt for colors and patterns and Pick up these costumes on your own choice and put on and design for makeover of the babies to show off on Magazine covers, runways, billboards, and BoardStar.
Must Read: Eyes Makeup Salon Android App – Makeup Gaming For Girls
Interface of Design It! windows 8 app is amazingly attractive and Polished. On the homepage you will find Fashion Girls MakeOver! Design It! and 4 beautiful babies Grace, Emily, Isabella and Chloë whom you will adorn for makeover. These babies are well dressed up and blinking their eyes. Charming music running underground is enough to mesmerize. You can choose anyone of them for makeover.
Recommended: Snap Attack Windows 8 App – Play in Word Building Tournament Globally
Baby picture opens the baby bare in two small clothes in a dressing room. In the right side showcase you will find Hair, Necklace, Frock, Blouse, Skirt, Hand gloves, stockings, footwear. Click on the cosmetics one by one. You can scroll showcase by clicking on the arrows at the top and bottom. The second showcase has multiple stylish cosmetics. clicking on your favorite will automatically fit on the appropriate part of the baby's body. For example if you click on Hair many modern hairstyles open in the next showcase. You have to mere a click on your desirous style and it will add up on the head of the baby. In this way, you may make up your baby's every body part.
How to use Design It! Windows 8 App
1. Install Design It! App from the link given at the last of this post. When you launch the App you find dressing room containing 4 beautiful babies like the picture above. Click on your preferred one.
2. You can view a new dressing room comprising the baby picture in pantee and banyan in the right side and different cosmetics in Almirah in the left side.
3. On the right showcase click on Hair Picture and again click on the hairstyle in the Adjacent showcase which you want to fit on your baby's head.
In the same fashion click on Necklace picture on the extreme right showcase and again colors and patterns on your choice in the next almirah to wear the baby any fashionable necklace suitable for the baby.
In the same showcase click on the Frock in the first showcase and then your desired in the next showcase.
Thus spruce up your baby with these cosmetics by clicking the items one by one.
4. When your baby is ready with all the cosmetics click on the Arrow at the bottom right of the dressing room.
5. Now you find your baby in front of the mirror to make up the face. Various cosmetics like eyeliner, Kajal, Lipsticks, eyeshadow earrings are in different showcase which you can use for your baby face. Use these cosmetics one by one and prepare your baby to show off.
6. Finally, click on the bottom right button and choose whether where you want to send your baby for show off. You have to choose from Red Carpet, Magazine, Runway, Board Star.
7. Click any of the four options and the baby you have prepared will reach for show off among photographers. You can save the picture by clicking Save it.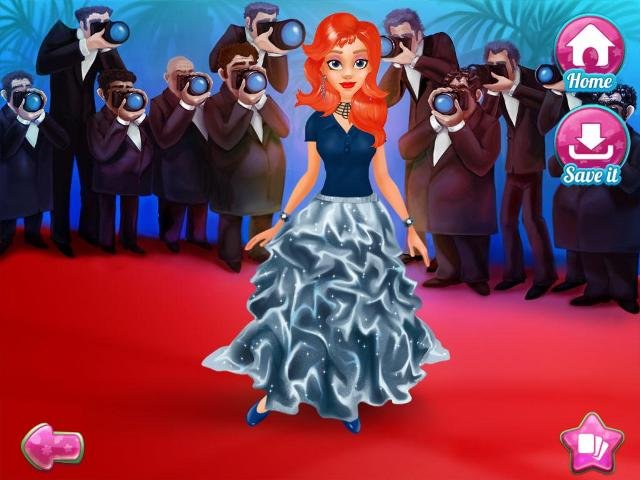 Design It Windows 8 App Features
One of the best baby outfits app on Windows 8.
A lot of awesome clothing items like shirts, skirts, fabulous hairstyles, hand and leg accessories, jewelry like necklace,  mascara, earrings, lipstick, eyeliner.
Easy and simple to apply cosmetics and jewelry.
Free of cost.
Conclusion
Design It! is a simple and best outfits windows 8 app. I personally enjoyed this app so much. Garments included in this app are amazingly pretty and you can use it very smoothly and easily. I hope you will also enjoy Design It!
You can download it from windows store.