Geolocation is a pretty new characteristic which has been added in latest Internet browsers. It allows websites to find your physical location seemingly while you surf on the Internet. Although you don't want to reveal your physical location due to privacy alert. When Geolocation feature is enabled in your browsers, your computer IP address, MAC address and many more information is shared on the Internet through browser including Cookies folders.
Few days ago, I have posted useful posts at my blog about How to clear Cache in Google Chrome and Mozila Firefox?  So a useful tip has been searched in order to how you can disable your Geolocation information from Internet browsers simply?
How to disable Geolocation in Google Chrome browser ?
Start Google chrome browser.  Click on the wrench icon and choose Settings option from drop-down panel.
Now click on Show advanced settings option at the bottom.
From Privacy section, click on Content Settings button.
Then a pop-up box appears. Here scroll down until you get Location section.
Now check the box – not allow any site to track my physical location. At last hit on OK button.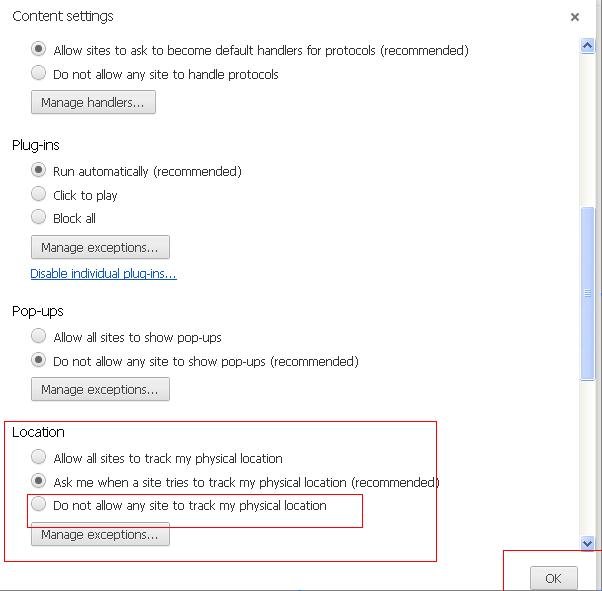 How to disable Geolocation in Opera browser
Firstly start opera browser.
Go to Settings option and click on Preferences option.
Now you get new dialog box.
Next hit on Advanced tab and choose Network option from left drop-down panel.
Now uncheck this box – Enable geolocation.
At last click on OK button.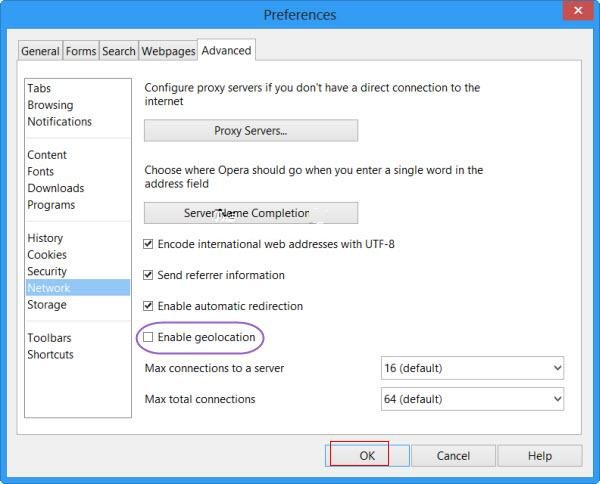 How to disable Geolocation feature in Internet Explorer?
Launch Internet Explorer browser.
Click on Internet options from Tools menu drop-down panel.
Then click on Privacy tab at the top panel.
From Location section you have to uncheck this box – Never allow websites to request your physical location.
Then after click on Clear Sites option to wipe out previous stored sites details about your physical location.
Finally, click on OK and Apply button.
How to Disable Geolocation in Mozilla FireFox browser
Launch Firefox browser.
Click on Tools option and choose Options from menu panel.
Select Privacy tab. From Tracking section, check the box of option – Tell websites I do not want to be tracked
Then click on OK option to apply new settings in Mozilla FireFox.
Remarks-
As soon as you follow above tips in the following Internet browsers, you should clean temporary stored cache files, remove previous browser history details and Cookies.