WebBluetooth and WebUSB are the latest APIs (Application program Interface) that Google Chrome supports. Basically, both the API is designed to allow sites to interact with the devices that are connected to the system in which Chrome is running. For many users, it is a useful feature but sometimes leads to unexpected outcomes. The APIs actually let the phishing attacks to bypass the hardware-based two-factor authentication devices like Yubikey. So, you would like to Disable WebBluetooth in Chrome along with WebUSB.
Security researchers say that these two APIs allow the attacks to penetrate any security that two-factor authentication devices offer. They also claim the WebUSB functionality can be used to interact with the authentication process directly instead of Chrome's designed API (U2F). So, if you never use these APIs, it's best to disable them by installing their respective extensions. It provides an extra bit of security to your browser and device.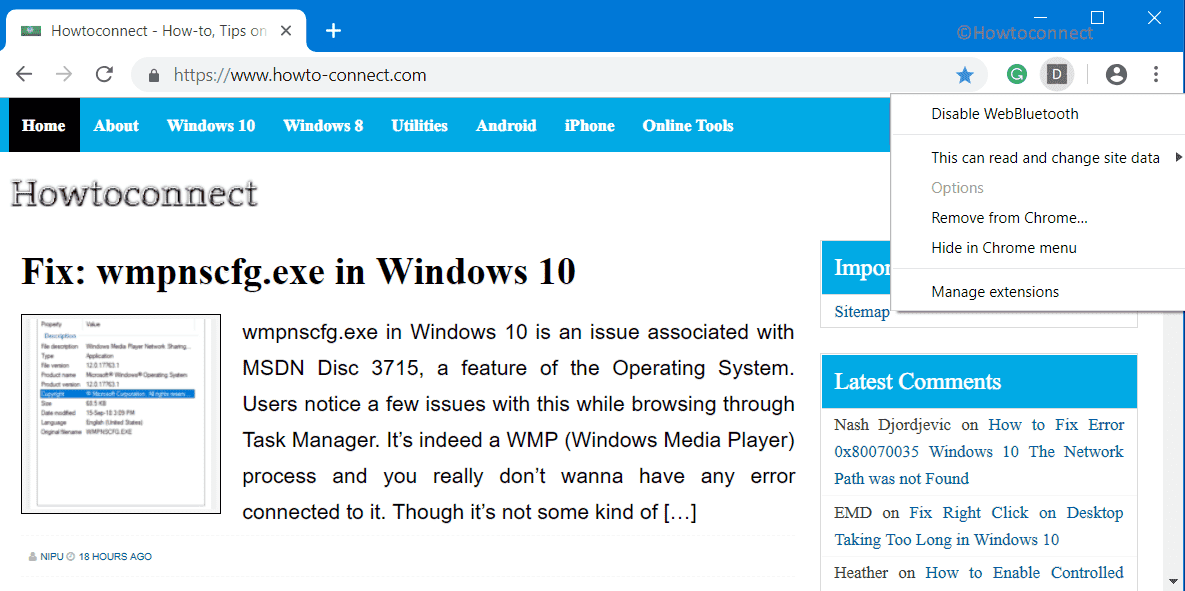 Disable WebBluetooth and WebUSB in Chrome
Google Chrome supports multiple APIs and features. So, when a site makes an attempt to use WebBluetooth and WebUSB, Chrome displays a prompt. You need to allow the request by providing the account's username and password in their selective forms. However, you need to be little attentive towards those prompts that browser displays because they are designed in a way to provide you with a reassurance that such permissions are necessary for operation.
Therefore, to address this issue, you need to install extensions that would Disable WebBluetooth in Chrome as well as Disable WebUSB in Chrome.
Step-1: Launch Google Chrome and click on this link. It will open a new tab of an extension Disable WebBluetooth.
Step-2: Click on Add to Chrome button.
Step-3: A small dialog box will appear asking for your confirmation. Click on Add extension.
Step-4: The browser will notify you about the successful addition of an extension Disable WebBluetooth in Chrome.
Step-5: To Disable WebUSB in Chrome, click on this link. Here also, click the Add to Chrome button.
Step-6: Make a hit on Add extension to install Disable WebUSB in Chrome.
By disabling these functions, the extensions will block the APIs in the browser so that they may not be abused. Moreover, these extensions will block any interaction with these APIs as they do not differentiate between good and bad requests.
Once you install these extensions, they will silently operate in the background and will eventually block all the attempts to use WebBluetooth and WebUSB APIs in Chrome. We are obliged to Ghacks who detailed about these extensions.
That's all!!!