Having awareness of natural phenomena like Weather as well as Timing are things which a lot more want to have. Because these things are helpful for managing own timing subsequently actions.After all Time Management is key to every success. Since early days Human Beings are trying to trace out volatile nature of Weather. After a lot more researching act solution to correct weather prediction pan out.
Currently, Google Chrome has come out with a plan to add the functionality of displaying Time and Date as well as Weather. Displaying facility of these utilities will be available in a new tab of Google Chrome. The fabulous design shows Date, Time, Temperature and Weather Forecast of 4 upcoming days.  Whenever you open a new tab in Google Chrome it will display above mentioned information.
Now, question raise here how can anyone be able to Display Date, Time and Weather in Google Chrome?
How to Display Date, Time and Weather in Google Chrome
Adding these features in new tab of Google Chrome is quite easy. You have to download related weather apps from Chrome web store. As per users concern, I am putting every step related to downloading Apps and applying it for showing Date, Time and Weather.
Type below given web address in URL of your browser https://chrome.google.com/webstore/detail/ojhmphdkpgbibohbnpbfiefkgieacjmh/related
Then after click on to Add to Chrome button at the extreme right of the screen. After this whenever you open new Google chrome tab updates related to Date, Time and Weather will be displayed.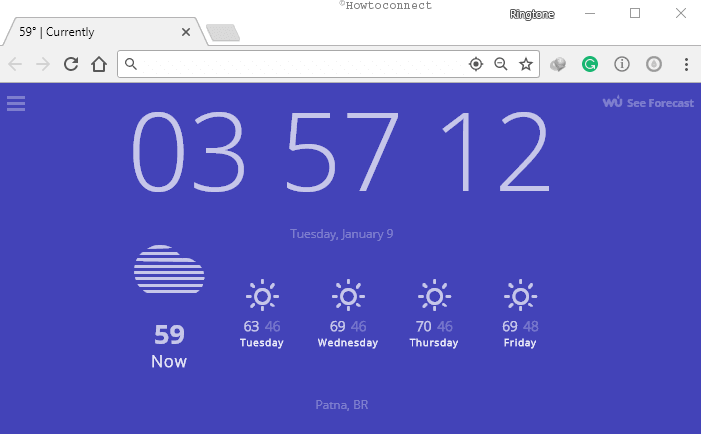 The lower right screen of Weather Apps has button through you may apply settings. Means you may change the mode of timing as well as measuring unit of Temperature.