How to use Windows 8 Camera App step by step – Webcam is used for photography or capturing videos of something and fit in computer or laptop. In recent times, the use of the webcam is in fashion. In windows, 8 a lot of new features have come to light within the app.
These apps, on one side, make tasks easy and then increase clarity and quality on the other side. So, after the evolution of Windows 8, apps for every tool are launched as well as for webcam. Webcam app also supports the use of the webcam and increases photos and video quality. But, here is the question how to use Windows 8 camera app remaining on the same plate? So, we are going to discuss it further.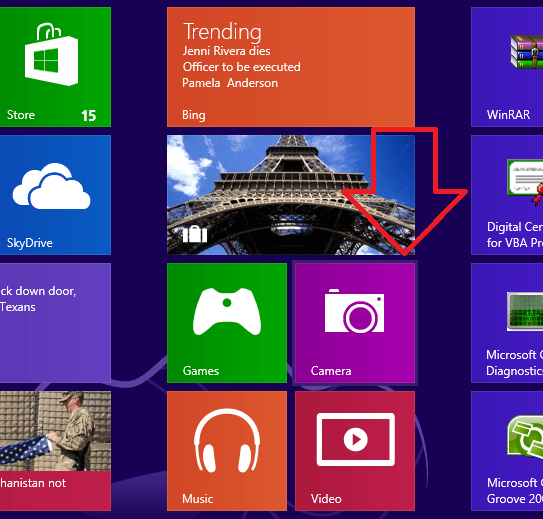 How to use Windows 8 Camera App through webcam in metro screen
When you start the camera app on the metro screen, at first, it will request your authorization to access camera app ahead.
As soon as you click the Allow button.
 Then you get full-screen window through your internal web camera with three following navigation panel options underneath.
1. Camera options
2. Timer 
3. Video mode
Features of Camera options
You click on the camera options button in the navigation panel in the camera app, it brings three alternative options.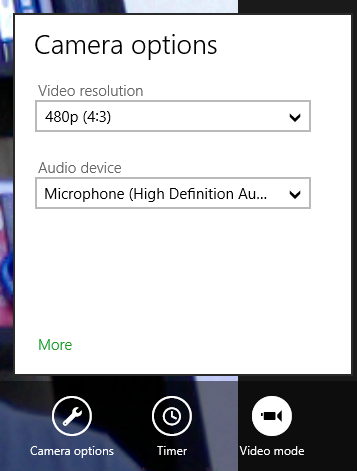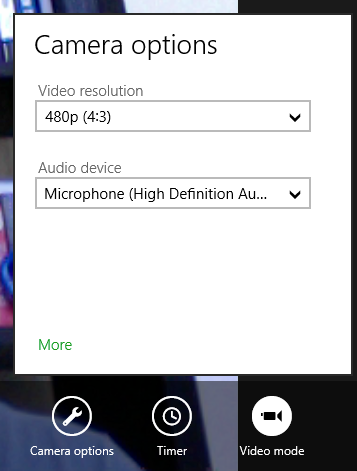 Video Resolution
Actually, it depends on the web camera specifications. Two resolution supported settings are found under the camera app for recording videos or taking pictures.
16:9 (0.9 Megapixel)
4:3 ( 480 Pixel)
Audio device
You can set opted input audio device (microphone) to capture audio during video recording in the camera app.
More options
To use Windows 8 Camera App effectively you need to choose more links from the camera options bottom panel. You get more options tab. This tab is used to change your web camera settings – Brightness, exposure, contrast, focus, and more to insert the superior effect either in photos or videos.
Timer
This button launches a three-second countdown before your web camera captures new photos or video capturing starts.
Video mode
This button permits you to choose either to take snaps or start video recording along with.
How to capture snaps from camera app in Windows 8
Although Windows 8 Metro style camera app has been presented for especially touch screen devices. If you want to grab new pictures from inbuilt web camera through camera app.
Then you have to click on the middle screen. Thus, it will capture snaps and save it automatically in the camera Roll folder under the Pictures folder in Windows 8 documents.

How to capture videos from camera app in Windows 8
Firstly you have to click on the Video mode option from underneath navigation panel.
As soon as you click on the screen it will enable a timer to start capturing video regularly.

Remarks
If you want to stop video capturing at a time then click on the screen.
How to solve This App needs Permission to use the Camera
Sometimes Windows 8 camera App requires changing permission for running. In this condition, Windows 8 will show the error message this app needs permission to use the camera. In this situation, follow the steps to fix carefully:
1. Launch Windows 8 camera.
2. Hit windows Windows + C.
3. At the bottom there is an option Settings. Click on this.
(Note:  Don't launch Charm Search and search for settings, but as you will hit Windows + C, at the bottom part setting option is present. It can also be done with the mouse.)
4. In the upper part, an option Permission is found. Click on that.
5. Slide Webcam and Microphone to Yes for changing permission.
This is OK. Now Your Camera App will start working.
Note: Many users ask the pictures are saved after taking a snap. After taking photos, these are saved in Camera Roll in Picture Folder.