Due to various reasons, some clients are looking to downgrade from Windows 8  pro to the lower version Windows 7 professional. Microsoft has provided with business licenses that come with downgrade rights, but make a note of it is that the rules can be tricky and compliance that could become an issue. There are some rights provided to customers by Microsoft when they are downgrading Windows 8  pro or some other Microsoft software.
The Professional edition of Windows 8 comes with "downgrade rights." So while operating with Windows 8, if you feel uncomfortable you can switch over to or downgrade to Windows 7 – as long as you have Windows 8 Pro.
This is not going to be as easy as it is thought. Microsoft designed this procedure for businesses and users that will have to go through various procedures to downgrade their Windows 8 Pro operating system.
Related Post: How to remove Metro Screen App from Windows 8 to look like windows 7
Microsoft Downgrade Rights for windows vs. Other Ways to Downgrade
Downgrading to Windows 7  would be easier in other situations:
If your PC has Windows 7 and you upgrade it to 8, then you can revert your computer to the Windows 7 that was previously installed, old version of the OS.
If you have a genuine copy of Windows 7 that you are not using, then you can install it on a new computer that came with Windows 8.
How Microsoft Downgrade Rights Work:
Suppose the company buys new computers, that computers come with preloaded Windows 8 OS, and if a company wishes to change its OS from windows 8 to windows 7, here downgrade right works only for client companies. Here, the installation of the previous version of windows can not be done without buying a separate license.
Downgrade Rights can be a bit confusing. Here's how they work:
Obtain genuine Windows with product key for the windows which is eligible to downgrade.
Windows 8 pro-OS is a closed source operating system and the computers with Windows 8 pro are only integrated with downgrade rights. Duplicate copies of Windows 8 Pro do not possess duplicate copies to downgrade rights, so you can't buy the Windows 8 Pro Pack to get downgrade rights.
With this Downgrade rights you can only downgrade to  Windows 7 Professional or Windows Vista Business,  but not Windows XP.
you can reinstall Windows 8 easily even after downgrading.
Some point that should be kept in your mind before downgrading the Windows 8 Pro:-
Suppose you purchase the new computer that came with the new version of Windows 8 and you are getting problem in handling the windows 8, and preferring to go back to windows 7 pro, here there are few things that you should note and apply it:-
First, make sure that the computer is compatible with  Windows 7. Manufacturers may prevent you to use your computer to its full capability, by providing the hardware drivers only for Windows 8. So keep a watch on the Manufacturer's website for Windows 7 drivers for your computer.
Microsoft designed the Windows 8 Pro system that it doesn't qualify for "downgrading" to Windows 7 Professional. while Windows 7 can be upgraded to Windows 8 pro. In general terms, the following note explains how to move from Windows 8 Pro to Windows 7 Professional:1. Back up everything, before installation
How to Downgrade Windows 8
1. Back up everything, before installation
2.UEFI settings screen:-
Using UEFI settings, Suppose you have bought a new computer with Windows 8 installed in it, then you must probably have to give your computer UEFI settings screen data i.e, enable with the legacy boot option, but not the UEFI boot option. For getting more information, refer the computer manual that is provided to you.
2. Here's the tricky part: You need to find a "genuine" copy of Windows 7 Professional:-
First of all, for installing Windows 7,  you need a genuine copy of Windows 7 Professional installation disc and a valid Product key. This copy of windows 7 is neither provided by the Microsoft nor your computer manufacturer will provide this disc or key for you. It should be brought on your own, although Microsoft prompts you to get a legitimate copy instead of downloading one from an illicit or unauthorized website. Downgrade rights are intended for businesses, who will probably have a disc and key in it.
3. Turn off Secure Boot
Once you have brought the disc, insert it into your new computer and restart it into the Windows 7 installer. This installation of Windows 7 Pro is done as you normally do, by providing the legitimate Windows 7 Pro key during the installation process. By making note that you can use this same key to downgrade multiple Windows 8 computers. The only thing is to do is to pass this mandatory key to multiple users during installation process.
After Windows 7 gets installed through the process, the activation gets fail through online because your product key is already in use.  If your computer doesn't prompt with a message "activation failed",  then you can press Start, type Activate and click Activate Windows.  This can be activated through phone. Call the phone number displayed in the activation window and explain that you're exercising your Windows 8 Pro downgrade rights. Have your Windows 8 Pro key ready; you'll need it to prove your PC has downgrade rights.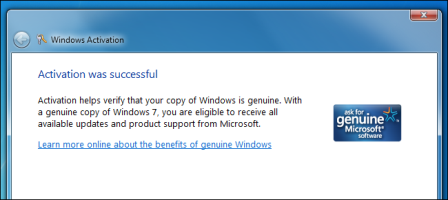 After this call, the manufacturer provides you a long, single-use activation code. Enter that activation code into the window and your Windows 7 Professional installation will be activated.