8StartButton is a newly launched start menu apps for windows 8. It gives an opportunity to replace the Start Screen with extremely customizable features and important control buttons. This app facilitates users to access every installed program, power button and pin the desired programs as tiles within the start menu.
How to access 8 Start Button app?
After finishing the complete installation, 8StartButton asks to reboot the system for better working.
Next 8StartButton app prompts introductory guide with helpful information about entire features.
User will get a white windows colored icon at the left bottom corner of the desktop screen. It is Start button. Click on this icon. It does not launch the start menu by default, but it is possible after configuring manually.
After configuring manually, a radial quick access menu appears along with shortcuts to access some features like start menu, shutdown and many more functions at the same time.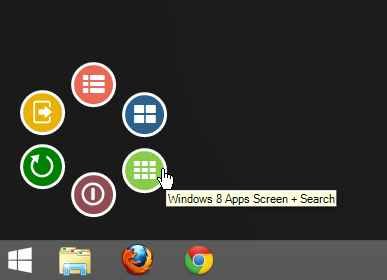 Each of these shortcuts can be added manually to do special functions. To modify the function any of these shortcuts, at first, press right-click on the button and choose preferred function from the obtainable list panel.
With the aim of activating the start menu at any time, after clicking the Start button, a user needs to configure it. To do it, click on start button and go to this option – Left mouse click shows. Next, check the box of 8Start Button Start Menu in right context panel. Here, users can also stop or start the radial quick access menu.
The settings interface of 8 start button app can be launched via right-click to start button icon. Choose settings option.
Note
8StartButton is a paid app, but its trial version works on the Windows 8 version (both 32 bit and 64 bit).
Download 8StartButton link -2 
Download 8StartButton link -3