Presently the Amazon store is a popular online retailer. It offers to shop computer and Internet related products on single place.
The latest offer from Amazon is official Amazon Windows 8 app that is free of cost. The app contains simple Modern interface with vast product category. After installing this Windows 8 users don't need to browse the Amazon website in external web browser. If you have already an Amazon account, immediately sign in it and explore preferred products as well as make shops openly with the app.
How to Install Amazon app from Windows Store?
To Install Amazon app, Go to Windows Store and type keyword " Amazon" in the search charm box right panel.
Next, you get search results pages of store and choose Amazon option.
From app's description page, choose Install button to start the download.
 Install Amazon app from Windows Store
How to access Amazon app on windows 8?
The app interface does not look attractive than other windows 8 apps like Skype or ESPN. The main screen has been designed with amazon logo at the top-left panel and search box.
Under the recommendations section, you may check out top rated products between the amazon customers. In order to buy any product, firstly you need to sign in with your Amazon account.
If you feel difficult to search your most wanted product then best option for you to choose catalogs from app screen. Otherwise, type the preferred product name on search box and press enter button. Similar to Amazon Web version, all search results are shown as titles with listed products.
Once any product is selected within app, you get product's description page pops as another tab. Here you can view complete reviews, specifications, prices and other information. Choose Add to Cart option if you make your mind up to add it to your shopping cart.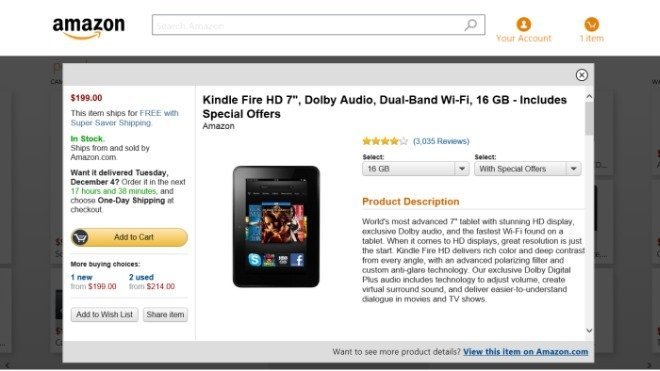 Next, choose the Processed to checkout option. Here you can add or cancel product orders any time before choose the processed to checkout option.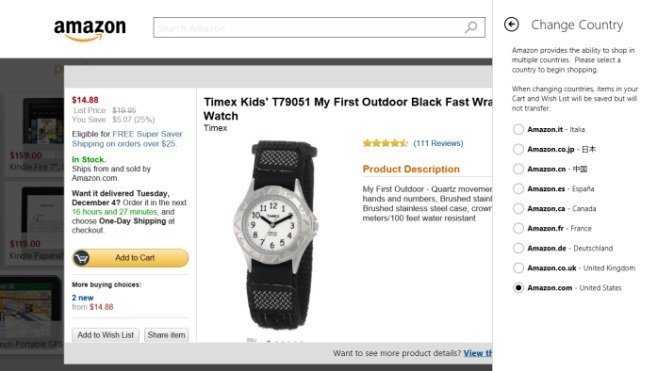 Supported Windows 8 version – Windows 8 RT, Windows 8 Pro ( 32 bit and 64 bit)