Asus Rog Theme Windows 10 offers you various stunning artwork of the ROG logo including some original designs of Asus. Loaded with 12 different images, this theme serves you custom Desktop icons and modified cursors. Moreover, Asus Rog Theme also provides you high resolution ROG wallpapers for your Windows 10 PC. See a similar guide to Download Akrapovic Morsus Theme For Windows 10.
In this guide, you will learn simple steps to Download Asus Rog Theme Windows 10. You all know that ROG or Republic of Gamers delivers you the most creative hardware for PC gaming. So, when you download this theme, you will notice several art styles and designs with red color scheme that represents the ROG brand. Also, read How to Make Windows 10 PC Fast for Gaming. Let us now move towards the steps and see how to download and install this amazing ROG theme on your PC.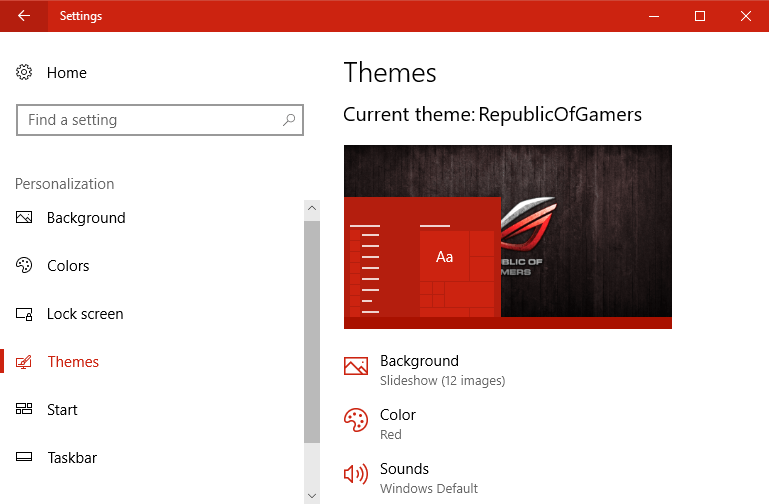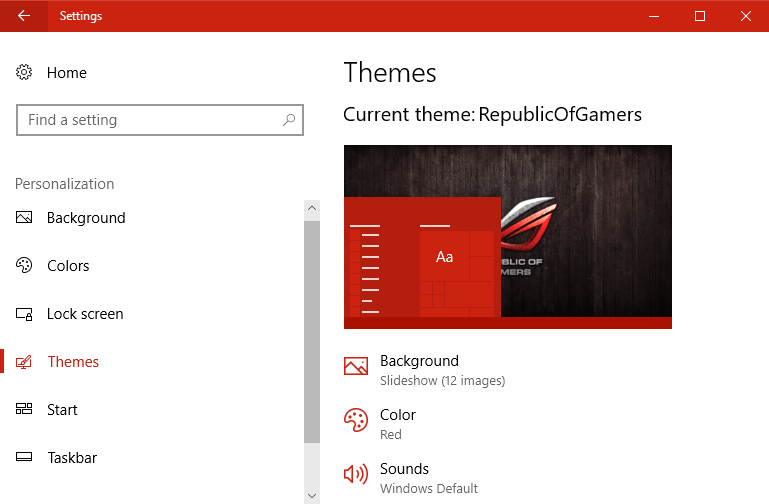 Download Asus Rog Theme Windows 10
Step 1 – To Download Asus Rog Theme Windows 10, visit this page.
Step 2 – Scroll down to the end of the page and there you will see a download theme link. Click Download theme and immediately the theme will start downloading.
Step 3 – Open File Explorer and navigate to the folder where the downloaded theme got saved.
Step 4 – Locate and double-click the file name RepublicOfGamers.themepack. This action will install the Asus Rog Theme Windows 10 instantly. The wallpaper will display an awesome artwork of ROG with a red color scheme of the brand.
For reference, pursue Download Windows 10 Black Theme.
Step 5 – In addition, you also notice few changes such as Custom Desktop Icons, change mouse cursor and so on after installing Asus Rog Theme Windows 10.
Follow a related guide on How to Change Mouse Pointer Size and Color in Windows 10.
Step 6 – In case, you want to make more changes to the Asus Rog Theme, go to Personalization settings page. Go through this complete guide on How to Customize Themes on Windows 10.
After customizing the theme, you can save it and to do so, follow How to Save Windows 10 Custom Theme.
Conclusion
Hopefully, following the above steps will make you easily Download Asus Rog Theme Windows 10. If you are a game lover, you will find this theme interesting. This is the brand that provides the best gaming hardware to the PCs. Well, this theme also attracts a great number of users for its scheme color combination of red and black. If you are aware of more facts and some interesting tips about Asus Rog Theme Windows 10, please do write them to us.