Google Play Store has released Floating YouTube Pop-up Video app for Android device. This app contains integrated YouTube Popup Video Player that lets us watch YouTube videos regularly at anyplace on andAndroidreen. This app offers to re-size the screen and pin the YouTube videos anywhere on the screen at the time of watching or completing other tasks like sending text message or email, surfing the internet.
Actually such type of features are carried through this floating app. A Floating app provides more benefits on Android screen like good quality appearance, multitasking feature support. In other words, Android Floating app renders us to perform several tasks without any interruption on Android.
Features of Floating YouTube Pop-up video app –
Watch YouTube videos regularly in the pop-up style on Android screen while user is accessing other tasks.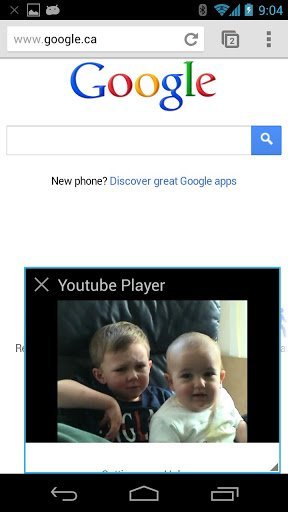 At the time of playing YouTube video in floating style, built-in pop-up video player provides essential control button like Pause, Play, Stop, Rewind, etc on Android screen.
User can place or drag YouTube Popup Video Player to any place on the Android screen without a glitch.
It is a free app and can be downloaded from the Google Play store through the link provided below.
Download Floating YouTube Pop-up Video For Android