The time of buying memory cards or chips for mobile phones are going to be memory now. You can simply download apps without paying any cash and store your data in safe way. At this span of time, many Cloud services are being offered by different companies. An android is the most popular mobile device worldwide. Several cloud services available to keep unlimited backups of files and folders of Android Phones. Out of which as I know G Cloud backup app is the best option.

Download G Cloud backup app
Features of GCloud backup app
G Cloud backup app is freeware edition and you can downloaded it from Google Play Store. G Cloud provides backup space 1 GB without any payment. For Android devices, 1 GB space is normally enough to fulfill requirement. If you want to upgrade cloud services over 10 GB space then you will get it having paid US $0.99 each month.
You may save Android phones contacts, images, songs, videos, Inbox SMS, personal document files and many more in G cloud Backup app. Either Wi-Fi or 3G Internet services are compatible to access G Cloud backup app.
As soon as G Cloud backup app is configured after installing on your Android device, it will ask to take backup daily automatically with AES encrypted servers. G Cloud backup also ensures to secure your important files online and no one may hack it.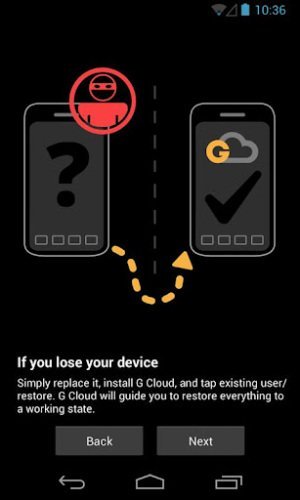 If you lost Android device sudden, don't worry because G Cloud backup app has kept its instant solutions. Install G Cloud app in fresh android device again, tap on existing users' option and choose restore option. It will restore your previous every data within minutes.