Microsoft releases another cumulative update KB4343889 for Windows 10 1703 Build 15063.1292 which carries multiple important fixes to the OS. This patch does not contain any new features to the Creators Update but focuses on various issues. With its launch, the problems related to high CPU usage, Device Guard, Microsoft Edge is resolved.
Basically, there are two ways using which you can Download KB4343889 for Windows 10 1703. Either use the Windows Update option or manually grab the standalone package. However, remember that the installation of previous updates on your system will only allow the new fixes in this package to download as well as to install.
KB4343889 –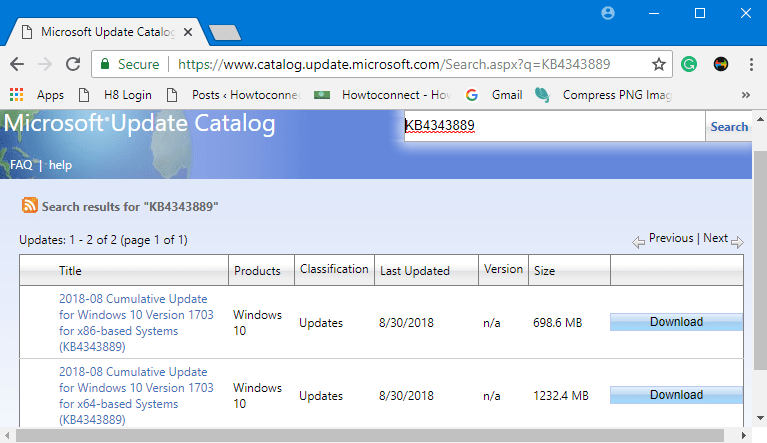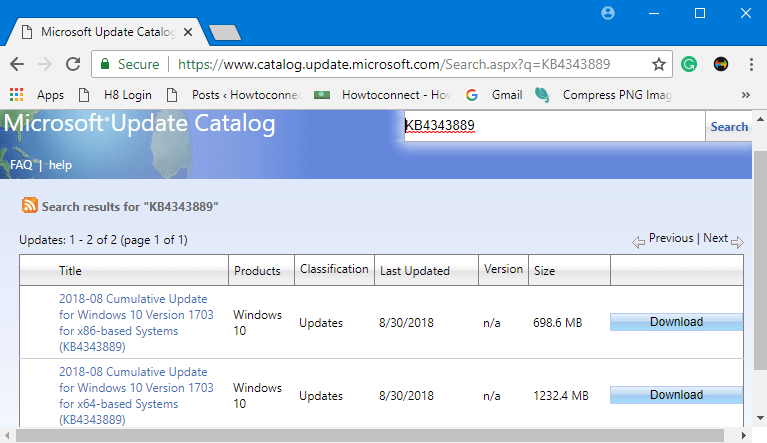 KB4343889 for Windows 10 1703 Build 15063.1292 Details and Download links
The cumulative update KB4343889 does not carry any new features to the operating feature but contains multiple quality improvements.
Microsoft and the team try to resolve the problem that makes win32kfull.sys to stop functioning (Stop 3B). This especially occurs during the canceling of journal hook operations or while disconnecting a remote session.
The problem of Microsoft Foundation Class (in short MFC) that causes applications to flicker is taken care of in this update.
KB4343889 carries a solution for the trouble which shows wrong modifications to folder contents.
This update fixes the issue of Device Guard PackageInspector.exe application. It used to prevent the application from including all the files in order to run them perfectly after the completion of the Code Integrity policy.
The problem where the users of PIV/CAC smart cards were unable to authenticate enterprise resources will now be able to proceed with their task. Furthermore, this update focuses on the issue that prevents Windows Hello for Business from configuring on the first logon.
After setting a DLL rule in AppLocker, Microsoft Edge will not stop operating.
The launch of KB4343889 deals with the situation that actually stops users from logging on when an Azure Active Directory account domain changes.
The solution is out for the problem that stops PowerShell scripts from functioning when attempting operations such as Get-Credentials.
It provides a resolution to the problem that, in certain situations, failed to clear decrypted data from memory after the completion of "CAPI decryption".
Microsoft solves the issue of high CPU usage. It is applicable to the machines especially with built-in Sierra broadband modules when switching from WLAN to LAN. The "WWanSvc service" repeatedly claims extra memory. It requests until the device becomes unresponsive and a black screen appears.
This cumulative KB4343889 for Windows 10 1703 Build 15063.1292 provides a solution that leads the Wi-Fi EAP-TTLS (CHAP) authentication to fail. The issue happens when a user saves credential information before authentication.
Another important issue is taken care of in this update. It resolves the problem of a connection failure. This occurs when the Remote Desktop Service fails to read the bypass list for a proxy that has several entries.
Known Issues in KB4343889
For the time being, Microsoft is not aware of any problems with this update.
How to Get KB4343889 for Windows 10 1703 Build 15063.1292
In order to download as well as install KB4343889, navigate to Windows Settings by hitting Win + I keys.
Select Update & security on the following interface of the app.
Go to Windows Update. Switch to the right pane and click Check for updates.
As an alternative, visit Microsoft Update Catalog and grab the standalone package of KB4343889.
Source – Release Note.