Windows 10 Build 17751 rolls in for the Insiders in Fast ring level with a lot of important fixes. The update includes solutions to the Bugcheck with GSOD, Font, Personalization Settings, Explorer.exe crashing, Timeline, Ask for permission issues, etc. Microsoft declared that the name of the next major release of Windows 10 will be Windows 10 October Update.
You can navigate now to Update & Security and Check for updates to receive Windows 10 Build 17751. The update has a few known issues on which Microsoft is working hard to get rid of.
Windows 10 Build 17751 –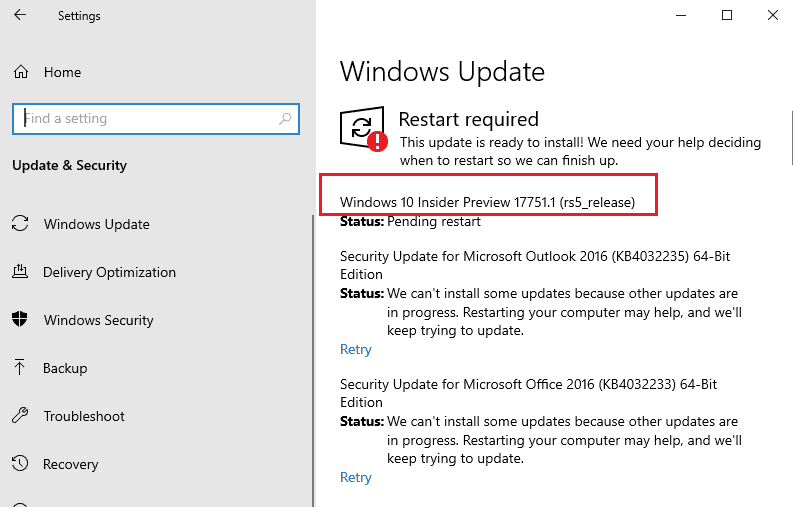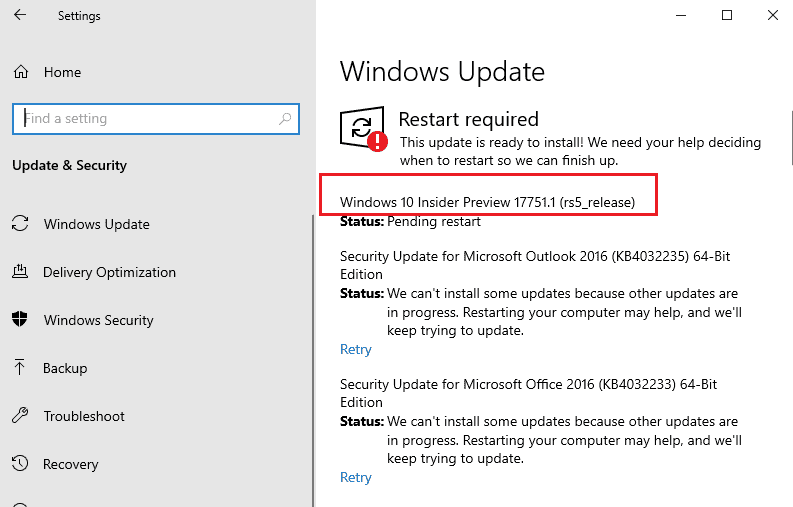 Windows 10 Build 17751 Fixes and Changes and Improvements Details
You will not experience watermark at the lower right-hand corner of the screen in this build. However, Microsoft declares that this is not the final build yet but they are starting the phase of checking in final code to prepare for the release.
Windows 10 Insider developers fixed the bugcheck with Green screen of Death when you log out or shut down your PC.
They solved color and wallpaper settings issue that was not correctly working after a system upgrade when you migrated in offline mode.
When you install a font for a single user (instead of installing as admin "for all users"), the install would fail with an unexpected error. The message appeared was the file was not a valid font file but the Windows 10 Build 17751 has solved the issue.
Microsoft fixed explorer.exe crashing problem in Tablet Mode. The issue occurs when you opened Task View in portrait orientation.
Sometimes when you click on an activity in you may get an error – no supported app is installed. The message appears despite you installed a supported app. The issue no longer occurs after this build.
Windows 10 Build 17751 has a solution for Settings app that takes a longer time to open.
Microsoft has solved – You're up to date – error message when you change from battery power to being plugged while downloading Windows update.
They resolved the Logged drop down box that was unexpectedly big in Event Viewer filter dialog at high DPI.
Windows insider team resolved unexpectedly appearing – Ask for permission pop up through Microsoft family features for Windows Shell Experience.
When you take your cursor on icons located in Windows Security's navigation pane to high contrast they would not alter color with the rest of the item. This was making them difficult to see but Windows 10 Build 17751 has fixed it.
Windows 10 Build 17751 included a solution to the Chinese (Simplified) IME that it would leak memory while switching, focusing, moreover adding up over time.
The team resolved certain flaky network connectivity furthermore it got stuck and shows identifying, and the old network flyout connectivity phase.
Microsoft thanks the users who submitted feedback regarding the performance visualizations in the game bar. .The feature was effective after the Build 17692. They are working hard on them offline, for now, to re-evaluate and trying to give you a great gaming experience on your PC.
Microsoft has updated the messaging in Snipping Tool and now arranging and naming them bringing together the old and new.
Windows 10 Build 17751 Known issues
You may still face text clipping problem when using  Make Text bigger setting in the Ease of Access category. The text you are making big in size may not increase in size everywhere.
Persisting from the previous builds Narrator often does not read in the Windows Settings while switching through Tab and arrow keys. In this circumstance, navigate to Narrator Scan mode for the time being. As another option, you can close the Narrator and open it again.
When you click on links in PWAs, for example, Twitter doesn't open the browser in this build.
Source – Windows Experience blog