Malicious Software Removal Tool 32 & 64 Bit Windows 10 -This specific tool scans system thoroughly in order to detect any kind of prevailing infections. It removes maliciously wicked software, for instance, Sasser, Mydoom, etc and accordingly wipes out the affliction if found. An updated version of this specific tool will be shipped by the team for the users every months' 2nd Tuesday.
After the completion of the detection and removal procedure, the tool will then exhibit the report narrating the outcome. The tool thus generates a log file entitled mrt.log and is accumulated in the %WINDIR%\debug folder. The team has clearly clarified that it is not a replacement for any antivirus product, and hence to strengthen the safety of your machine, you may continue with your anti-virus product. This tool is qualified in understanding more than one language and thus for all the compatible languages, the same tool will exhibit the correct one based on the language on your OS.
Supported Operating Systems –
a) Windows 10
b) Windows 10 Technical Preview
c) Windows 8.1
d) Windows 8
5) Windows 7
6) Windows Server 2003
7) Windows Server 2008
8) Windows Vista
9) Windows XP
In order to run this tool, the user must hold all the administrative powers and this tool will not run on any of these versions of Windows –
1) Windows 98
2) Windows ME or
3) Windows NT 4.0
How to Download Malicious Software Removal Tool Windows 10
Step 1 – Visit this page, click or hit the red colored button labeled as Download, and depending on your system's version(32 or 64-Bit), the same will be downloaded.
Step 2 – After the download gets over, head over to the location where the downloaded items are accumulated and trace the file named Windows-KB890830-V5.37 and click or hit it.
Step 3 – Upon the emergence of UAC, click or hit Yes to agree with its specifications.
Step 4 – Now, the tool will be noticeable and to commence the scan, click or hit Next.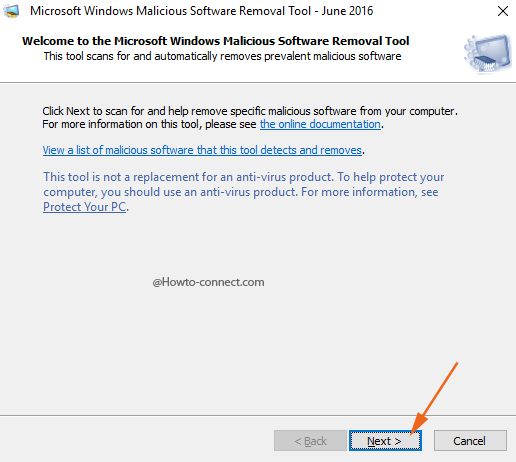 Step 5 – The consequent interface of the tool will ask you to pick up the Scan type – 1. Quick scan, 2. Full scan and 3. Customized scan, hence, do a click or hit the round cell of the desired scan and then hit Next.
Step 6 – Based on your Scan type, the scanning gets commence; wait for it to get over, and then you will be showcased the outcome.
Malicious Software Removal Tool is one of the most popular anti-infection utility people have been exercising to repel wicked software. So if you are a cautious user you must have to download this tool to protect your  Windows 10 computer from threatening eyes.