Way to Open a Webpage Via Sticky Note in Windows 10 – Different locations like Start menu, taskbar, Desktop allows access web pages after a little tweak. But, Sticky note (in Windows Ink Workspace) lets launch website's pages using URL very easily without a bit customization. Multiple circumstances need to get online help while working with Sticky notes. So following the steps to Open a Webpage Via Sticky Note in Windows 10 may be a substantial help.
Method to Open a Webpage Via Sticky Note in Windows 10
Step 1 – Tap on Win logo at the bottom left corner of the taskbar to Outspread Start Menu. Scroll down to the alphabet S on the stat menu, trace out an app entitled Sticky Notes and when you locate, hit it.
If you like 3rd party tools then find How to Use Vov Sticky Notes in Windows 10.
Step 2 – A Sticky Note becomes visible on the screen so, write the desired web address in the note.
Step 3 – Soon the text turns blue, which signifies the generation of a hyperlink in Sticky note.
Step 4 – Open Link button exists at the bottommost part of the note, click on it.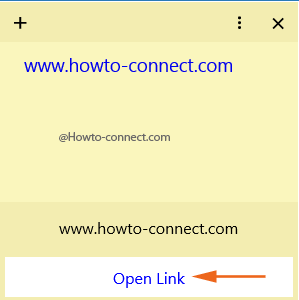 Step 5 – Default browser soon arrives on the screen and exhibits the web page whose link is written on your Sticky Note in step 2.
Note – This feature is currently available for the Insiders who are holding the latest build, however, if you are not a part of Insider, don't worry, as this awesome functionality is about to be shipped for all in the Anniversary Update!
Well, a lot more things are lined up in Sticky Notes which will definitely amuse all the users with their awesome features like putting up a reminder in Cortana instantly from the note, sending an email via the note and now, opening a web page has also been initiated,