As you know YouTube is the world's largest video streaming portal. The point is to think, iOS 6 version has not added two necessary apps like Google Maps and YouTube till now. But now Apple store has provided official you tube app especially for iPad. The app is also compatible for earlier version iPad 3,  iPad 4 and iPad 5.  A new feature has been also added to fresh YouTube app, and this is you can stream videos via Airplay.
Earlier, I have explained two essential YouTube apps especially for iPad. Video Tube app is useful to download YouTube videos, and VTube is used to view YouTube videos in full screen on your iPad.
Download YouTube App for iOS Edition
Feature of official YouTube App –
The app interface is changed from earlier YouTube app. As a replacement of the buttons in the bottom panel, a sidebar menu panel has been added along with all the options and categories in list wise.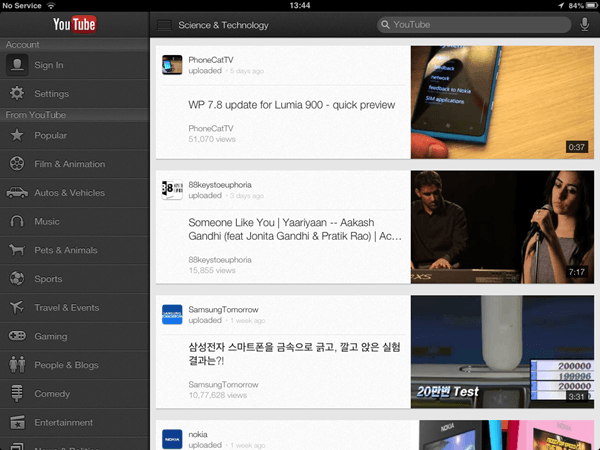 Once signed with YouTube app, you are capable to browse vast numbers of videos regarding to different categories.
Subscribe to channels and quickly connect your subscriptions.
View upcoming comments, explore similar videos in right panel.
 Share preferred videos to the social sites like Twitter, Facebook and Google+ rightly.