Workarounds here will help you to fix DRIVER_OVERRAN_STACK_BUFFER error in Windows 10 in easy way. Just like other BSOD, this one is an annoying issue. The error results in freezing desktop, frequent blue screen along with auto-reboot of the device. Bug check value of 0x000000F7 accompanies this problem which indicates that a driver has overrun a stack-based buffer.
DRIVER OVERRAN STACK BUFFER Blue Screen error occurs due to 2 major reasons. These are missing or corrupted system resources and similar conflicting programs or malware and virus attacks. Another side relates outdated and defective device drivers. Other reasons such as memory troubles, low disk space, bad areas formed in HDD can be responsible too. Here are the quick links of resolutions for your easier navigation –
DRIVER_OVERRAN_STACK_BUFFER BSOD Windows 10 Solutions
Here is how to fix DRIVER_OVERRAN_STACK_BUFFER BSOD Windows 10 –
1] Prevent Windows from Restarting Automatically
Once the DRIVER_OVERRAN_STACK_BUFFER BSOD Windows 10 affects a user PC, it will go through a general tendency to reboot automatically. Most annoyingly, no warning will be there and that makes things difficult a lot. With such a crucial issue, you cannot really continue working with it. A simple tweaking to default setting can save you from that unwanted consequence. You need to hold up this action for other deploying resolutions. Here are the steps to proceed –
Step-1: Press Win+D keys and shift to Desktop. Before that, try saving your ongoing process.
Step-2: On the Desktop, make a right-click on This PC icon and choose Properties option.
Step-3: When System window comes into the view, select "Advanced system settings" from the left pane.
Step-4: Advanced tab will open directly from the current System Properties popup.
Step-5: Reach to Startup and Recovery region here. Once you see the Settings button here, choose it straightway.
Step-6: In the forthcoming wizard, scroll down to System failure area initially.
Step-7: Do uncheck the option saying Automatically restart from this place.
Step-8: Lastly, select the OK button to save these changes you made.
That's it; Windows will now restrict the device from rebooting automatically.
2] Fix Corrupted files using System Files Checker
We have mentioned initially that, corrupted system resources and missing DLL files does lots of damages in the Windows. So many dangerous issues including DRIVER_OVERRAN_STACK_BUFFER BSOD can evolve only because of this. To have these components recovered, we have the System File Checker. Here is how to deploy the workaround –
Open the Taskbar Search by tapping Windows and S keys together.
Now, write "cmd.exe" in the void typing area provided here.
Once Command Prompt arrives in the result, do a right-click on it.
Choose Run as Administrator option from the menu.
After UAC prompts for permission, select Yes to provide consent.
When transferred to the black window, enter the following command there –
Sfc /scannow
Press the Enter key to execute the System File Checker tool.
The utility will thereby detect and fix all corrupted system resources and DLL files automatically.
Wait patiently until the process gets over since it might take a long time.
When it is finished, perform a restart to the device.
Once Desktop shows up after rebooting, check if the error has resolved already.
3] Solve Windows Memory problems to fix DRIVER_OVERRAN_STACK_BUFFER
Memory issues collectively represent Bad areas in Random Access Memory (RAM) and incorrect allocation of it. When such problems are evident, you might observe DRIVER_OVERRAN_STACK_BUFFER BSOD in the system. We can bid farewell to these issues using a single platform. That is the Windows Memory Diagnostic tool. To accomplish the task, here are the guidelines –
Get access to the Settings app pressing Win+I hotkeys.
When the app is upfront, type "Memory" in the search box located in UI.
Go ahead with the option "Diagnose your computer's memory problems" from the visible list.
In a moment, the Windows Memory Diagnostic tool will hit in the display.
When the wizard shows up, select "Restart now and check for problems (recommended)".
When the Windows finishes the first cycle of rebooting, you will observe a blue screen detecting all memory issues.
Once this status reaches 100 %, the device will reboot once again.
After it powers up later, check the result of diagnosis in the System tray- notification area.
4] Detect Malware and fix using Windows Security
Well, malware is present everywhere on the web and they are in disguise. When you visit some suspicious page or click a link, they enter into the system. After getting an entrance, causes the necessary files to be removed and deteriorates others. As a result, DRIVER_OVERRAN_STACK_BUFFER BSOD evolves the device. You can dismiss these bugs easily as Microsoft provides Windows Security to deal with. Follow the below guidelines to detect and dismiss the malware –
Access the Taskbar Search clicking its icon from the left bottom end.
Write "Security" in the text space there.
When Windows Security peeks in the result, select it to open in a separate window.
Upon opening the app, click on Virus & threat protection from the left sidebar.
Switch to the adjacent right side and choose Scan options link.
When all options are there, hit the radio button of Full scan.
Click on the Scan now button to initiate the process.
Once the process ends and it traces out malware, click Clean threats option to dismiss them.
Moving ahead to the consequent page, select Remove first and then Start actions to clear them all.
5] Make use of Windows Blue Screen Troubleshooter
DRIVER_OVERRAN_STACK_BUFFER BSOD error is too dangerous to damage the whole system even. As to prevent this fatality, Microsoft introduced all-new "Blue Screen Troubleshooter" in Windows 10 Fall Creators update version. This is a default tool and you don't need to install anything. Just move with below proceedings –
Open Windows Settings by tapping "Win+I" hotkeys altogether.
From the app UI, move out for Update & Security tile and select it.
When the next page cuts your view, click on Troubleshoot sitting on the left side.
On the next move, jump to alongside pane and look for Blue Screen option there.
Upon reaching there, expand it by making a click.
Hit Run the Troubleshooter once visible.
upon activation, this tool will take control over Stop error related bugs and fix them instantly. In the end, you can have a flawless system afterward.
6] Remove applications engage in collision
When two or more similar programs stay in a system, they feel a tendency to collide with one another. This collision ends up deleting necessary resources from the system. As a result, the ultimate effect is a DRIVER_OVERRAN_STACK_BUFFER BSOD error. The only way we can say stay from this consequence is to uninstall some of these. The process is as follows –
Invoke Run dialog pressing Windows and R keys at the same time.
When the wizard appears, type appwiz.cpl in the search box.
Press Enter key to invite Programs and Features window.
In the appearing page, make a move to find the programs causing DRIVER_OVERRAN_STACK_BUFFER BSOD.
When found, select one and do a click on Uninstall from the upper ribbon.
Once uninstalling ends, restart device using the usual manner.
Later on, prior to Desktop being visible, see if any error exists.
In case being negative, install the removed application if necessary.
7] Install all update patches DRIVER_OVERRAN_STACK_BUFFER
All the update patches either from major release or cumulative contain all sorts of latest features and addressing of bugs. We need to keep the Operating System always updates by installing them as an outdated one is weaker in status. As a result, it is very much prone to get affected by DRIVER_OVERRAN_STACK_BUFFER BSOD error.
Note – Ensure getting connected with a speedy internet connection. This will reduce time consumption while downloading files. Of course, while using Mobile Hotspot, disable Metered connection. Later on, move with the below steps –
Make a together press of Win+I hotkeys and allow the opening of the Settings app.
When the App visible area comes in, click on Update & Security and let its additional page to open.
From the following window prior loading, choose Windows Update in the left pane.
Jump to the corresponding right and make a click on Check for updates button.
After all the patches are available, hit the Download button.
When downloading gets over, installation starts automatically.
Follow the instructions further until the process completes.
8] Ensure Windows image files are okay
Defective Windows image files always play a greater role in causing DRIVER_OVERRAN_STACK_BUFFER BSOD error. Fixing them will be an immediate task for is and we can access DISM tool for that. Since, the utility powers up an Elevated Command Prompt, we need to enter there first. Here is the process to follow –
Perform a right-click on the Start menu and choose Run.
On opening the dialog, type cmd in the text space provided there.
Press "Ctrl + Shift + Enter" keys together to open the Elevated Command Prompt directly.
In the dark window appearing next, type the following command –
DISM.exe /Online /Cleanup-image /Restorehealth
Hit Enter key to activate the Deployment Image Servicing and Management (DISM) tool.
The process may be a lengthy one, so wait patiently until finishes.
Upon ending normally, restart the device and after signing back in, perform an inspection for BSOD error.
9] Enter Safe Boot to Fix DRIVER_OVERRAN_STACK_BUFFER
From ancient times after development, Windows was indulged in issues. Amazingly, booting in the Safe Mode came out as rescuer every time. This is indeed a special Startup method where the device starts with loading only basic processes only. Eventually heals the error actually. To apply this process, the guidelines are as following –
Open up the Start menu primarily pressing the Windows button.
When the Start menu turns up, select Power icon from the left row.
Now, select Restart option holding the Shift key.
As an effect, Windows will reboot normally and when it boots up next, you will have a Blue screen showing few options.
Select Troubleshoot and lets loading the next screen.
From there, select Advanced options and in the process, hit Startup Settings.
At this point, click Power icon located at the bottom right and choose Restart.
After the Startup screen comes in, you will see a set of options including one to Enable Safe Mode.
Press the F4 key at this moment to enter into the Safe Mode.
10] Allow Disk Cleanup tool to delete unnecessary junks
Producing junk files are natural and it's a part of executing tasks. While these are basically useless after a certain period of time, takes the same amount of space in storage. When they grow bigger, occupy a huge area in the Hard Disk. As the storage gets low, the functionality deteriorates and BSOD issue comes in. Well, we can delete them using a simple Disk Cleanup tool. Here is how to proceed –
Open the Run dialog pressing Windows key and R together.
In the provided typing area of the wizard, enter text "Cleanmgr".
Press Enter key now and a small popup dialog will prompt asking you to select the desired Disk.
Choose C: by clicking on the dropdown menu and also hit the Ok button from the dialog.
After a certain calculation, Disk Cleanup Utility arrives on display. Move down and click Clean up system files button.
When the popup appears again, select C: in the same way before and also press Enter.
After the Disk Cleanup for C: appears, mark all the checkboxes here except Downloads.
Select the Ok button to start the removing process ensuring there is nothing necessary left in Recycle Bin.
11] Uninstall Third-party antivirus software
We are growing technically strong day by day, yet are not safe from malware. As to protect the system, using an Anti-virus solution is okay. Coming in the era of Windows Security, all of them are unnecessary really. While using those solutions, there are also sharp chances of getting DRIVER_OVERRAN_STACK_BUFFER error. So, we uninstall them and it will be wise. Follow the below instructions to accomplish the task –
Use any of the preferred methods to access the Settings application.
From the appearing page, move to Apps tile and select it.
Shift to the corresponding right side of the next page and reach to third-party antivirus programs listed.
Make a click on it for expanding and click Uninstall button.
If UAC asks for permission, select Yes to proceed.
Follow the further guidelines available on-screen to remove it completely.
12] Fix up poor areas in Hard Disk to get rid of DRIVER_OVERRAN_STACK_BUFFER
Your Hard Disk might have bad areas inside after using it continuously. The issue usually ends up causing BSOD error in Windows 10. Good news is, we can fix these segments using Disk Checking tool. To access the tool, move with the following instructions –
Right-click on empty space of Taskbar and from the pop-up menu, select Task Manager.
When in the app UI, select File from the top left end.
Choose Run a new task from visible options.
Once a dialog appears, type cmd in the blank text area.
While proceeding, do a checkmark in the box ahead of "Create this task with administrative privileges".
Hit the Enter key and let Elevated Command Prompt to launch directly.
When the black display loads successfully, enter following command line there –
chkdsk C: /f /r /x
Execute Disk Checking tool by pressing Enter key.
In a moment, it will detect and fix those problem areas automatically. This process will take a few minutes time.
When the process ends, perform a restart to the device.
After completing the cycle of rebooting, check if there is any DRIVER_OVERRAN_STACK_BUFFER error in Windows 10.
13] Reset Windows 10
When DRIVER_OVERRAN_STACK_BUFFER is a result of a software issue, you can easily fix it by resetting the Windows. This process will delete all your files from C: drive, so you can move the necessary ones to a safe location. You will need a Bootable USB flash drive with Windows 10 to accomplish this workaround. Later on, move with below proceedings –
Launch the built-in Settings app and navigate to Update & Security region and do a click on it.
Once the following page loads, choose Recovery from the left pane.
Shift on the adjacent right and select Get Started button under Reset this PC.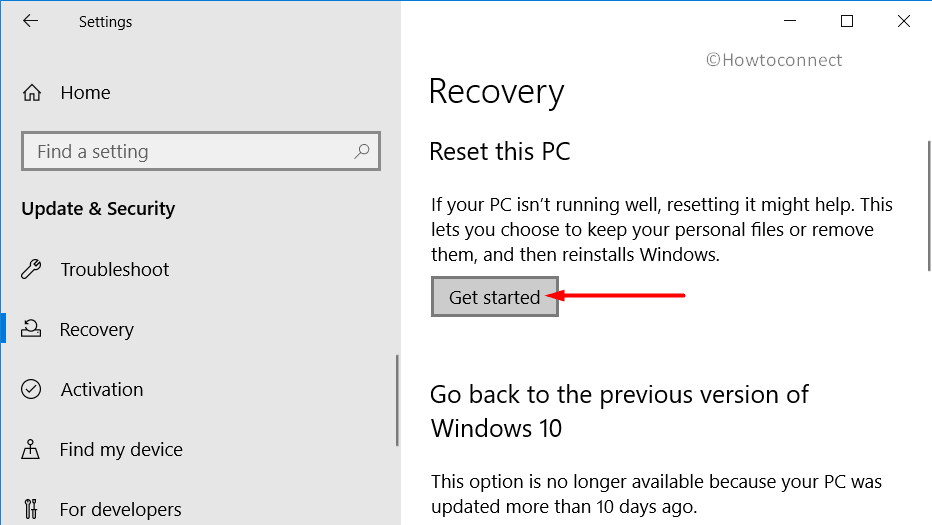 The system will reboot now and upon at the startup, select Troubleshoot followed by Reset this PC option.
On the consequent page, choose the option Remove everything.
You will come across two options – "Just Remove my files" and "Remove Files and clean the drive".
Choose the later one to Reset the PC.
14] Make all the drivers updated
In case of all BSOD issues, there is one cause in common. That is outdated and defective Device Drivers. Usually, in Windows 10, most of the drivers are updated automatically. Yet some might be left along. You can use the Device Manager platform to accomplish the task as problematic drivers are shown in yellow indications. To update them, follow the below procedure –
In the Taskbar Search typing area, write the command "devmgmt.msc".
When Device Manager arrives in result, select it straightaway.
On the console, have a close look at the devices having an exclamation mark and expand the same.
Later on, perform a right-click on the listed drivers one by one.
From appearing options, select Update driver and let the process begin.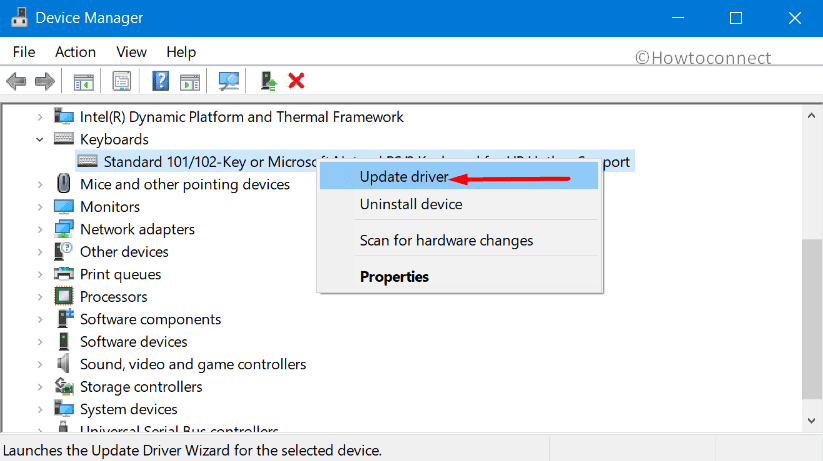 Perform the further tasks according to instructions available on display.
15] Delete the Corrupted Windows update patches
We usually carry out Windows updating process through the Settings app. The process is autonomous and flawless. If anything happens as this process stops at midway, BSOD error will evolve in the system. To limit this risk, we need to uninstall those defective files going through below guidelines –
Invoke the Run dialog and type appwiz.cpl in the provided box.
Press Enter key and choose View installed updates lying in the left pane.
On the right, you will see the list appearing with all latest patches.
Reach to the recent one and make a right-click on it.
Choose Uninstall option from there to delete this.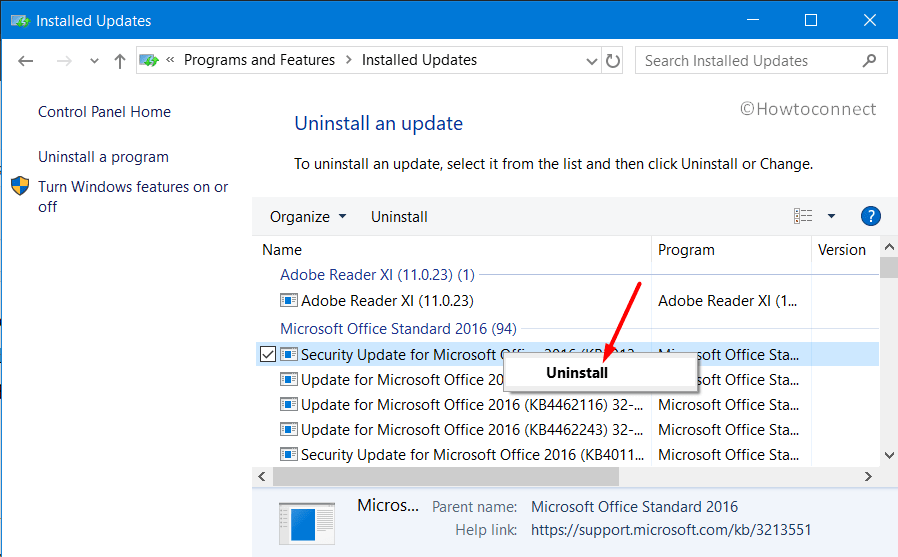 16] Disconnect External Hard Drive temporarily
It's unfortunate that recently people are experiencing DRIVER_OVERRAN_STACK_BUFFER BSOD after connecting an additional HDD. These types of devices are necessary nowadays. Surprisingly, you can resolve the issue easily by disconnecting it. Once the error resolves, you can reconnect using below guidelines –
In the beginning, unplug the Hard Disk drive from PC.
Then, reboot Windows as you always do. When the full cycle of Rebooting completes, do check for Stop error once more time.
If no issue shows up next, reconnect the device with care. Now, launch the web browser from the computer and visit the manufacturer website for that HDD.
Download and install again the latest drivers from there.
17] Perform System Restore to fix DRIVER_OVERRAN_STACK_BUFFER BSOD
Installing programs or removing another traces out in Windows Registry. This is a sensitive part of the system and tweaking might be risky often. You might get DRIVER_OVERRAN_STACK_BUFFER BSOD after making such changes if something goes in the wrong way. However, there is a way to escape from this condition and can revert back to the previous state. This is to perform System Restore. If you don't have a previously created Restore point, can ignore this process. In case you have one, follow the below process –
On the Taskbar Search, type in the command rstrui in the blank text box.
Press Enter key and you will be guided to System Restore immediately.
From the wizard appearing, select Show more restore points.
When all the points are available, select only the latest one.
Hit the Next button to continue.
When the consequent window comes in the view, choose Finish to start restoring process.
These are the collection of most effective resolutions owing to fix DRIVER_OVERRAN_STACK_BUFFER BSOD in Windows 10. We expect that you have resolved the error already and using the device smoothly. Unfortunately, if you fail to fix the issue, can perform Clean installation of Windows 10 again. This will be the last resort and there will be no more issues if done accurately.
Before any proceeding, manage to get the device connected with speedy internet network via Ethernet cable or connect to Wi-Fi. Create a backup folder and save all the necessary items in it. This process might be a little tough being a regular user. You can seek help from professionals or skilled personnel to do the task.
1] Prevent Windows from Restarting Automatically
Methods:
2] Fix Corrupted files using System Files Checker
3] Solve Windows Memory problems
4] Detect Malware and fix using Windows Security
5] Use Windows Blue Screen Troubleshooter
6] Remove applications engaged in conflict
7] Install all update patches
8] Ensure Windows image files are okay
9] Enter Safe Boot
10] Allow Disk Cleanup tool to delete junks
11] Uninstall Third-party antivirus software
12] Fix up bad areas in Hard Disk
13] Reset Windows 10
14] Make all the drivers updated
15] Delete the Corrupted Windows update patches
16] Disconnect External Hard Drive temporarily
17] Perform System Restore
That's all!!
Utility tools to solve this BSOD:
Repair any Windows problems such as Blue/Black Screen, DLL, Exe, application, Regisrty error and quickly recover system from issues using
Reimage
.