If you enable Caret browsing in Microsoft Edge on Windows 10 you can use the keyboard cursor to move among the contents of the web page. This article deals with the steps to enable caret browsing in Microsoft Edge of Windows 10. Earlier we have written on How to Create Web Notes on Webpages in Edge which could suit you.
Working in the web pages sometimes requires you to navigate within the subject matter or text. And it becomes difficult if you don't turn on the caret browsing feature in your browser. When you enable caret browsing in Microsoft Edge, you use the keyboard keys to travel across the contents. It is an alternative to the usage of mouse to navigate, select, and copy the text. You can also see a straight line flickering within the content on the web page. Then with the help of the arrow keys, you can make the cursor move to any required direction. Below are the lists of activities you can do when caret browsing is enabled in Microsoft Edge. In the release of Edge, its name was project Spartan and we have written on How to Use Project Spartan on Windows 10.
End key: Puts the flickering cursor at the end of the line
Home key: Takes your cursor to the starting letter of the line.
Page Up: Scroll up the web page.
Page Down: Scroll down the web page.
Shift + Arrow keys: Selects the text of the web page.
If you use the same on the mail application then follow How to Turn on Caret browsing in Mail App Windows 10.
How to Enable Caret Browsing in Edge in Windows 10
Launch Microsoft Edge on your screen. You can see it pinned on your taskbar.
Execute a click on its More actions option. It is a three-dotted line at the extreme top right end of the browser.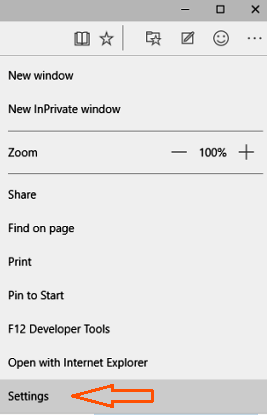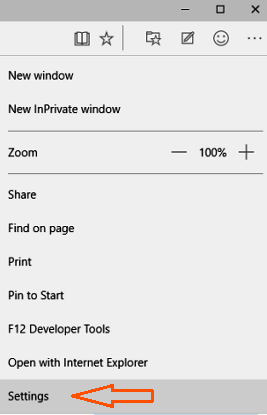 Scroll to the end and click View Advanced Settings.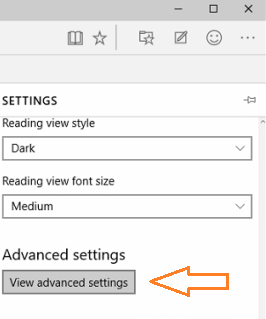 Now you can see an option labeled Always use caret browsing.
Turn the slider to On.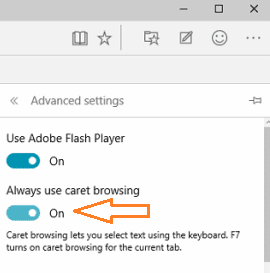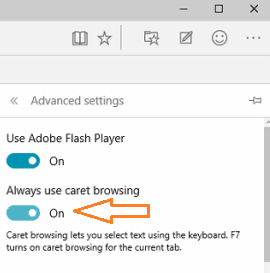 Now, you can use caret browsing in Edge.
But if you prefer caret browsing to turn on for certain web pages, click F7 function key when you open the web page.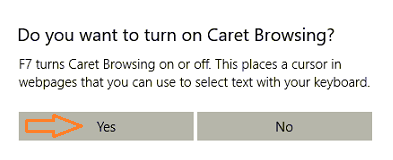 Click Yes when asked for your confirmation.
That's it!
In this manner, you can easily Enable Caret browsing in Microsoft Edge on Windows 10.