If you like to Attach Files in Gmail Using Office Suite on Android, Office Suite is a free app of Android which allows you to read any files whether it be pdf, doc or ppt files. The interface of this app is amazing. You will love this app at its first sight. This app not only lets you read different documents, but also allows you search for any particular document, pdf or ppt file stored in your Smartphone. You can always look for them sorting by their sizes or dates of modification.
An important feature of this app is that you can Attach Files in Gmail Using Office Suite, using your Mobile. Most of the mobiles don't support attaching files on internet which troubles us when we try to send some word, pdf, ppt files through email. This app is a cure to all these hassles. You won't need to open your Gmail through a System (PC, laptop) just for the sake of attaching files. Here's a screenshot on Attach Files in Gmail Using Office Suite on Android.
This app also lets you create a new word document; excel workbooks or a power point presentation directly from your Smartphone which is indeed a very nice thing. However for doing so, you have to upgrade your free version to Pro Office Suite which will cost you $9.90. It supports various files and you are not charged a single penny for reading all these files.
You can install this app on to your Android Smartphone from Google Play store.
How to Attach Files in Gmail Using Office Suite on Android
Once you have installed this app on your mobile, open this on your Smartphone. It will open a nice interface with a black background just similar to the picture shown below: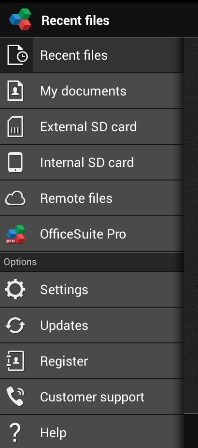 Here, you can see different sub folders present in your each folder. There is an option recent files, which allows you to see all those files you have opened or read recently. You can also look for remote files for which you have to add an account like Google Drive, OneDrive, Dropbox, Box, SugarSync.
Office Suite Pro is the upgraded version of this app. Using Settings option of this app, you can adjust different things of this app like auto check for updates, saving document folder etc. There is a help option present here using which you can look for its usage on any browser.
When you click on the recent files option, it will open a new screen which is the main screen of this app. It consists of four options present at the bottom which are shown below:
First three options are encircled with a red color. Of all these features, first one is used to add a new document, excel spreadsheet or a new power presentation.  Using the second feature, you can search for any files present on your mobile. The third option is there to delete all recent files summary and start afresh. The fourth option is a very important feature as this categorizes different files, according to their format. You can this for yourself.
Conclusion
Overall, Office Suite is a fantastic app to have in one's Smartphone. You not only Attach Files in Gmail Using Office Suite, but also lets you study all files with different formats under the same platform which is rarely found. Do tell us your views on this app, if we miss something.