eRail.in android app is a very nice application. It basically aims at providing minute details about Trains, their departure, arrival, PNR status and dozens of other tasks. These days everyone wants to be ahead of their competitors. Keeping this in mind, eRail.in always provides new technology which makes it even smoother and Faster. Its new releases are bugs free and help you in finding any detail about any particular train in few seconds.
The most important feature of this app is that it consists of even smaller stations about which you haven't heard and might need to go some or other time. Suppose you are looking for a train in between two stations one of which is not that much famous. In this case, you would not be able to see the trains which might run between those two stations. This app helps you in getting rid of this jargon and always provides you correct information starting from its route to its fare and distance.
You can have erail.in android app by searching eRail on Google play Store. It is a very lightweight app and would not take more than 1 Mb of your internal space.
How to Use eRail.in Android App on your Smartphone
Once you have installed this app on your android smartphone, open this app. It will open a blue colored window which consists of several options like PNR Status, Train by Stations, Seat Map etc.
Most of the times, it happens that we do the reservation in Waiting list. For knowing its current running status, you need to go to the reservation counter and get the details.  Let's look at how to check for PNR status of a booked train ticket in erail.in android app. Below shown is a screenshot of stepwise method on how to find the PNR status of a booked train.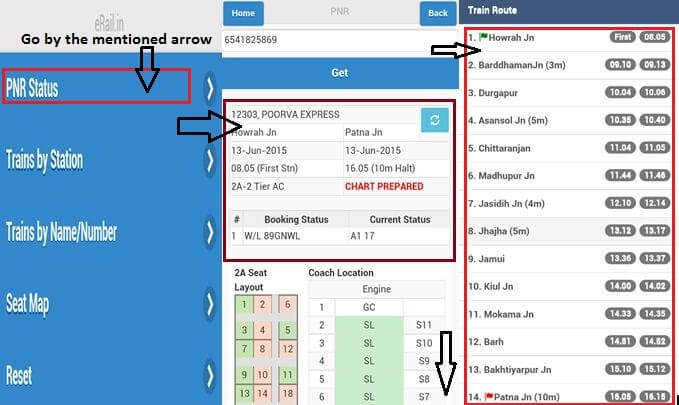 All you have to do is to go to PNR status and Type the PNR number in the Blank screen. It will open the full details about starting from your Booking Status to Current Status along with Seat Layout. Scrolling down, it shows the complete route of your booked train.
To look out for a train in between two stations go to Train by Stations. Fill the station name in from and to and press Show Trains. It will show you all the trains which are available in that particular route.
You could also look out for return trains by just pressing Return Trains. Below shown is a screenshot of different trains which are available in VSKP-KZJ route.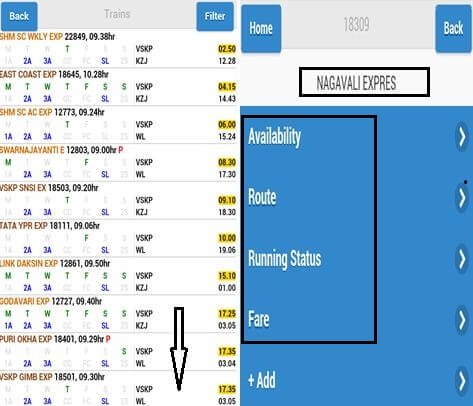 Select any one of the different trains available in this route. One important feature here of this app is that it also includes some of the nearby stations so that you can look out for them too. Selecting any train will open a new Window which is shown above. In this window, you can see different options available like Availability, Route, Fare and Running Status (one of the most important feature which people often search for).
There is yet another feature of erail.in android app which might not be that much important but quite appreciable. This one is Seat Map using which you can see the entire coach seating plan. This could help in reducing the cumbersome which one faces while boarding the train and finding out for his/her seat.
Seeing this, you cannot know about your seat in advance and so you don't need to look out for seat number every time you cross a coach.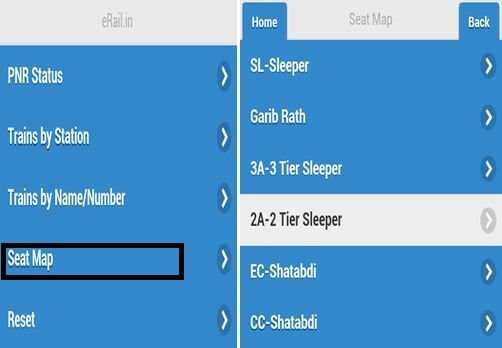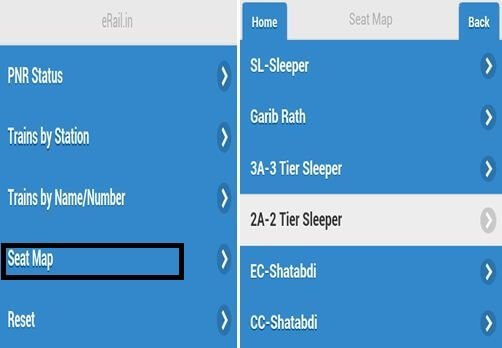 All you have to do is to select your train type after pressing on Seat Map in the main and it will show you the seat mapping of the entire coach.
Conclusion
There is no doubt that erail.in android app is one of the best apps when it comes to train and its related issue. Use this app yourself and believe me, you will never want to leave this app.