Guide to Enable Font Providers on Windows 10 – Windows 10 stores a good collection of fonts and fulfill user's need. But typographic research and development of new and cool fonts are continuously running too. So Windows 10 includes Font Providers setting that helps this OS determine the availability of new fonts. In case, the fonts are available to the providers Windows 10 gets them using functions. Users who are eager to learn everything about Font can navigate to this guide – Windows 10 – How to Install, Remove, Show, Hide Fonts.
When you enable Font Providers In Windows 10, it periodically queries to determine whether a new font catalog is available. And after Disabling same, Windows 10 does not connect to the online font provider instead only enumerates locally installed fonts. The Font Providers such as Microsoft typography team itself, Adobe, and few other companies supply provides fonts for Windows 10.
If you are not satisfied with the built-in Font then follow – How to Change Default Text Font in Windows 10.
The Setting to Enable Font Providers is currently available in Group Policy Settings and you can change the same quite easily. See a guide in this context.
Way to Enable Font Providers In Windows 10
Step 1 – Allow the Start menu to open by pressing the Start button on the left corner of the taskbar. Type gpedit and Press Enter and wait until the Group policy Editor gets its appearance.
To know multiple procedures follow – Open Group Policy Editor in Windows 10 Using 8 Methods.
Step 2 – Through the right pane, go to
Computer configuration => Administrative templates => Network => Fonts
Step 3 – In the respective right pane of Fonts, Double click on Enable Font Providers.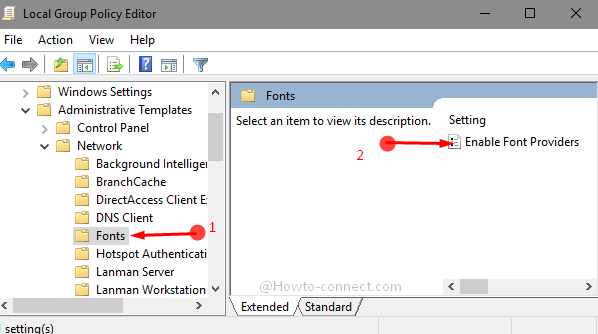 Step 4 – Enable Font Providers policy settings dialog box opens. Check the option in the middle – Enabled. Finally, Click on Apply afterward OK to make the setting effective.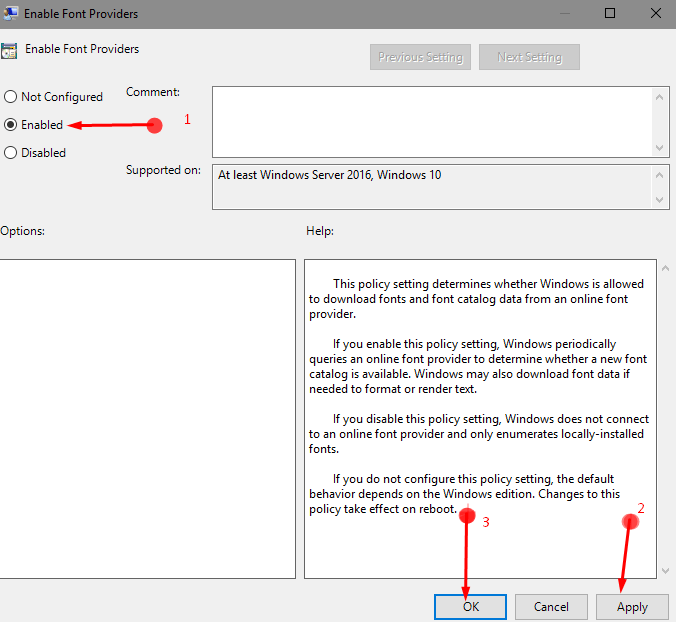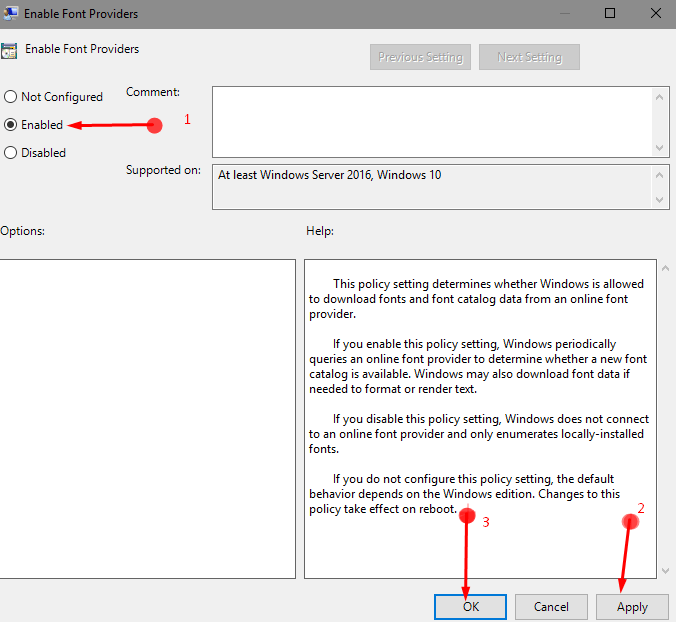 Step 5 – Reboot your PC to implement the policy setting change.
How simple is it!
Similarly, to use Google fonts, follow – How to Run Google Web fonts in Windows 10.
Once you Enable the Font Providers policy setting, Windows 10 will regularly query if a new font catalog is available to the Providers.
When you make it disabled the Operating system will send EnumFonts call back function to manually check the availability of fonts. Enumfonts function, first of all, checks the local PC whether it exists.
If you do not configure this policy setting, the default behavior depends on the Windows edition and here the behavior is that the font providers setting is Disabled.
Conclusion
So after you Enable Font Providers in Windows 10 using this easy method you will get advanced and updated fonts automatically at different times. If you are fond of good fonts then it is an opportunity for you. So enable the setting and enjoy!