Google has commenced testing a new flag that Enables Inline Update in Google Chrome on Android. This feature lets users perform upgrades straight away from the browser rather than going to Google Play first. So, you no longer need to leave the browser until the update is ready to install. Commonly, to update an application on any Android device, there is the requirement of launching the Play Store. Thus, you're able to reduce the time and effort spent in going to Store.
Once you Inline Update in Google Chrome on Android, you are informed when the next time an update will available. The Settings and more (commonly known as three dots menu) icon turns into red, indicating a newer version is ready to update Chrome. Here, you need to tap on the Update Chrome option and let a dialog pop-up appear, explaining the download size information. This will also allow you to keep using the browser while the update is being downloaded. On proceeding, the new version will be downloaded in the background, also a 'downloading' message will be displayed on the screen during this progress. Once it finishes, you will have to relaunch the browser. You can check out this prompt in the Chrome menu, and also at the bottom of the running screen.
Way to Enable Inline Update in Google Chrome on Android
Here is How to Enable Inline Update in Google Chrome on Android –
Before starting with the steps, make sure that you're using the latest Chrome Canary designed for your Android device.
Step-1: Open the browser. Type chrome://flags in the address bar and go for it.
Step-2: On the following page, find Enable Google Play Inline Update flow in the search bar.
Step-3: Against the result, tap on Disabled
Step-4: Choose Enabled option using the pop up.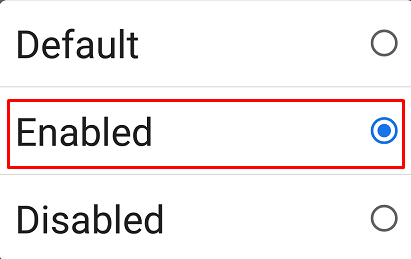 Step-4: At the bottom of the screen, Click on the Relaunch Now option to take effect the changes in the browser.
Furthermore, you'll find this experience alike to the desktop version of Chrome.
That's all!!!