Windows 10 built-in browser has undoubtedly added a number of attractive features. Read Aloud in Microsoft Edge Chromium version is one of them that improves the accessibility of an online document. This particular utility makes using the web much convenient for several users and also lets people multi-task. Now while this attribute is a really helpful one, it had a set-back. The usual or earlier version had been attracting complaints as to it being too robotic- somewhat distracting to the point of frustration. This issue was taken care of with the introduction of the new, more natural sounding voices- 24 of them. That's sure more of convenience.
Broadly there are two types of voices available on this upgraded feature:
Neural voices – These would be the most natural-sounding narrative voices you can find now. Deep neural networks power these.
Standard voices – The Standard ones are the normal online voices offered by Microsoft Cognitive Services. Among these, the clearer sounds- in comparison to other standard voices would be the ones with "24kbps" in their title. This difference and voice clarity is due to their improved audio bitrate.
Enable Read Aloud in Microsoft Edge
Here is how to enable Read Aloud in Microsoft Edge Browser Chromium Version –
Open Microsoft Edge.
Thereafter, navigate to any web site with which you'd like to try the Read Aloud feature.
Select any section of text on the web page.
Right-click on the selected area and hit "Read aloud selection".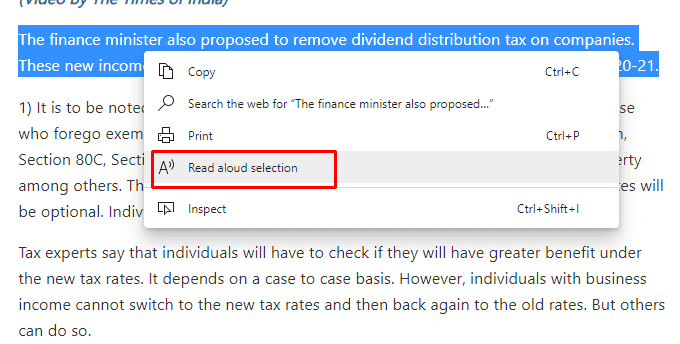 This would initiate the Read Aloud feature. Now, from the small window that appears, hit the 'Choose a voice' menu.
From the list you see there, select a voice with the 'Online' suffix (for e.g. Microsoft Guy Online (Neutral) – English (United States)).
Further, if you prefer to have a faster or slower narration, simply adjust the reading speed with the slider.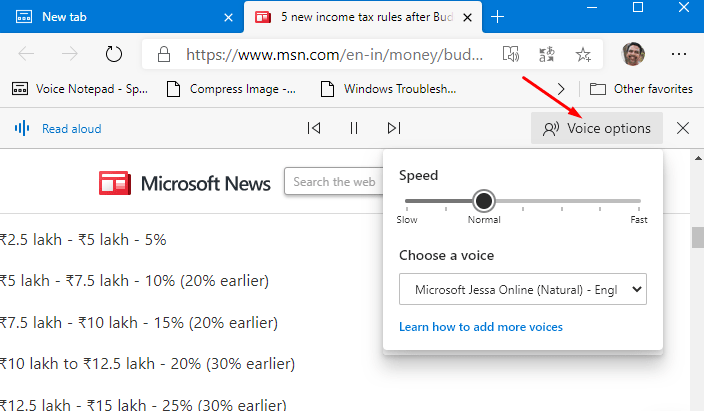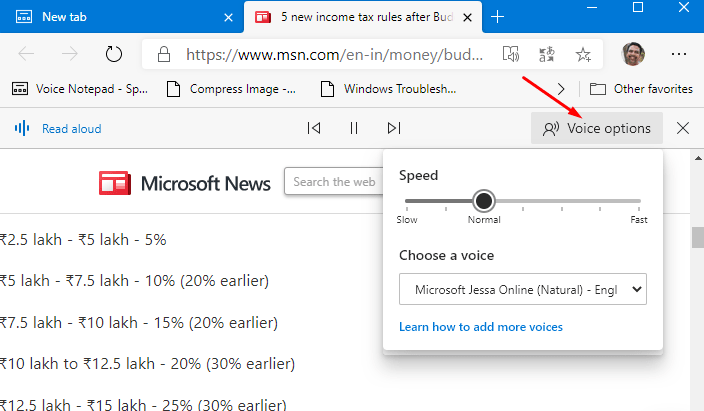 To Read Aloud in Microsoft Edge Chromium Version or the full right click at any location and select Read aloud.
That's all!!!