Simple and Effective Method to Enable Wi-Fi Services on Windows 10 via Steps. – Very recently, Microsoft has come out with another change in Windows 10. This time, two different Wi-Fi settings are merged into one and it is named as Wi-Fi Services.
Wi-Fi Services includes both Paid Wi-Fi and WiFi Sense. However, you might not see the name Wi-Fi Sense mentioned anywhere inside Wi-Fi Settings page, but, the service is pretty much available. Now, as Microsoft has put both the services into one, we will see how you will enable Wi-Fi Services on Windows 10.
Paid Wi-Fi Services lets you get online by buying Wi-Fi at the hotspot. Whereas, with Wi-Fi Sense, you will be able to make connections to available hotspots in any location. You can learn the methods from here – Setup Windows 10 Mobile Hotspot and Connect Devices to It.
Noteworthy is you must have Windows 10 build 15014 or higher to avail both Paid Wi-Fi and Wi-Fi Sense at one place.
Enable Wi-Fi Services on Windows 10
Step 1 – Start the procedure by clicking Windows logo icon on the taskbar. This will make the Start Menu visible, select Settings.
Step 2 – On the home screen of Settings app, select Network & Internet category.
Step 3 – Now, the left sidebar of Network & Internet shows up few sections. Select the second section, Wi-Fi.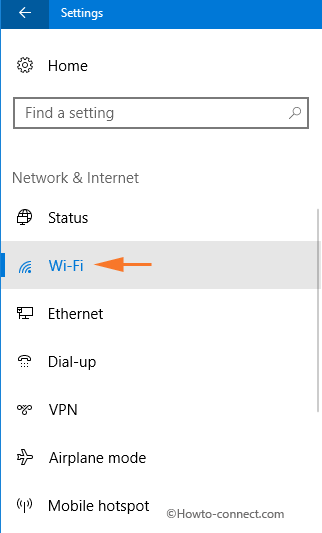 Step 4 – Moving on, locate the section labeled as Wi-Fi Services on the right pane.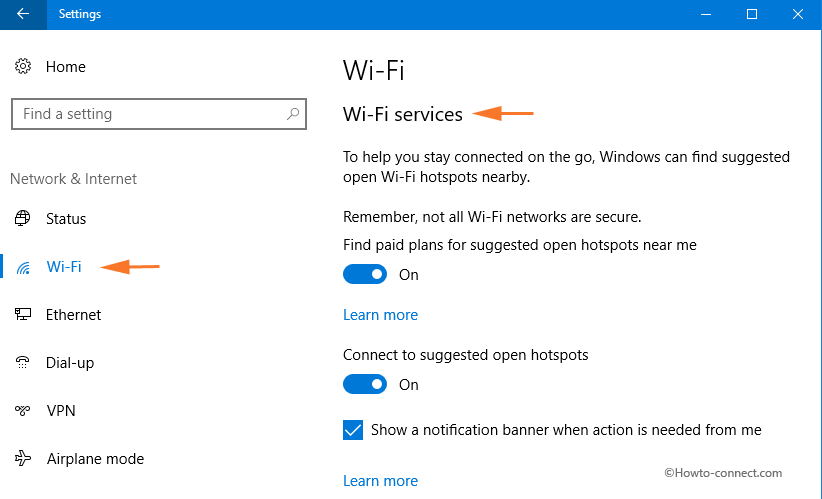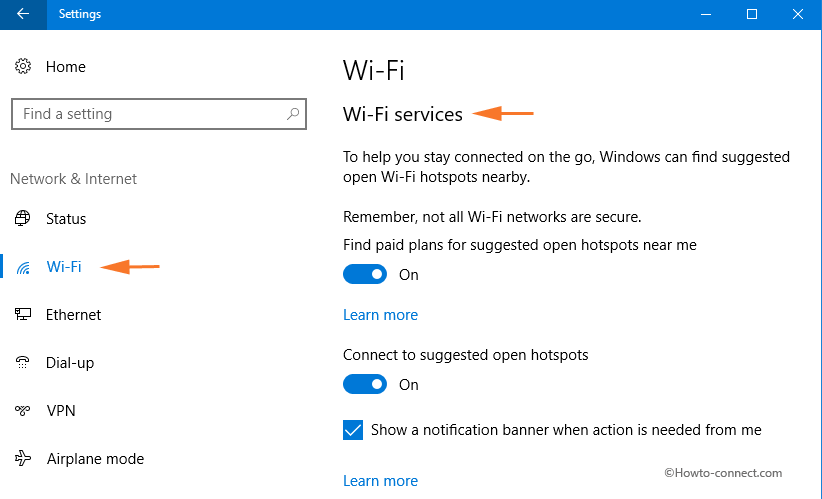 Step 5 – The first option under Wi-Fi services is Find paid plans for suggested open hotspots near me. Simply, drag the slider towards the right and turn On the option and Enable Wi-Fi Services on Windows 10.
Now onwards, this service will let you get online by buying Wi-Fi at the hotspot.
Step 6 – Next, to know about the nearby hotspots, use the toggle of Connect to suggested open hotspots. This is quite enough to establish a connection with an open wi-fi hotspot.
Step 7 – Finally, checkmark the option Show a notification banner when action is needed from me. If you rely on Wi-Fi Sense, it will be better that you checkmark this option.
Well, when you are flying, then at times, you want to access Wi-Fi and in this concern, some aviation services offer the same. You can get instructions regarding this here – How to Access WiFi in Airplane Mode on Windows 10.
In addition, when you are well aware of the various components of Windows 10 you can manually Create Wireless Ad Hoc Internet Connection.
Conclusion
So, with build 15014, you will be easily able to enable Wi-Fi Services in Windows 10. This will make things easier as you will find two wireless services in one place. If you have any extra information about this new combination, please write to us.