Solutions to Xbox One Error 0x80a4001b. – This issue generally occurs in the middle of signing into your Xbox account. After you type your credentials and press Enter, Xbox prompts an error message – There was a problem and we couldn't continue (0x80a4001b). This is is one of the haunting problems for Xbox one users and commonly arises because of Connectivity issues. You can see a similar fixing guide How to Fix 0x807a1007 Xbox One Error.
You need to troubleshoot few basic settings of the app to Fix Xbox One Error 0x80a4001b on Windows 10. These include the Connectivity of your PC, issues with Microsoft account, or wrong credential. Follow the below methods one after another.
Xbox One Error 0x80a4001b Solution Methods
You will find ahead ways 4 for this – There was a problem and we couldn't continue (0x80a4001b).  Follow one at a time successively –
Method 1 – Check Xbox Live Status
Xbox One Error 0x80a4001b indicates that Xbox live service might be down. So go to this web page and check whether the real cause is latent into the Xbox Live Status. If it has gone down then sit back and wait until the service becomes normal.
Method 2 – Check if any Connectivity Problem
Step 1 – Move to the left from Home to launch the guide.
Step 2 – Select Settings from the left pane of the application.  Click All setting at the top area and let all the Settings to load in the left.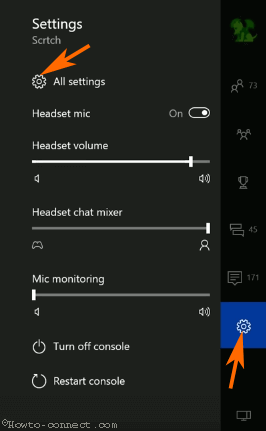 Step 3 – Choose Network settings now.
Step 4 – Since you need to check Connectivity Problem so select the option Test network connection.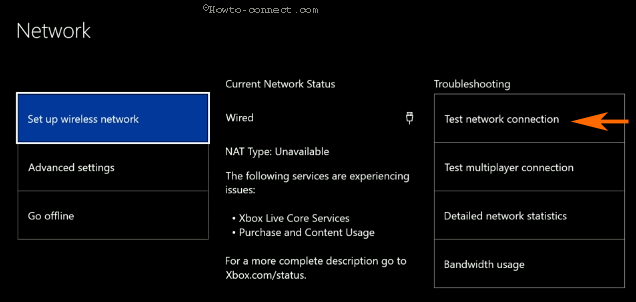 If everything is IK then reboot your PC and begin playing but you find any issue then fix depending on its kind.
Method 3 – Delete and recreate your account
Recheck if you are putting the correct user id and password into your Xbox one application. If it is correct then you can delete and again create an account in case you have no problem with it.
To delete the account
Step 1 – Click on Settings followed by All Settings in the left pane of Xbox one.
Step 2 – Proceed to Account. Select Remove accounts under it.
Step 3 – Scroll right and click on your account to make it highlighted. Choose Remove.
Method 4 – Restart the Console
After following the above 2 methods carefully, reboot your console. For this,
Step 1 – Once more go to the left on the Home screen to open the guide.
Important – When you double click on the Xbox button, it will launch the Guide from an alternative screen on the console.
Step 2 – Select Settings and then Restart Console.
Step 3 – A confirmation pop-up will quickly appear, so click Yes to reboot the console.
Method 5 – Delete if you have multiple Accounts
If you have created several accounts on your Xbox one then it can create Xbox One Error 0x80a4001b. So delete all the accounts one after another and create a new one at last. To delete the account follow this Delete Xbox one account
Conclusion
These are the easy methods for how to Fix Xbox One Error 0x80a4001b on Windows 10. Almost users haver got rid of this Xbox one issue using the methods. Still, if you meet with an issue inform us through a comment.
Repair any Windows problems such as Blue/Black Screen, DLL, Exe, application, Regisrty error and quickly recover system from issues using
Reimage
.