After a malware attack or other serious issues like this, the Key Entries of Registry Editor for Windows Defender gets manipulated to send it to disabled mode. The Resultant is the Defender becomes grayed out in Update & Security in Settings field hindering a user to enable. The option before the user that remains in this situation is to open it using its path. The particular default path that leads to launch Windows Defender is
C:\Program Files\Windows Defender\MSASCui.exe
But after following this path, a confusing message box comes on the screen saying – This app is turned off by Group Policy.
Well, user rushes to Group Policy Editor and navigate to the path
Computer Configuration/Administrative Templates/Windows Components/Windows Defender/Turn Off Windows Defender
Here he needs to set Turn Off Windows Defender in Disabled mode and he does the same. But the situation gets worse when this course of actions is insufficient to put an impact on settings area and Windows Defend is still found Grayed out. The only help is now Registry Editor. If you are also trapped in this problem don't be more concerned since from here the Defender will be restored in any circumstance. Let's see
How to Enable Windows Defender Via Registry Editor
As usual, jointly push Wind and R on the keyboard furthermore copy regedit and paste in the run dialog box.
On the spread out Registry Editor travel the route
HKEY_LOCAL_MACHINE/SOFTWARE/Policies/Microsoft/Windows Defender
After clicking Windows Defender in the left pan of the Registry Editor, look for DisableAntiSpyware in the right segment.
Execute a right click on DisableAntiSpyware and advance with selecting Modify within the context menu.
A tiny box Edit DWORD (32-bit) Value comes to appearance, write 0 (zero) in the Value data area and hit Ok to Enable Windows Defender Via Registry Editor.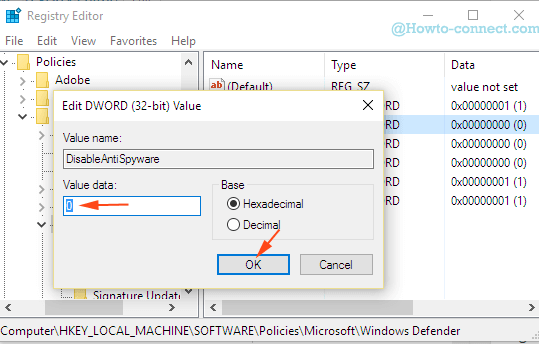 Restart the machine so that alteration made is gets implemented. Go to Windows Defender via Update & Security in Settings and check the field. You will find all the mess up was the story of the past.
A few months back after the advent of Windows 10 users were wandering hither and thither to find out Windows Defender because it was grayed out in the Update & Security section in Settings area. Right in this way after receiving a new update this problem also occurs. In circumstances like these, this is the appropriate fix to restore Window defender on your system.