Performance mode in the Windows 10 built-in browser helps you optimize speed, responsiveness, memory, CPU, and battery usage. This feature improves memory usage by organizing sleeping tabs which might vary depending on your individual specifications and browsing habits. When you enable Performance mode in Edge, the sleeping tabs timer becomes unavailable.
Performance mode greys out the options for Fade sleeping tabs, Put inactive tabs to sleep after the specified amount of time, and Never put these sites to sleep. Furthermore, the feature also tweaks some settings to lessen resource usage. This is currently available in the Canary 91 version of Microsoft Edge and is designed to reduce the usage of CPU and memory. Stable edition will include this feature later this year.
Enable and disable performance mode in Microsoft Edge
Here is how to enable and disable performance mode in Microsoft Edge –
Open Microsoft Edge (currently Canary) and press – Alt+F.
Select – Settings.
From the left side, select – System.
Go to the right pane and click the drop-down for Performance mode.
Finally, choose the option – Always on.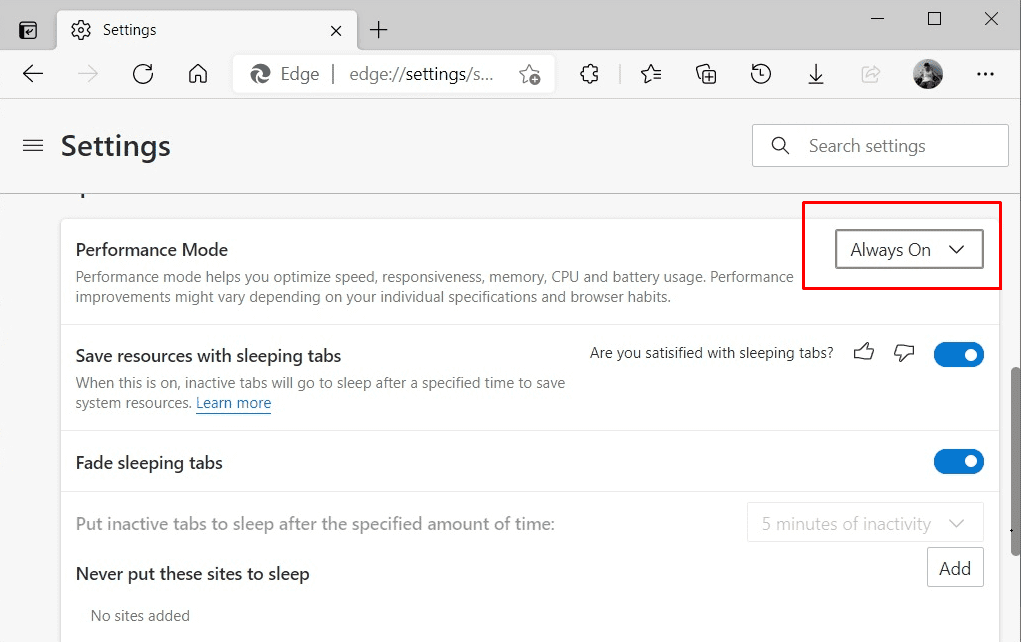 In order to disable the same, select the Always off option from the dropdown.
See more –
1] How to Use Hardware acceleration when available in Microsoft Edge
2] How to Enable PWA on Startup in Microsoft Edge
3] Best Microsoft Edge Tips for Windows 10 [Chromium Version]
4] How to Enable Microsoft Edge DevTools Dark Theme
5] How to Turn on or Off Startup Boost in Microsoft Edge
That's all!!