The Samsung Galaxy S4 Smartphone is available on the market from April 2013. After comparing to Galaxy S3 features, it is found that the galaxy S4 has introduced a fresh gesture-activated feature. It is called Motion Controls. The Galaxy S4 motion controls feature facilitates you to enact several key functions using the wave of a hand. For example,
You can make a call by only putting the phone beside your ear.
Pick up your phone to confirm missed calls.
Silence a S4 phone ringer by moving the phone flat on its screen.
Related Post: Top 10 Apps for Samsung Galaxy S4
How to Enable Motions Controls on the Samsung Galaxy S4 ?
Step  1
Go to home screen of your Galaxy S4 phone by pressing the home key button.
Next, tap on the Settings icon.
Step 2
Then tap on the My device tab at the top of the screen.
 Now scroll down to select the Motions and Gestures option.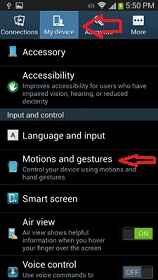 Step 3
Select the Motion option from Motions and Gestures settings screen and move the slider in order to switch on. After switching on, it changes in to the green sign.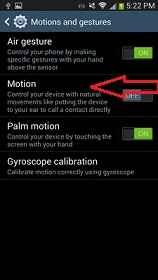 Next you will get screen of Motion settings. Here enable the preferred features from lists that you like to activate. For example, direct call, Smart alert, Zoom, Browse an image, Mute/ pause.
At last, press the Home button to close the screen.
Now enjoy Gesture Feature of Samsung Galaxy s4.