Everything What Cortana Does for You in Windows 10 – For a substantial number of daily routine requirements, you can reliably depend upon the Digital Assistant since it has the capability of fulfilling them. The list is very long but some of them are Search by voice and Typing, Call & Text, Plan your Trip, Get Latest News, Find Stock Market News, Get Weather Updates, Launch Programs, and Add Events to your Calendar. We will present the steps for each one of the functions hence, read What Cortana Does for You in Windows 10 in forthcoming few paragraphs.
What Cortana Does for You in Windows 10
You can also navigate to the concerned topics directly from here –
Search – Voice & Typing
Cortana bestows you two choices to conduct a search – one is by means of "typing" and the other one is through "voice". To talk to Cortana, ensure that the below steps are properly observed and pursued –
Expand the "Cortana" and thereafter hit on the three horizontal lines on the top left corner.
Hit "Notebook", the second one from the top.
When the bar enlists the items that are placed under "Notebook", click "Settings", the third entry.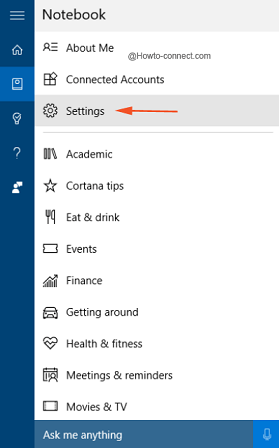 Look for the title "Hey Cortana" and toggle ON the slider just below it.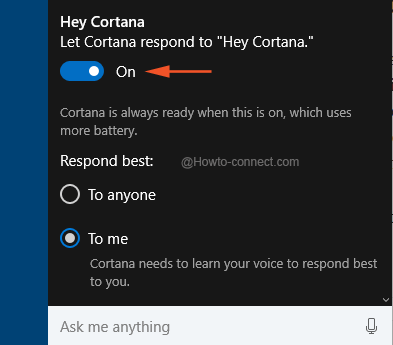 When you meet the above steps, you will be able to speak to her and then you can commence your commands to her.
Cortana doesn't restrict herself to voice commands only but you can type the queries as well.
Call & Text
With the continuous deliverance of updates, Microsoft improved the way you handle your "calls and text messages". While attending some variant crucial works, you might not take a particular call on your "Windows 10 Mobile" then a "missed call alert" will be highlighted on your PC's Cortana bar.
Moreover, you can text back to that "missed call number" from your PC – and Cortana will send that message! All you need to do is –
Write "text" followed by the name of the contact to whom you want to convey a note and click on "text send a message" that appears on top of the bar.
In "Enter your message" box, write down the note that you desired to and thereafter click or hit "Send" button.
The above actions can be performed with voice command also.
Plan your Trip
With "Cortana" enabled on your PC, you can plan your holidays with her help and she will henceforth keep track of your traveling schedule which includes all your flights, irrespective of domestic or international.
The moment you receive your flight programme on your email, Cortana will ask you if she can assist you in tracking the trip and if you agree with her, she will note the facts of the flights in "Notebook" and will redound for retrieving all the necessary info from one single place. You can command her to "show me my trips".
Get Latest News
Being a user-specific, Cortana represents every item that is required by a man in his daily life, including news. The moment you step into Cortana, do a hit or tap inside the search field, the bar will start displaying the "Top News" from around the world.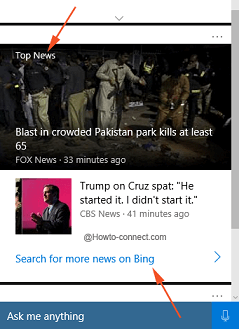 You can click or tap on "Search for more news on Bing" link that is visible just underneath the "Top News" section and then on the browser, "Bing" will list down the latest news.
Set Reminder
This private helper is truly your caretaker as she can prompt and point out your meetings, birthdays, etc. She is capable of handling three types of reminders – "Time", "Location" and thirdly "People". The reminders that you set will be respond on the lower right end of the screen with few regulating options.
The Cortana menu has a separate and specific icon for "Reminder" which first displays "All" the reminders at one place and if you prefer to edit any particular item, you can click on any one of it and further move with the alterations.
Find Stock Market News
What Cortana Does for You in Windows 10 is enables you to see the "stock market news" of companies you prefer to and for this you need to make sure that these few simple tweaks are done correctly –
Launch "Cortana", and tap on "Notebook", followed by a tap or hit on "Finance".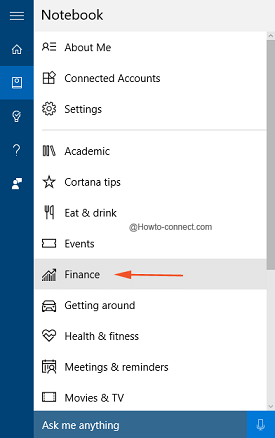 Hit on "Add a stock" button.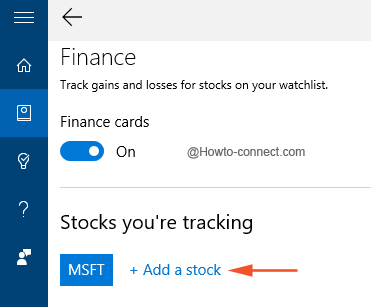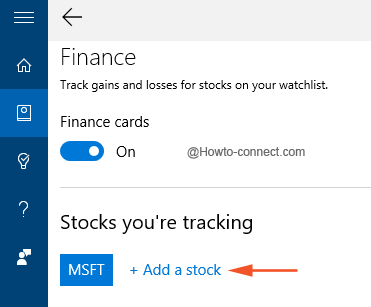 Write the name of the company whose stocks you desire to track and follow and click "Save".
So, whenever you click or tap on "Cortana", in the "Interests" section you can see the chosen company's stock market data.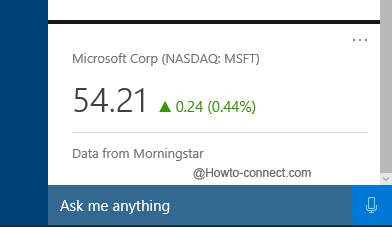 Get Weather Updates
To swiftly get the weather updates of your area or any other region, use Cortana's "Weather" interest. When you ask her to track a particular region's weather, she will showcase you the same information.
Launch Programs
You can directly talk to Cortana and ask her to launch any particular program for you, for illustration – say "Hey Cortana, launch Microsoft Edge" and she will open the program for you on your PC.
Send Emails
Just like the texts, Cortana can send emails to the contacts for your Mail app Just write "send email 'name'" or speak to her in a more specific way like "Send email to Navin Sir" and she will have everything ready for you. Just input your note and click or hit "Send" button.
Add Events to your Calendar
This digital assistant is also capable of "adding events" to your "calendar" and to do so you need to observe a few easy steps –
Just write "add events" in the Cortana field and you can view the same on the top, click on it.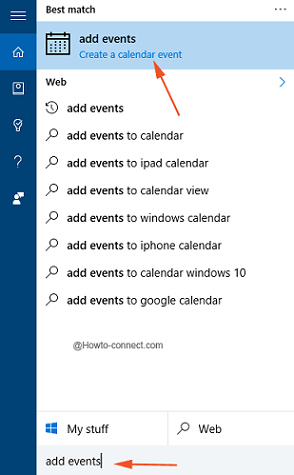 Fill in the necessary fields like in the "Subject" box write the matter and then on "Date" box input the date on and thereafter click on "Add" button to save the event.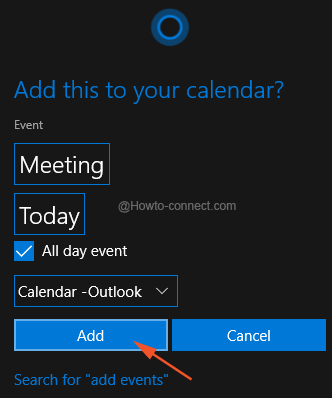 Otherwise, you can talk to her straightly, for instance, say – "add an appointment at Friday 11 am to calendar" and all the provided information will be filled by Cortana in the respective boxes.
Well, What Cortana Does for You in Windows 10 are not restricted to the above-elaborated features only. She has more in her store for the users and slowly with the updates, they are coming out. With this much data, we are concluding this article here and hope to hear from you.