Usually when a new version of iPhone arrives people go crazy. As Releasing Date of iPhone 6 is coming nearer expectations of people are also skying. On the launching of iPhone 5, the expectations from it were high. However it doesn't stands for what it is believed to be as there were several shortcomings in addition with its high ranged price. The screen of this version was easily scratch-able. The Samsung is showing a tremendous change with its handsets like Samsung galaxy S4. Sony Xperia, HTC One are also bringing their new series of sets in the market with lovable and awesome features. With all these new featured and branded sets available in the market for a comparably lower price, iPhone 6 must bring up a whole new concept to be liked by a majority sections.
So, here in this article I am going to write about the different expectations which people might have with the release of iPhone 6.   
Recommended Post: iPhone 5 Review – Features and drawbacks after 10 days of Release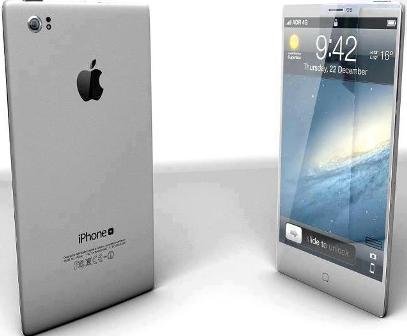 1. iPhone 6 Screen 
We all know that Apple always launched a big screen and that too of high quality iPhone. So, people have any eye on the screen of the oncoming iPhone 6. They are hoping for more fantastic and beautiful screen. They are hoping the screen would be not easily scratch-able as this frustrated  them more in the case of iPhone 5. As Samsung has already launched a big screen smartphone, Apple might launch an even bigger display screen to attract its users. The screen would be Retina which implies that each individual pixels can be seen from a normal distance by you.
It is a rumor all round the world that the Screen would be 4.8 in long which would likely the same as launched by Samsung and HTC one before. There might be a great resolution used on the screen. If it launch a big screen as the figure mentioned above, it would come with some extra features too as it has not launched this much long screen before. It is really a great expectation from it that what it is going to place in the extra space used by it.
It is also in news that Apple will use a Sharp IGZO (Indium Gallium Zinc Oxide) screen top of the list. The great advantage of using this app is that it make the screen a little thinner and uses a less amount of Power than usual. Users will obviously love the thinner screen iPhone. Different customers have different choices when asked on various things like some of them really like big screen while some prefer for sensitivity, screen resolution, power consumption and other things. It is in news that the sensitivity of its new iPhone will be 8 times the previous existing models with scratch resistant and thinner.
 2. iPhone 6 Camera
Camera is considered to be the best thing in any mobile whether it is an iPhone, Smartphone or a simple phone. Everyone loves it when it comes to high resolution photos. The camera facility provided by Samsung Galaxy S4 or HTC One is beyond awesome. So, basically here people are expecting a new and exciting technology if we talk about camera in iPhone 6. It is in a rumor that Apple is going to give a 12 megapixel sensor. However, there is a problem in increasing the screen resolution as you might know this that it leads to the production of more noises as there is less night per pixel.
Apple will look at all the shortcomings regarding this in its newly launched version iPhone 6, this is the expectation among its customers from the camera point of view. There is a prediction of the use of light-field camera in its new version which lets its users to take a picture of all the light in every available direction. The user which is using this camera which is based on light-field could capture pictures much faster than traditional-point-and-shoot cameras. It could also be used to refocus the pictures once they are being taken by the user. A user of a light-field camera is able to take a picture much faster than traditional point-and-shoot cameras and refocus those pictures after they are taken.
3. iPhone 6 Gaze Detection
As already explained that Apple is going to bring a long screen for its users, you should note that having larger screen requires more power. So, it should also provide a much better battery than the last time to ensure that it runs for an appropriate period of time. Apple is going to use Gaze detection for this purpose using which the phone itself tells you whether you are looking at or not. This is a wonderful feature of iPhone 6. Another interesting fact which is embedded in this app is that using the above gaze detection, you can simply turn off the video playing or it could be used to turn the lights off or switch off the screen lights.
4. iPhone 6 Processor
We all know that the design of the processor used by the Apple for its different iPhone is cloaked in secrecy. There is A6 Processor designed for your iPhone 5 series which was being designed by Apple itself. This processor was based on ARM technology. It is expected that Processor A7 is going to be used in the coming iPhone 6 models. It might be a processor based on low power which is cored to pick up manual jobs like playing music when your phone is on stand-by mode. This new feature lets your processor to have low-power cores that save on battery life, when not much CPU power is required, switching to full-power cores when more intensive tasks are required. It is quite confirmed that the processor is going to change. Which one will come into the picture is a matter of zeal.
5.  NFC and Fingerprint Sensor
NFC has been removed from the iPhone 5. However, with the upcoming of new technology it is believed that it will come back in iPhone 6. As Apple is going to launch a device which is most likely to support Passbook App, tickets, coupons, store cards etc. it is quite obvious that Apple is going to try NFC. It has also been in the news that Apple is going to include a fingerprint sensor to do the transactions in a very secured way. Apple might have a bad past with NFC but for launching its new product in the market, it necessarily needs a recombination with NFC.
6. iPhone 6 Price
Recently Apple has come down from its top profit making mobile company to the 2nd highest profit making company. It is all because of the high Price of iPhone 5 during its launch. Smartphones are there which are less costly as compared to the iPhone 5 and gives almost all the features and in advance giving you some additional features which are not there in Apple before like: big screen which leads to downflow of the status of Apple. So, this time it is expected that Apple would lower down the initial price of iPhone 6 when it comes in to the market.
7. iPhone 6 Storage
People know that iPad supports a memory of 12GB. So, it is expected from the new version of iPhone to have at least an equal memory space with itself. Seeing the competition it is facing with its competitors, it is sure that it will come with this much amount of space.
Conclusion
You all are waiting for the new version of Apple's iPhone 6 eagerly. Your wait has now finished as it is going to come in the mid-half of the coming September. Just wait till that date and enjoy the fantastic features which is embedded in your new iPhone handset. It is expected that the 32GB model would cost you £529, the 64GB model £599 and the 128 GB model £699.