Exploring new features in the operating system is the best way of Microsoft to launch another build of Windows 10 – 10036. The rumors say the build is leaked into the web with lots of bugs. So, for the time being we are not presenting you any link of the new build here. Coming back to the Windows build – 10036, Microsoft has again bought some new modifications related to the Start Menu.
New Crystal Look of the Start Menu – Windows 10 Build 10036
The Windows 10 build 10036 has the Start Menu which has a glassy look means it is translucent. When you expand the Start Menu to the full screen you can see the level of transparency gets change. Take a look at the below screenshot which displays shows the glassy look of the Start Menu.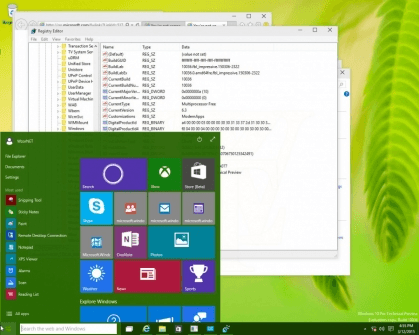 Click on the Expand button which is at the top right of the Start Menu. The Start Menu gets maximized to the full screen.
The translucent level of the Start Menu changes when it is maximized. It is recommended to have a brighter wallpaper so that you can see and understand the things displayed on the transparent Start Menu.
We suggest you read:
Windows 10 – How to Pin to, Unpin From Start Menu, Start Screen
More Transformations in the Start Menu
Apart from the transparency thing, one more important change has been noticed in Windows 10 build 10036. When you open the Taskbar and Start Menu Properties window and get into the Start Menu tab, you have a Customize button that permits you to carry out the customization of the Start Menu. This Customize button is disabled, leaving you with no options for customizations to the Start Menu.
Another vital piece of thing is been missing in the Start Menu. The icons for pinned items seen in the upper left corner seem to be missing in this new build.
The End
This is all we noticed in the Start Menu. Of course, we hope there are lots of things to come when we see the real build (not the leaked one). If you come across any new information about the Start Menu of Windows 10 build 10036, please do write them in comments section below.