Eyes Makeup Salon is an Android app for makeup gaming specially designed for girls. This app has been designed to teach girls on how to groom the eye-brows, curl eyelashes as well as apply stunning eye shades to the eyes of the model you select. This is a very simple and addictive game. Eyes Makeup Salon app is basically a make up app for android giving you tips on how to look attractive as well as perfect.
Eyes Makeup Salon app not only tells you on how to make up your eyes but also provides you eye lens to wear upon and try different colored mascara. You can also select cool sun goggles as well in this app. This is a complete fun app for android your daughters. A screenshot of this beautiful app has been shown below: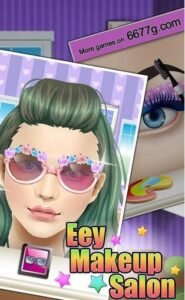 A link has been provided at the last of this article from where you can access this beautiful gaming app.
How to use this Eyes Makeup Salon Android App
At first install Eyes Makeup Salon app on to your android device. You can also look for this app in the Google Play Store. Launch this app clicking on its icon. Once you open this app, you can see a Start option on the screen, Just tap on it. After then you can see four beautiful models ready for their eye makeup. Select your favorite and press the Next arrow icon. Once you apply eye makeup to the model and make her look  beautiful. Start with the left eye.
On the screen of Eyes Makeup Salon android app, on the top panel, you can see some of the tools which are present there for grooming the model. All you have to do is to select each icon one by one from left to right. Among them, the first one is to groom the model's eyebrows. You can trim the eyebrows as you wish too. In case you cut them too much, you won't need to worry as there provided is a serum bottle to make the hair grow again. Tap on the next icon to do the further makeup. You can apply beautiful templates of eye shades using this function. Just tap the palette of eye shades and select the design you want to apply by tapping on it. You can swipe it over the eyes with the help of brush.
The most important thing of Eyes Makeup Salon app is the lashes. They are provided here for curling the eyebrows using the curler as well as moving on to select a mascara color. Apply it by taking the mascara wand and swiping it over the eyelashes of the model. You can also select beautiful eye lens among the different lenses present here on this app. All you have to do is to easily swap the eye by tapping the last icon on the right and apply beautiful makeup on the models eye. This is all you need to know about this app.
Key Features of Eyes Makeup Salon App
Available free of cost.
Good graphics with neat and clean interface.
Shows wonderful cartoon effects.
Contains different colored eye lens as well.
Consists of four models with different hairstyles and hair colors.
Apply different makeup styles on the eye of any of the given models.
Allows you to trim the eyebrows as per your wishes
Allows curling of eyelashes as well as grooming of eyebrows.
Put mascara on the curled eyelashes.
Also provides eyebrows growth serum.
My Note
Eyes Makeup Salon is a nice Android app for gaming designed to have fun with different styles of eyes by applying different shades as well as grooming eyebrows etc. You can try its different parts and make yourself a model wearing designer lens etc. This is one of the cutest app for girls to teach them to learn about makeup. Overall this is a good app to try on.