At the beginning of 2013, Facebook Messenger feature is revealed for Android and iOS which lets to start voice messaging service. The official Facebook app of Android has started the same service a few days ago. Now it is present on updated Facebook 5.4 version app for iPhone device. It provides an option to add audio recordings with messages, record and share videos without exit the app. New Features of update iPhone Facebook  app
There is no new change in the photo sharing menu. But, as soon as start the camera within Facebook app, iPhone user indicates an option to choose either image or video capture. The Nearby tab has been overhauled and user can set a range of filters while they start a search in nearby places. It is still probable to stare for attractive places only in a specific area of the map.
iPhone user can send Voice messages recording items to any Facebook user quickly in any case. These recordings items can be also streamed on the web.
To start new recording voice, hit the + button beside the text box. Then user will get the new Record Voice option. Next, tap and hold the red button to record any audio. If the user slides his finger to off button then the recording is stopped.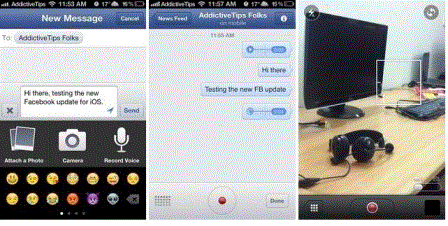 To listen the received recordings message user can tap on the received message.
To check out the new video recording feature in iPhone Facebook updated app, start profile page and tap on share photo button.
As soon as the camera is started, iPhone user can detect the previous image or video file in the underneath-right side. It is also helpful to upload on hand videos from camera roll folder.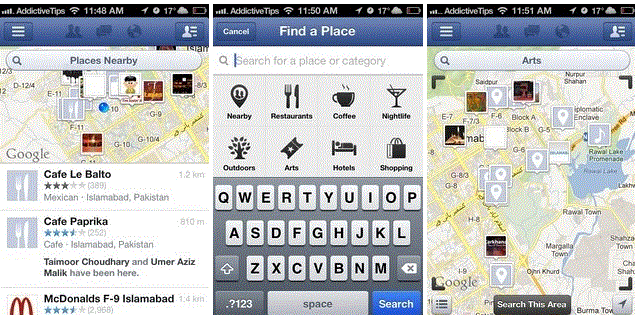 The most important change is found in the Nearby tab of the Facebook app. Every location in the list displays the names of connected friends who have visited it earlier. The built-in Bing map also displays photos of connected friends who are near at this time or have visited some hours ago.
Note Existing iPhone user can get the latest version of Facebook app through the search in Updates section of the iTunes App Store. New iPhone users can download it by clicking the below given link.