Facebook Player is a free Windows 8 application that lets you have the feeling of Facebook directly on your Windows 8 with special features of watching Videos or listening Music. It is a free Facebook Client App. If you are addicted of watching fb videos on your laptop, this is a very suitable app for you. Facebook Player app also provides you the facility of searching for any particular artists or singers from Facebook. Along with these features, it also allows you to see your wall, profile, your friends profile, groups, your favorite and pages.
Facebook Player app also allows you to add new friends directly from its interface or add pages or new groups. The interface of this app is very lovely. It is available at Music and Video Category of Windows 8 Store. A screenshot of its home is shown below: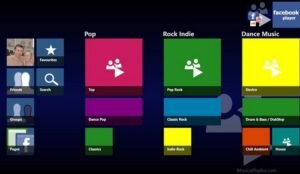 A link has been provided at the last of this article from where you can access Facebook Player app.
How to use and play Facebook Player Windows 8 app
Running Facebook Player app on your Windows machine will open a window like the above-shown screenshot. You have to authorize this app at the very first moment you try to run this app. This is a must condition otherwise this app wouldn't come into function. This is however not the case for YouTube. It depends on you whether you want to reveal your data or not. However, watching certain videos even on YouTube will ask for your login details. All You have to do is to offer your login details and access your online account.
Once you open your FB account here, you can see your own profile, wall, different pages, and other activities of your friends. You could also get access to see groups and videos present there on your wall. There is a similar option of search here using which you can search for almost anything just like that of your online account. There are options of favorites, artists, music genres as well here on its left panel. Some of the interesting features of this app has been described below:
Your Friends: Here, you can see all the stuff about your friends which is a good and lovely thing to excite about.  Get to any particular friend, and you would be able to get all the videos from that friend's wall.
Groups: Here you could see all things going on about your different groups easily. It will tell you the different groups that you are following or joined. See to the music genres available directly on the main screen. You can see the music genres that are shown on the main page and can get access to the music content from Facebook, YouTube, and Soundcloud.
Your profile videos: Clicking on here will open all the videos which are available on to your profile. It includes all the videos which have been posted on your Facebook timeline. All of them would appear in a vertical panel on the left side of the page. All you have to do is to click on any of them and start watching them. You can easily switch between the pixels of your video i.e. from 480 pixel to 1020 pixel in just a single click.
Add to favorites: Use this feature to add any page, video, etc. to your favorite. You can use the star that appears on any of the page to add them to your favorite list. The next time you use the favorite option that is available on the main page, you would be able to access that page and can watch videos available there.
Settings Charm: This feature can be used to change the look of different sub-sections, display, etc. The charm settings can be used to log out from this app.
Key Features of Facebook Player Windows 8 App
A completely Free App.
Support Full Screen.
Good Graphics with a nice choice of colors.
See Your Friends Post, Wall, pages, groups as well.
See Videos directly from Facebook, YouTube and Soundcloud.
There is a wide variety of pixels of video directly from 480 p to 1020 p.
Adding your favorite pages to this app is most interesting.
Snapped support allows to work whilst playing the playlist on the side.
Allows searching of Facebook pages, to find your favorite artist, genre, TV program.
Continuously updated categorized view of genres, artists and Facebook pages, groups used for playlists.
Final Note
Facebook Player is one of the finest app to watch videos directly from your Facebook Network. This app also lets you to add your favorite pages here so that you can access them easily without facing many problems. No other lags are found. Facebook Player is a must try app for all those Facebook lovers.