FileActivityWatch is a utility for Windows 10 and its predecessors that shows information about every read, write, or delete activity of files that occurs on your system.
For each operation, the tool displays bytes, Counts, first and last write/read timestamp and the name, and ID of the accountable processes.
How to Download and Use FileActivityWatch
Download FileActivityWatch
Click a link to download FileActivityWatch on your System – 32-bit and 64-bit
The tool doesn't require installation, so extract the file and open using only double click on FileActivityWatch.exe. Provide the support to Elevation ('Run As Administrator') and go to the interface.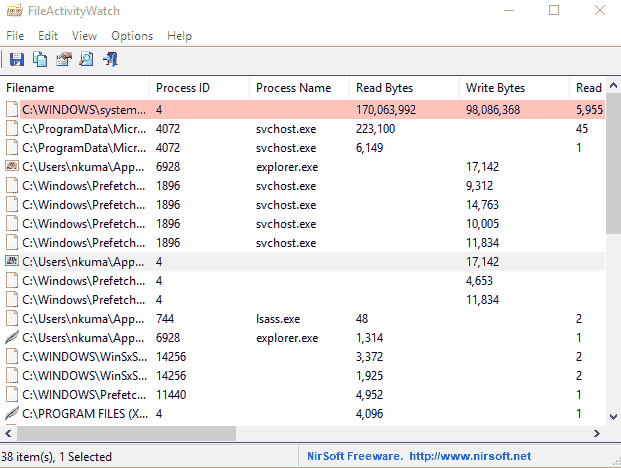 How to Use FileActivityWatch
Shortly after you run the utility, it traces out all read/write/delete operations made by applications on your system.
Under File menu, you can select Clear List to reload the items on the application.
Options menu lets you choose which type of activities you need to see from "Capture Read Events", "Capture Write Events", and "Capture Delete Events".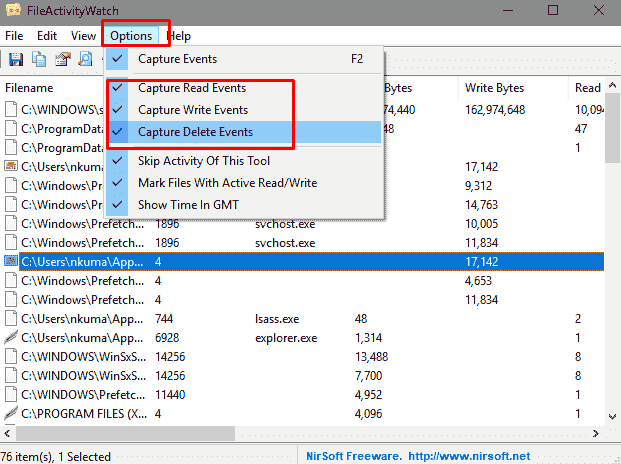 You can stop all events tracing by unchecking the Capture Events' option (F2).
Mark Files With Active Read/Write
Go to the Options menu and select 'Mark Files With Active Read/Write' to see the activities in different colors. The operations in the last few seconds are marked as follows:
| | |
| --- | --- |
| Color | Activities |
| Green | Read |
|  Yellow | Write |
|  Red | Read+Write |
|  Blue | Delete |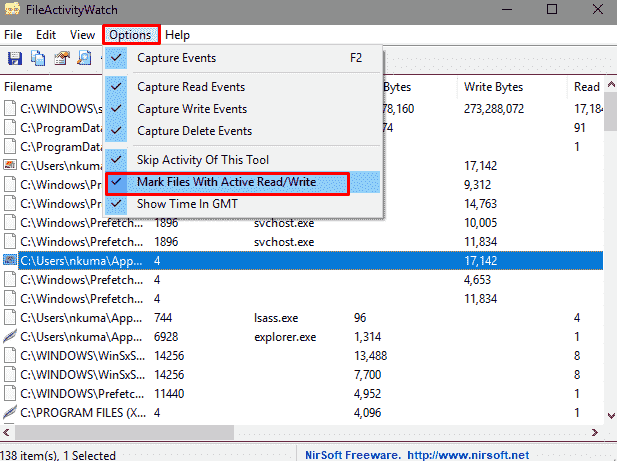 To find out the time when the Read, write or Delete operation was conducted, in "GMT", select  Options followed by Show time in GMT.
You can make a specific column visible or invisible by hitting on View menu and then Choose columns.
FileActivityWatch Columns
However, the Column name of FileActivityWatch are self-explanatory but we are giving the meaning of the term below –
Filename – The name of the files that had read/write/delete activities.
Process ID – The ID of the process accountable to the read/write/delete operation.
Process Path – Full path of the "process".
Read Count: Number of 'read' operations.
Write Count – Number of 'write' actions.
Delete Count – Number of times that the file was removed by the specified process.
Process Name – "Process names" involved in the read/write/delete operation.
Read Bytes – Total amount of bytes read from the specified file by the particularized process.
Write Bytes – Cumulative number of bytes written to the stipulated file by the specified process.
First Read Time -Date/time when the tool detects the initial "read" operation.
First Write Time – Date or time when FileActivityWatch recognizes primary "write" activity.
Last Read Time – Date/time when the utility identifies previous "read" action.
Last Write Time -Date or time when the last write operation was recognized.
So these are the ways using which you can Download and Use FileActivityWatch to track the operations.