Apps Stars is a free app of windows 8 letting you get the best Apps searching facility on windows 8. Normally, when you search in the search apps in windows store, you find a large number of apps floating making you confused to decide which one is good for you. This app helps you in decreasing the number of such apps and promotes the apps which you will like thus it removes the clutter as well as it saves your time in searching a good app. It constantly keeps track of the ratings, reviews, and prices of apps to bring you great apps for your PC or tablet across all prices and categories.
The interface of this app is kept very simple and user friendly. The presentation of apps remains the same as it is shown in the windows Store, however, it reduces the total number of apps and presents the best apps before you. A screenshot of this app is shown below: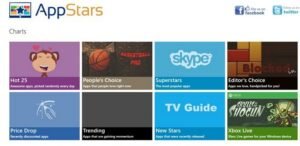 You can have this app from the link provided at the last of this article.
How to use Apps Stars for searching the best apps
Once you have installed this app on your windows machine, running this app will pop-up a window like the above shown screenshot. There is a facility of chart provided here which is updated on a daily basis. On this app, you could also search for various things based on their categories as well as their prices. It might be free of cost or needs a little amount of money to launch on your mobile.
You will see a collection of best apps floating on your windows screen soon you run this app to your computer. Clicking on any of it will open up a new window showing you the full details on that topic whether it is price, description, features, etc. Once you like any of the apps provided here, you could simply use this app and share this app with your Facebook friends, families, and relatives. It is a boon for the parents as they could select the best apps for their kids by selecting the best apps among the apps floating on the screen. This app consists of various subsections like Hot 25, Price Drop, Trending, Superstars, New Stars, and many more.
You could either sign up for this app or you could simply login inside this app using your Facebook or Twitter Account.
Note: This app could also be accessed from the Entertainment Category in Windows Store.
 Key Features Of Apps Stars
Freely Available App.
Results could be updated on a daily basis.
Automatically Searches the finest Apps for you.
Results are filtered on the basis of category and price.
Consists of 12 different charts.
Jump directly to the Windows Store app page for app downloads
Simple and very easy to use Interface.
Supports Windows 8 Charm Facilities.
 My Opinion
This app is really one of the best apps of Windows 8 as it helps you in finding the best apps for you. It is a handy app giving you good search results. Navigating through the screen is quite smooth, removes the clutter caused due to the presence of a large number of apps shown on the screen. Overall, this is a nice application and one should must try this app.
Link: http://apps.microsoft.com/windows/en-us/app/app-stars/8a6dfd32-9d7a-4653-8b7a-2f032d2eb4d4