Run Cow Run is a free game app of windows 8. This is a running game app like subway surfers with new and exciting features. The motto of this game is to save and rescue all the animals by using different powers while running your cow. The power would come to you directly by taking it when they come in your path while running or by buying with coins which the cow has collected during the gameplay. The obstacles would continue to come when the cow is running. These can be avoided by passing over them or under them as the situation demands. Some of these obstacles are ice cubes, wooden boxes, haystacks, windmills etc.
The interface of this game is amazing. The characters used in this game resembles the typical animals of real life. It runs very smoothly on the system. A screenshot of this game is shown below: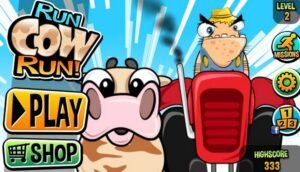 You can have this app from the link provided at the last of this article.
How to use and play with this game 
Downloading this app would not be troublesome as this is a lightweight game and is easily available at the Windows Store under the game category. Running this game after proper installation to your windows machine would bring up the above shown screenshot on your screen. Here, you can see a lot of different options present here on its homepage like play, shop, level, high scores, mission, etc.
GamePlay: In this game, the motive is to run the cow to the farthest place where it could go. Actually, it is based on a story. The story is that one day cow realizes the workings of a butcher. She got panicked and start to run. While running she also wants to help his poor fellows. Therefore, she optimizes between the obstacles and the power-ups, golds so that she could save maximum number of animals with her. Thus she becomes a hero by saving animals like pigs, chicken, ducks, sheep, etc from being slaughtered.
The controls are simple however not so easy to master them easily. It would take sometimes if this is your first running game app. The controls are just the Arrow keys. The choice of colors is fabulous in this game and you will see the side view image of this game as this is a 2D game. The Power ups of this game are of different types, like speeding up yourself so that you maximize your distance from the chasing farmers, blasting incoming obstacles, and many others.
Note: If you wish to jump higher as the obstacle might be large in height, click the Up arrow key twice.
Mission: This game consists of various missions like complete 500 meter run-up, save 5 pigs in a single game, use 3 power boosters, and many more like this. You have to do this as this will unlock new levels and give you points.
Shops: This is the place where, you could buy different things like the Magnet to attract coins to you while you are not on the track where they are coming, Save me to revive the cow and Almighty bull which rides very fast. All these things need some coins to be purchased.
Share on Facebook: If you have liked this game, you must want to know your friends about it and challenge them to exceed your highest score on this game.
Key features of this App
Amazing 2D graphics.
Leader-boards for Facebook users.
Uncluttered Interface and Smooth Gameplay.
Easy to play and controls are simple.
Provides unique power-ups.
Funny Characters.
Combined with windows charm settings.
 Save Farm Animals: pig, chicken, duck, sheep and Noogra (the squirrel from Noogra Nuts).
Conclusion
Run Cow Run is a very simple game of windows 8. This game is based on running like the Ragdoll Run. This is a simple game as compared to ragdoll, however, this one is a very fantastic game. You need not to be connected to the net to play this game. However, if you wish to challenge your friends on Facebook you need to sign up to Facebook here on the net. Overall, this is a nice game to try upon.
Link: http://apps.microsoft.com/windows/en-ie/app/6e6013e9-b772-47ff-a7ad-1b96e481d985