Method and Steps to Find Misplaced Phone At Home. – It is an everyday occurrence that I the place my Android Phone very securely and Slip up its location. If it's your trouble too then don't worry since now you can easily get informed where your mobile is. An application in Stores (Google play and iTune) helps you out to recover the Misplaced Cell Phone in the house even on silent.
Whistle Phone Finder Pro is a nice and handy app to find misplaced phone in this concern. As its name, the application makes the phone's sensor recognize whistle sound. As soon as the phone catch the whistle, it starts ringing. The application helps you to find your phone even when it is silent or in sleep mode. If night then you can set the phone's flashlight on with your Whistle sound. The application lets you set the maximum volume on the sound play while you are finding the phone.
So here you will see a guide to Find Misplaced Phone At Home. This is a very simple process, let's follow
Find Misplaced Phone
Step 1 – First of all, go to the respective stores to get the application on your mobile phone. For android phone, navigate to the Whistle Phone Finder PRO webpage in Play Store.
Step 2 – Once reach Whistle Phone Finder PRO in the play store, click the Install button.
Step 3 – The application will need permission to use some of your Phone's info and network. Select Accept to start downloading and wait for few minutes.
Step 4 –  Open Whistle Phone Finder PRO and allow the application to load on the screen. Once it loads, tap on Select sound.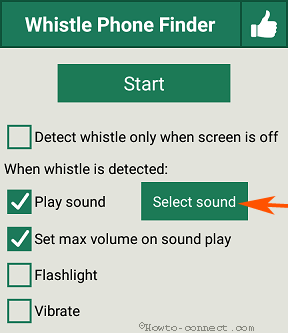 Step 6 – Tap on your melodious Ringtone to apply it as your Phone finder sound. Select OK.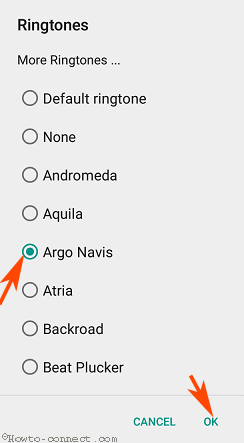 Step 6 – Finally, Tap on Start to begin the Whistle Phone Finder PRO on your Phone.
Now check the settings are all ok, so, blow a whistle sound and see whether the phone starts ringing. In this way, you immediately track your misplaced Mobile.
Customize the Whistle Phone Finder PRO Settings
Step 1 – If you want your Phone to Detect the Whistle only when screen is off the check the box before the first option.  This option will save you from unnecessary annoyance from this phone finding application.
Step 2 -The option Set maximum volume on sound play is enabled by default. But if you live in a narrow location you can uncheck this.
Step 3 – If you often need to find your Phone in night check the Flashlight box. But keep in mind that find phone flashlight will affect the battery life of your phone.
Step 3 – Vibrate option will make your phone vibrating on Whistling. So if you like to have the vibration check the box.
Conclusion
This is one of the simplest procedure to How to Find Misplaced Phone At Home. You can detect the place of your Samsung, HTC, Huawei, Sony, Xiaomi, Oppo and any other Android Phone with this guide that is on Silent only using a whistle note. However, few other applications exist in play store but they are full of clutter and not let you locating perfectly. It finds phone for me so install the application with this guide and get your hidden phone back.