Ways to Find out Whether User is Administrator or Standard User in Windows 10. – Very first task while you are shaping out windows for the first time on your PC, is to create a user account. Right At this moment, the account you create is Administrator Account. and if you want a variant individual to operate your PC you have to create another account. This account is none other than standard account. In the tips here, we will write How to Find out Whether User is Administrator or Standard User in Windows 10.
Administrator Account 
An administrator is empowered to make any modification in Windows 10. He can run and access any app, purchase apps from Window Store. Although he has to pass through UAC by default he is free to accept or decline. It can be a local account that login with his own password or Microsoft account signing in through Microsoft Account.
Standard Account
On Standard Account, a have another set of Apps. You view control panel and all items on it, but can't make variations in vital settings through here. Limited options prompt in when you right click to make change anywhere. You can't purchase apps from windows store.
Find out Whether User is Administrator or Standard User in Windows 10
1. When You are logged in with Administrator Account
Navigate to Contro Panel => User Accounts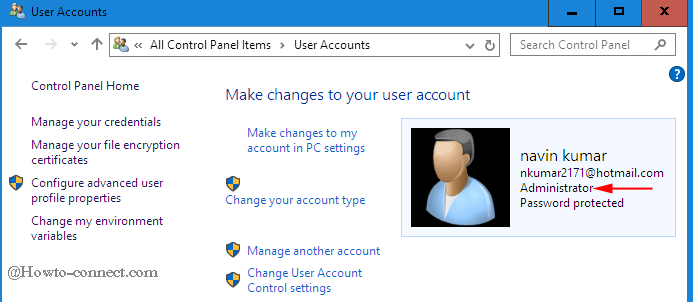 Look over the brief introduction of the user (your personal) beside your account picture. If you are logged in with the administrator account then after your email id  Administrator will be written within the introduction.
2. When you are logged in with User's Account
You view the brief introduction of the user by the default account picture. Here Administrator word is missing. This determines that the user is not an administrator but a standard user.
Now click Manage another accounts link as shown in the screenshot below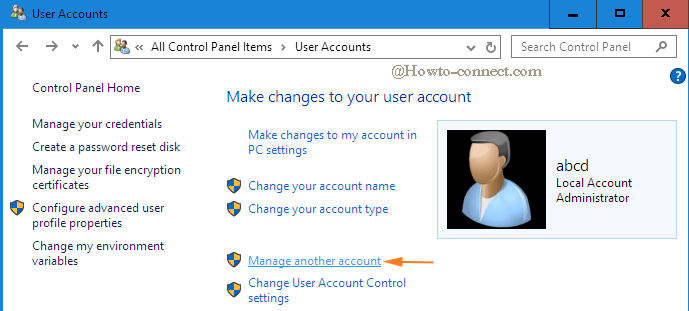 You find one administrator account without email id on the left side of its account picture. This indicates that although he is the administrator, he has not signed in with Microsoft account means he is on local account now and another is the user.
In this easy manner, you can differentiate between user account and administrator account and find out which of these are which type of account holder.