Windows 10 and 11 (including earlier versions) provide built-in repair tools to find and fix different problems. These are called Troubleshooters but sometimes you might get a weird issue when trying to run a tool from these. The tool displays a message – "An error occurred while loading the troubleshooter: An unexpected error has occurred.  The troubleshooting wizard can't continue."  The error code is 0x80070057 ERROR_INVALID_PARAMETER.
Microsoft Support Diagnostic Tool (MSDT) shows the error message while trying to run troubleshooter commonly for the users who installed KB5014699 on Windows 10 and KB5014697 on Windows 11. This issue is the result of Follina vulnerability. Using these Patch Tuesday, June 14, 2022 updates, Microsoft managed to fix the bug Follina but this is causing the troubleshooter issue. However, in normal circumstances, this error might appear due to corrupted system files or Windows image.
An error occurred while loading the troubleshooter
Here is how to fix An error occurred while loading the troubleshooter in Windows 11 or 10 –
Way-1: Uninstall Windows update
Mostly, this problem occurs after installation of the Windows update that deals with Follina zero-day vulnerability. Follina is CVE-2022-30190 Windows Support Diagnostic Tool (MSDT) Remote Code Execution Vulnerability that state-backed hackers are exploiting. Microsoft is trying to fix this bug through and an update that was released on patch Tuesday already includes a resolution. Unfortunately, after deployment of this update, several users are getting another issue related to the troubleshooter. When launching the troubleshooting tool it does not work and shows the mentioned error. However, when you remove the patch the troubleshooter error is fixed. You can follow the methods in How to Uninstall KB5014699 from Windows 10 21H2 and 21H1 for the removal moreover we are providing the steps below too –
For Windows 11 –
Press Window and I.
Select Windows update.
Click on Update history.
Scroll down to the bottom part of the Settings page and click on Uninstall updates.
On the next page, locate the KB5014697 or other that is installed recently.
Click on Uninstall link and then on popup.
For Windows 10 –
Right-click on Start from Taskbar.
Select Run.
Type – appwiz.cpl.
Hit Enter.
On Program & Features window, click View installed updates.
Find the update and select it.
Click on Uninstall.
Select Yes on the confirmation dialog.
After the update is installed you can pause the same by following any of the –
1) How to disable Windows 11 update permanently
2) Windows 10 Update Disable Tool [Download]
3) Top 10 Best Windows update blocker Software for Windows 11
Way-2: Revert back the registry change
When the Follina vulnerability was found Microsoft Security Response Center issued a guide recommending to perform a registry modification in order to disable the MSDT URL Protocol. After the change, An error occurred while loading the troubleshooter problem appeared for many users including me. So if you have followed the guide then revert back the registry change manually or you can import the backup. If you have not exported the registry then follow this method –
First of all download the ms-msdt.zip file
Extract the file.
Click on – Start.
Type – regedit.
Press – Enter.
Select Yes on UAC prompt.
Once the Registry Editor is open, go to File > Import.
On Import Registry File window, reach ms-msdt folder and double click on ms-msdt.reg.
Once Importing is completed restart the computer.
Way-3: Run SFC /Scannow to fix An error occurred while loading the troubleshooter
Now we talk about the situation when the vulnerability is not in existence and the problem An error occurred while loading the troubleshooter appears on Windows 10 or 11. In this case, the issue commonly occurs due to corruption in system files. Corrupted components might come because of conflicts between programs, presence of malware, outdated drivers or apps, etc.  Fortunately, you can repair the problem simply using System files checker which runs through elevated command prompt. Therefore, follow the guide –
Click on – Search.
Type – CMD.
Select – Run as administrator.
Choose Yes on UAC prompt.
Once on command prompt, type – SFC / Scannow.
Press Enter and give the process some minutes to complete.
Restart the computer and check the troubleshooter if running fine.
Way-4: Use DISM tool
You might be puzzled about what can you do when Windows troubleshooter can't load? Then you should know that Troubleshooter problem might annoy you when Windows image file is broken or it isn't working correctly. But nothing to worry about; DISM is a command line utility that will rectify the issue so follow the guidelines –
Follow the first 4 steps of the previous way to Open Command prompt as administrator.
Type – DISM /Online /Cleanup-Image /RestoreHealth.
Hit – Enter.
Once the process is finished reboot the PC.
Way-5: Scan for malware
We have mentioned above that a zero-day vulnerability name Follina is the root cause for Troubleshooter not starting issue. In this case, msdt.exe throws error 0x80070057 ERROR_INVALID_PARAMETER. Microsoft is trying to repair these exploitation possibilities by changing the registry. Furthermore, you should take the help of Windows security and scan the computer to check if any malware is not there.
Press Windows key.
Type Virus and threat protection.
Hit Enter.
When the Windows Security app opens, click on Scan options link.
Check the option Full Scan.
Click on Scan now.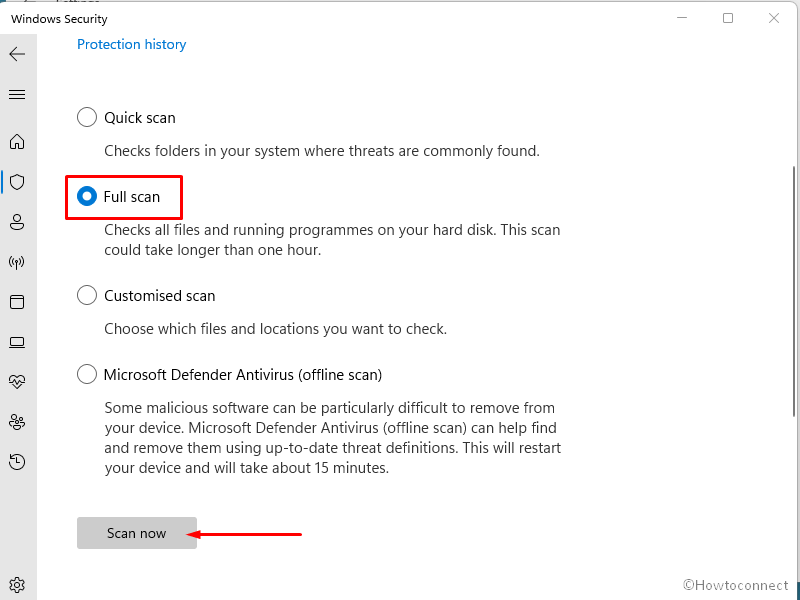 After the scanning is completed, you will get a notification telling whether any threat is found or not.
If found follow the instructions there to clean the threat.
Now launch the Troubleshooter and see if it is working well.
Methods list:
Way-1: Uninstall Windows update
Way-2: Revert back the registry change
Way-3: Run SFC /Scannow
Way-4: Use DISM tool
Way-5: Scan for malware
That's all!!
Repair any Windows problems such as Blue/Black Screen, DLL, Exe, application, Regisrty error and quickly recover system from issues using
Reimage
.