If you have been facing errors and issues with this particular process, you have visited the right place. AppVShNotify.exe is a background service, created by the giant software and is available on Windows 10/8/7. Process running with the service is popularly known as Microsoft Application Virtualization Client Shell Notifier. Application Virtualization (App-V) Client uses this service only when integrating a "virtualized application".
The current address of this file is in the subfolder of C:\Program Files as C:\Program Files\Microsoft Application Virtualization\Client\AppVShNotify.exe. Furthermore, it takes up very little space of about 226KB and works tirelessly on the background of your system. The exe files are most of the time are an executable file which makes it vulnerable to more errors.
AppVShNotify.exe Errors
Some of the most common errors you may come across with the executable files are all mentioned below. You can easily relate to it and look for the solution further.
AppVShNotify.exe - Bad Image.
AppVShNotify.exe Application Error.
AppVShNotify.exe could not be found.
AppVShNotify.exe could not be installed.
AppVShNotify.exe could not be launched. Class not registered.
AppVShNotify.exe could not be started.
There are only a few and the list is quite long and you can fix all of this by following the given list of solutions.
List of possible causes
Most of the errors by AppVShNotify.exe are during the Startup of the system. One of the possible reason is due to a faulty corrupt file that you need to replace. Moreover, if your system or drivers are not up-to-date it can cause a huge issue with not only this particular file but affects all the other operations as well.
Another possible cause for the above list of errors is when the file gets a malware or virus attacks. To understand more about this, you can take a proper full scan of the PC using Windows Security app. In fact, the first task you can do is to simply check the location of the file. If it is not present in the location mentioned above, then it could be a potential threat to the system.
Here is How to fix AppVShNotify.exe on Windows 10 system –
To get rid of these errors in the future and keep the system safe, as a user you can try out some very basic functions for recovery and restore. Let us find out some basic workarounds –
Here is how to Fix AppVShNotify.exe Errors in Windows 10 –
1] Uninstall the Application
The very first thing that you can perform in order to get rid of the file is by uninstalling it from the system permanently. You can download it in the future when needed.
Press "Win + R" to open Run dialog box.
Type appwiz.cpl and hit Enter.
Look for Microsoft Application Virtualization and right-click on it.
Click on Uninstall.
Restart Windows 10 PC to make the necessary changes.
2] Perform a Malware Scan to Fix AppVShNotify.exe errors
To check whether the AppVShNotify.exe is malware or not you can simply do a malware scan on your system. There are multiple ways to do this. You can either use good antivirus software or use the Windows Security, the built-in utility that protects your system. Some of the best software or tool that you can try out for this are the Avast Antivirus, Kaspersky, Quick heal, etc. Download any one of the following for free and run the scan.
To use Windows Security app, go through the below guidelines –
Click shield icon on the system tray to launch the tool. If you cannot see it, click Show hidden icons arrow and select the shield icon.
Go to Virus & threat protection.
Click Scan options link on the right pane.
Choose the type of scan you prefer to carry out. However, going with a Full scan will give you the best result as it will deeply scan the entire system thoroughly.
Click Scan now.
Once you see the result, take action accordingly.
3] Update your System
Many times a file is unable to perform in the best manner since it does not get the necessary updates it requires to run on the system. There are chances that either your system or your drivers are not updated completely. Here is how you can do it.
Open Windows Settings app by hitting "Win+I" keys altogether.
Choose Update & Security.
Click on "Check for Updates".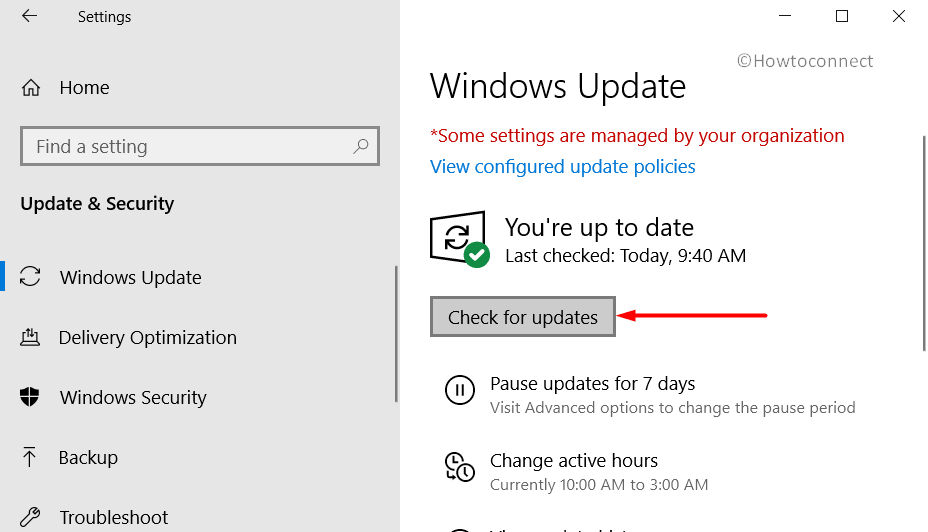 If the updates are available, click on Download to grab them all.
Reboot the device if any of the updates asks for it. This will ensure a complete installation of the updates.
That is all you can do as of now to get the AppVShNotify.exe file running without any errors. If you have any more tips that can help in recognizing and fixing errors with the aforementioned file, please share them with us.
That's all!!!
Repair any Windows problems such as Blue/Black Screen, DLL, Exe, application, Regisrty error and quickly recover system from issues using
Reimage
.