Did you confront the BSOD stop code 0xc000000e in Windows 10? This error code comes with a message Your PC/Device needs to be repaired. In this case, when you try to load the operating system, it fails to load even after multiple attempts. The main reason behind this error might be corrupt\missing system files or driver. Here in this article, we will discuss some easy and useful workarounds to resolve this specific BSOD issue.
To avoid this error, foremost open your PC in Command Prompt using Advanced options as your system had stuck and is not able to access any application. Under this prompt execute some commands such as SFC, DISM and Boot Configuration file. These tools help to repair the missing system files and resolve it back to normal condition.
BSOD 0xc000000e Your PC/Device needs to be repaired Windows 10 Solutions
Here is BSOD 0xc000000e Your PC/Device needs to be repaired Windows 10 –
When Blue Screen of Death error attack on your PC you are unable to sign in. So firstly open your machine's troubleshooter to repair corrupt system files. Here we will discuss some useful workarounds which help you to identify computer's problem and remove this issue thus making your system free of error code 0xc000000e. But, you need to first Open Command Prompt using Advanced options by going through the below-given series of steps.
Step-1: First of all, disconnect all external devices then insert "Windows 10 installation media" like DVD or USB into their respective port and restart the problematic PC.
Step-2: Simultaneously press any of the function keys like Esc, Delete, F2, F8, F10, F12 or Backspace again and again. It depends upon your computer's model. This process will open your system into boot mode.
Step-3: Henceforth press Next button on the prompt and choose a specific language according to your preference and again hit Next.
Step-4: Move the cursor to the bottom left of the screen and do a click on Repair your computer option.
Step-5: Go ahead and click on the Troubleshooter then select "Advanced options" from the list of three options.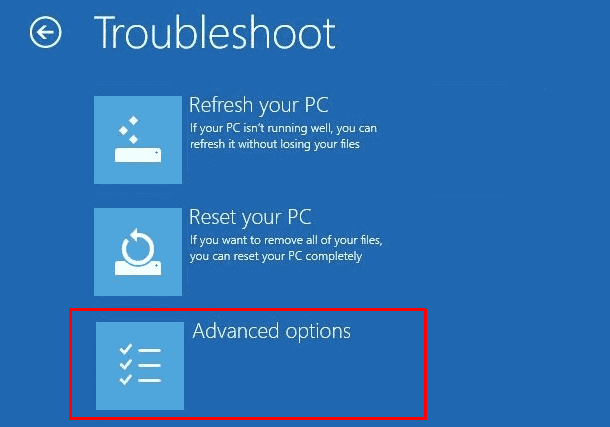 Step-6: Finally hit on the Command Prompt and try the below given Windows repair tools to avoid "Your PC/Device needs to be repaired Windows 10" issue.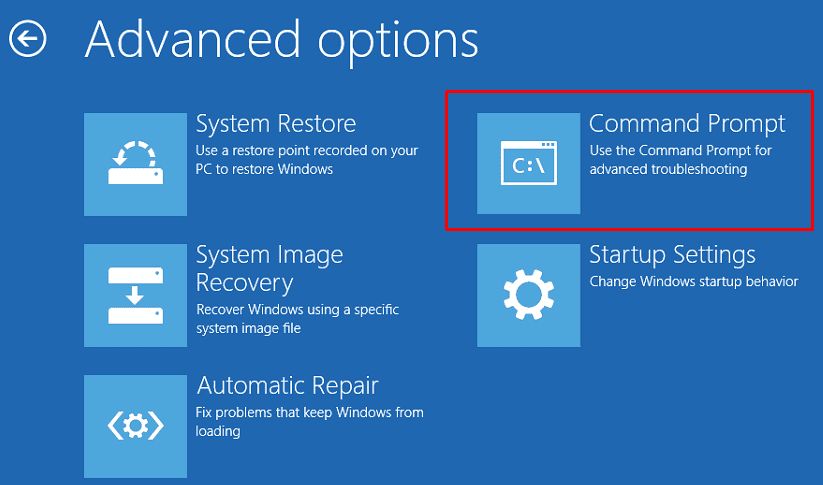 Once the Command Prompt opens up then carry out these fixes to resolve BSOD error code 0xc000000e.
Run System File Checker (SFC)
The SFC is a utility command which repairs corrupt Windows system files or Drivers. Here is how to execute-
On the Command Prompt that you access, type in the given command and hit Enter.
sfc /scannow
Wait for few minutes until the scanning process completes 100%.
See SFC /Scannow, DISM.Exe, CHKDSK Windows 10.
Execute DISM command
Just like SFC, the Deployment Imaging and Servicing Management (viz. DISM) command is also a utility program. Basically, it scans Windows system image and cleans up the faults when it detects them.
There are three tools which should be run under DISM –
1. ScanHealth: This tool works as Windows image checker component if any available in PC. Type the following on the advanced options Command Prompt and hit Enter to execute it right away.
Dism/Online /Cleanup-Image /ScanHealth 
Wait for approx. 10-15 minutes to complete the scan.
2. CheckHealth: This code tries to find out the bug causing component if available in the registry. To carry out CheckHealth code copy/paste the given command and press Enter.
Dism /Online /Cleanup-Image /CheckHealth
This step only takes one or two minutes to complete the process.
3. RestoreHealth: This utility not only checks the trouble but also rectify the corrupt images when detects any. To proceed copy-paste the given command and hit Enter. 
Dism /Online /Cleanup-Image /RestoreHealth
This step will take 15 minutes or more (depends upon the level of corruption) to complete the process.
Note: Although first and second code works to check the corruption in Windows images but don't perform repairing of the fault concerned. Their job is to identify the problem and the third code will try to repair the issue at hand.
Now close the Command Prompt and try to install Windows 10 again. Hope after running these command the error "Your PC/Device needs to be repaired Windows 10" will eventually disappear.
Repair Boot Configuration file BCD command
The MBR identify the main culprit behind the occurring issue BSOD with error 0xc000000e and try to rectify the issue if any present. To run this Windows repair tool open Command Prompt by following the above method. Type or copy-paste the given code on the prompt then hit Enter after the end of each command.
Bootrec.exe
bootrec /FixMbr
bootrec /FixBoot
bootrec /ScanOs
bootrec /RebuildBcd
After successfully executing the code without any trouble close the Command Prompt. Then try to open your PC in the normal way and hope your PC run smoothly.
Using Diskpart
You can also use the Diskpart function to solve this error. Note that this would work only on UEFI supported systems.
At first, type or copy/paste these two commands on the Command Prompt and press Enter after each one. The commands are:
Diskpart
List Volume
Now select the volume which is labeled as ESP. EFI or ESP System Partition is that partition of HDD or SSD where you can find the stored UEFI i.e. "Unified Extensible Firmware Interface".
Select the respective Volume. Again you need to assign a letter to it. Let's say your Volume is 3 where UEFI adheres and you want to assign it to "p". Therefore select Volume 3 then assign letter=z.
Now type Exit on the Diskpart and hit Enter.
Again type the following command in the Command Prompt.
bcdboot C:\windows /s z: /f UEFI
At last reboot your PC and hopefully this will bypass BSOD 0xc000000e Your PC/Device needs to be repaired Windows 10.
Utility tools to solve this BSOD:
Repair any Windows problems such as Blue/Black Screen, DLL, Exe, application, Regisrty error and quickly recover system from issues using
Reimage
.