Few users are complaining that they can't open MP3 and getting error Oxc00d11d2 after they have upgraded their PC to Windows 10. When they try to open the folder in which the file is stored the error comes out. The reason for this issue is either Enhancement of the Sound effect of the Speaker which does not support the file or corrupted database in the Window Media player library.
We are writing there the fix for both the issues. Attempt the first one. If it does not work for you then try the second which will solve the issue. Follow the rest part of this post to Fix Cannot Access MP3 After Upgrade To Windows 10.
How to Fix Cannot Open MP3 After Upgrade to Windows 10
1. Disable all types of Enhancements
Execute a right-click on the Speaker icon lying on the right side of the taskbar and press Sounds.
Sounds Tab opens up as default .but you need to hit Playback. In the Playback tab right click on the Speaker and go with Properties.
Properties of your Speaker prompts. Tap on the Enhancements tab.
On the emerged Window uncheck all the boxes and also the box against Intermediate mode.
Finally, click Apply followed by OK.
Reboot your PC.
If this fix does not work for you follow the next one.
2. Clean the Corrupted Database in Windows Media Player library
If the issue persists then you will have to work on Windows Media Player Library database. One cause of this issue is the corrupted database. So you need to clean all the files by deleting all together at a time. Don't worry to create new database. When you will open the Windows Media player it will create on its own. Follow the steps below:
Open run dialog box (Win+R) Copy the path given below and paste after then hit Enter:
%LOCALAPPDATA%\Microsoft\Media Player
A folder having the database will open up. Select all the files and folders here and delete.
Close the folder and run the MP3 file you desire for.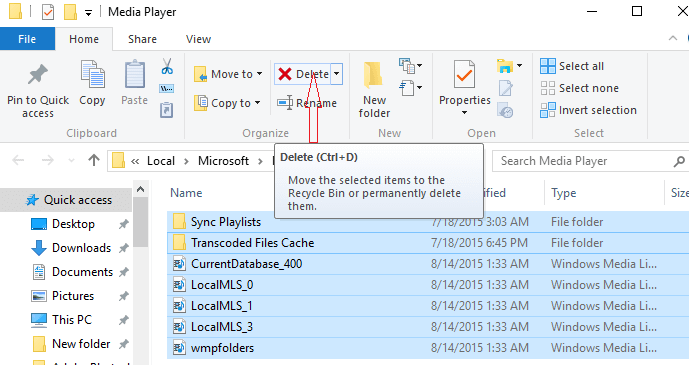 These either of two processes will Fix Cannot Open MP3 After Upgrade to Windows 10.
Repair any Windows problems such as Blue/Black Screen, DLL, Exe, application, Regisrty error and quickly recover system from issues using
Reimage
.