Edge, the browser of Windows 10 was out for Insiders much before the final release and after the upgradation, everyone is aware of it moreover, enjoying its full-fledged features. However, few users are confronting a cookies issue on Edge whenever they attempt to sign in to a particular website through other than a Microsoft accounts. After providing their account particulars, they get a message like cookies must be allowed. Therefore, taking this issue into concern we will show you how to fix cookies must be allowed in Edge on Windows 10.
Lets' say you want to log into Windowscentral.com. When you proceed to sign in, you are bestowed with Microsoft account, Facebook account, google account, and Twitter account to use it as a base. You can take help of any of the accounts to sign in. But after you enter your account's credentials, you get reported a cookies message that blocks the web page to proceed. Different accounts display different messages.
Microsoft says "cookies must be allowed",
Google warns by saying "your browser seems to have cookies disabled",
Facebook displays "cookies are not enabled on your browser" and
Twitter simply says "Sorry! that page doesn't exist!".
So, if you also faced some messages like this, we bring you a way out. Let us head forward and see how to fix cookies must be allowed in Edge on Windows 10.

Related:
How to Block All Cookies in Edge in Windows 10
How to Fix Cookies Must be Allowed in Edge on Windows 10
Unroll the Edge browser on your monitor and click More actions button that is presented at the far right top bar of the browser.
Be into the end most point of the opened bar and click Settings.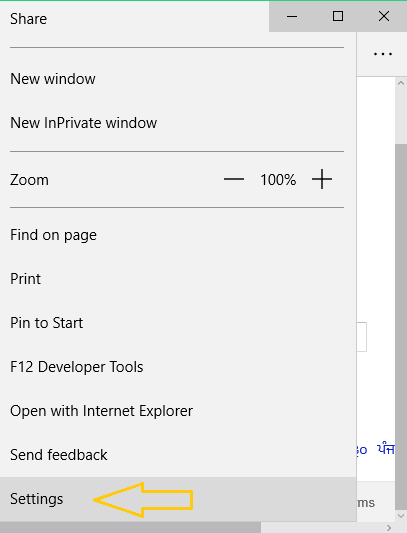 Get to the extreme down and conduct a click on View advanced settings.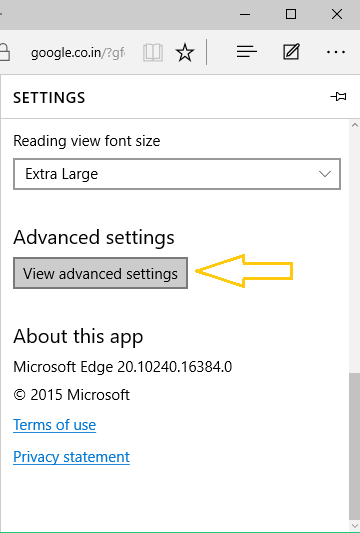 Move downwards and you will face a setting called Cookies. Stretch its menu and select the setting called Don't block cookies.
That's it!!! Now provide your credentials and you are in!!!!
Cheers!!!
Cookies are the important stuff of your system that creates a link between your system and the web page that you want to enter. They are nothing but tiny text files preserved on your PC that conveys the sites and services you are signed in. So, we hope this tip will assist you in overcoming this trouble. Give it a shot and see how your trouble is fixed.