Error 0x80070017 in Windows 10 April 2018 update interrupts installing updates on the system. The root cause behind this stop code might be a misconfiguration of services, WiFi or corrupted cache files. However, few users are even complaining that this particular issue also appears on older versions of Windows.
While dealing with this specific problem, some experts are with a view that broken Windows Update components can also be one of the factors for its occurrence. So, we suggest you a wide range of fixes that will help you to bypass Error 0x80070017 in Windows 10.
See another similar fix 0x800f0900 Windows Update Error in Windows 10 April 2018 Version 1803.
Error 0x80070017 in Windows 10 April 2018 update version 1803 Solutions
Here is how to fix: Error 0x80070017 in Windows 10 April 2018 update Version 1803
Fix-1: Disconnect peripherals and external USB devices
Step-1: First of all, reboot the problematic device a couple of times. After restarting it, ensure to disconnect all the peripherals, except mouse and keyboard.
Step-2:  Now disable your internet connection and proceed with the Windows update installation until it reaches 100%.
For reference, read How to Fix The Computer Restarted Unexpectedly Loop in Windows 10.
Fix-2: Run Windows Update Troubleshooter
Windows 10 provides various troubleshooting options which can settle different issues popping on your PC. Using this is very easy and if you are dealing with error 0x80070017 in version 1803, this might be a good time to check this out too.
Press Win+I hotkeys jointly to open Windows Settings. Once the Settings app opens up, navigate to Update & security section.
Here in the left pane, click on the Troubleshoot option. Switch to the right pane and locate Windows Update.
Now click on Run the troubleshooter button and follow the onscreen instructions.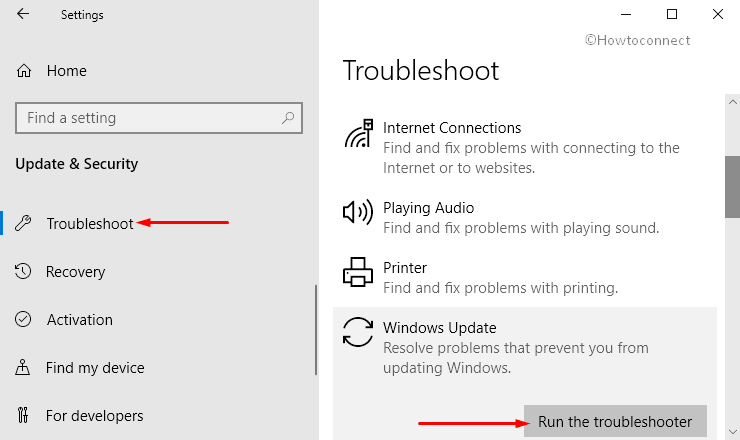 Once the troubleshooter job gets over, see if the Error 0x80070017 in Windows 10 April 2018 update continues to occur or not.
Fix-3: Reset Windows Update components
If the issue continues to persist even after running the troubleshooter, give an attempt and "Reset Windows update components". It might be that Windows update components are not functioning as they are supposed to be. Try resetting them by following the below-given steps.
Make a combined hit on "Windows and R" keys to open Run dialog box on the PC screen. Type cmd in the text box, then hit Ctrl + Shift + Enter. Upon the prompt of UAC, hit Yes to proceed.
See our full detailed article Open Command Prompt as Admin From Run Dialog in Windows 10.
Once it opens up, run these commands one by one. Here, ensure to hit Enter after each command.
net stop wuauserv
net stop cryptSvc
net stop bits
net stop msiserver
Ren C:\Windows\SoftwareDistribution SoftwareDistribution.old
Ren C:\Windows\System32\catroot2 Catroot2.old
net start wuauserv
net start cryptSvc
net start bits
net start msiserver
Performing these commands in the same sequence will restart all the Windows-related update services. Executing these will eventually bypass Error 0x80070017 in Windows 10 April 2018 update.
Fix-4: Perform chkdsk scan
For a substantial number of users, the error 0x80070017 may occur because of a corrupt disk or system file.  Therefore, simply by scanning the entire PC with chkdsk command will help you in dealing with this specific update error.
Access Run dialog box by using Win + R hotkeys in one go. Type in cmd in the box and combinedly hit Ctrl + Shift + Enter keys. In case you come across UAC prompt, click Yes.
Here, type or copy/paste the following command and press Enter.
chkdsk /f X:
Note: Ensure to replace the letter X with the Drive letter on which the OS is installed on your PC.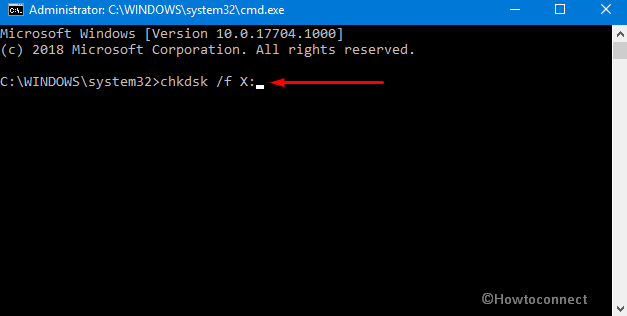 Now you will get a message on screen "If you want to schedule a chkdsk scan once the PC restarts", hit Y and restart your PC.
Once the scan finishes completely, you should not get further errors.
Also follow SFC /Scannow, DISM.Exe, CHKDSK Windows 10.
Fix-5: Disable third-party antivirus
Several users have mentioned on different forums that their antivirus is interfering with their system and lead to this error 0x80070017 in Windows 10. Therefore, just disable the certain features of antivirus and see whether the issue still persist or is gone.
If the Stop code 0x80070017 in Windows 10 still exists, try disabling the antivirus entirely. The next step would be to completely uninstall the antivirus. Your system will be protected by Windows defender hence there is nothing to worry about uninstalling antivirus completely from your system.
If it solves this error code on your PC, it is good time to switch to some different third-party antivirus or else you can even rely on Windows defender security settings. It is a quite improved antivirus and provides a lot of features.
Fix-6: Install the updates manually
If Windows Update fails to download with an error 0x80070017, give an attempt to grab the updates manually.
At first, go to the Microsoft Update catalog website and type the update code in the search bar.
It will provide you a list which is categorized in numbers starting with initial KB.
Locate the KB number and click the Download button that appears next to it. Make sure to check everything like bit size, OS etc as it should match with the system configuration.
Once the update is downloaded, double-click on the set up file and follow the on-screen instructions.
Note: Following this solution won't solve the core problem of your PC, however, you will be able to get an update on the system.
Fix-7: Update your drivers
The outdated and corrupt hardware driver may cause error 0x80070017 in Windows 10 April 2018 update. Hence, the possible solution to get rid of this issue is to update your drivers manually.
Do a right-click on Start icon on the taskbar and pick up Device Manager from the list of options.
Here, one by one expand the sections to update each and every driver.
To do so, right-click the device and choose Update driver option.
After updating the drivers, check whether you still continue to receive the error or not.
Fix-8: Conduct a Clean boot
If you suspect other drivers and applications are culprits for occurring of error 0x80070017 in Windows 10 April 2018 update performing clean boot is a good option to resolve this bug from PC.
At first, make a right-click on Start icon and select Run. Once the Run dialog shows up on the PC screen, type msconfig and hit Enter.
Explore more 7 Ways to Open System Configuration in Windows 10.
Doing this will open System Configuration. Switch to the Services tab and mark against the checkbox "Hide all Microsoft services" and press on Disable all button.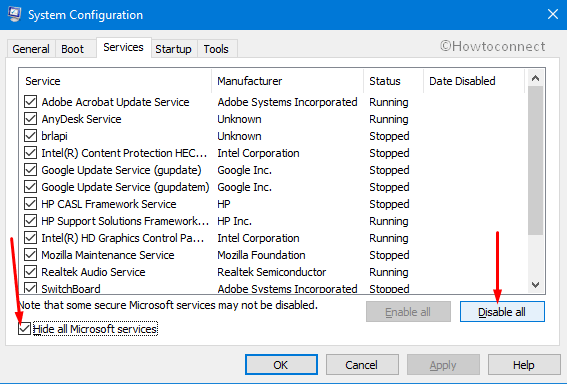 Again click on the Startup tab and go ahead to open Task Manager.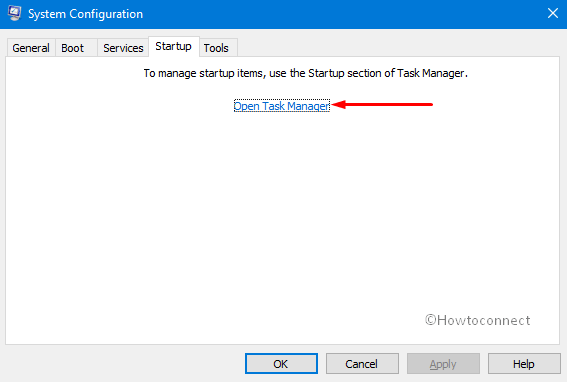 On the Task Manager, put a right-click on the individual application and choose Disable option.
Repeat the above process until you disable all startup applications.
When all startup applications are disabled, return to the System Configuration tool and hit Apply then OK button.
At last, restart your system.
Now you will be able to download the update.
Fix-9: Install Windows 10 April 2018 update from USB
Another alternative way to get rid of error 0x80070017 is to Install Version 1803 Windows 10 April 2018 Update from USB.
But while doing so, ensure that you are not using a faulty installation media. This will assist you in installing the updates successfully without the occurrence of further updates.
Fix-10: Do an in-place upgrade
If you have applied the above process and the error 0x80070017 is still creating a problem then you can perform an in-place upgrade to resort the bug. The place upgrade process will install the latest version of Windows with relevant driver and keep all applications associated with it.
You have to go through the following process to perform an in-place upgrade in PC:-
– At first, download and install the "Media Creation Tool". To so so, visit this link and click Download now button. This is visible underneath the heading Create Windows 10 Installation Media.
– Now run the tool and select the option Upgrade this PC now and henceforth click Next. Wait for few seconds while the setup prepares the necessary files.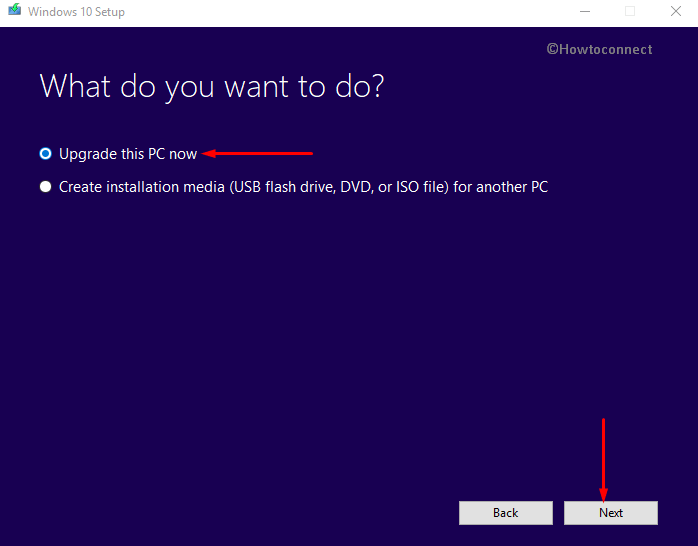 – Here click on the option Download and install updates (recommended), click Next.
– Follow the onscreen guidelines carefully until you come across "Ready to install" screen. Here, go ahead with Change what to keep.
– Moving further, choose the option namely "Keep personal files and apps" and henceforth click Next.
– Lastly, observe and follow the instruction to finish the process.
If the above process is performed without any trouble, you are now able to install the latest version of Windows with the driver as well as files and programs required for the computer.
Wrapping up
Hopefully, the above-mentioned fixes will help you out in dealing with Error 0x80070017 in Windows 10 April 2018 update version 1803.
Repair any Windows problems such as Blue/Black Screen, DLL, Exe, application, Regisrty error and quickly recover system from issues using
Reimage
.