In recent days, people from all corners are a bit shocked with annoying Error 0x800f082f in Windows 10. The issue is quite unknown and as a general solution, you might attempt to get rid of it by reinstalling the operating system, but to be frank, you are living in a lie in this prospect. IT professionals could resolve this nag using a workaround. The issue usually appears while installing updates, Service packs, and roles or some other Windows components. Once your machine is hit by error 0x800f082f, CBS.LOG file is prone to create an error and that appears in a one-line text seems like following –
Exec: Cannot finalize session because an exclusive session is pending. [HRESULT = 0x800f082f – CBS_E_EXCLUSIVE_WOULD_MERGE].
Error 0x800f082f in Windows 10 needs to be resolved on immediate effect. IT experts failed to fix this issue with so many active processes and finally found only tweaking the Registry entry can resolve it. Let's see the whole thing in the following writing.
Error 0x800f082f in Windows 10 Solutions
Here is How to Fix: error 0x800f082f in Windows 10 –
Solutions like Run SFC /SCANNOW, rename Software Distribution folder, Perform DISM for Roll Back doesn't work. Moreover fix for update failures, Reset Windows Update issues (KB971058) or Run Readiness Tool (KB947821) are also worthless. So we focus on the Registry entries to get the perform resolution process. Let's move through the following procedures –
Step-1: Hold the Windows and Press R key from the keyboard to invoke Run dialog on screen.
Step-2: Type Regedit in the text box located next to Open and click on OK to proceed.
Step-3: Once UAC seeks your permission to access Registry Editor, hit Yes to launch it.
Step-4: Once moved to the Registry Editor page, proceed with the following path –
HKEY_LOCAL_MACHINE\SOFTWARE\Microsoft\Windows\CurrentVersion\Component Based Servicing\SessionsPending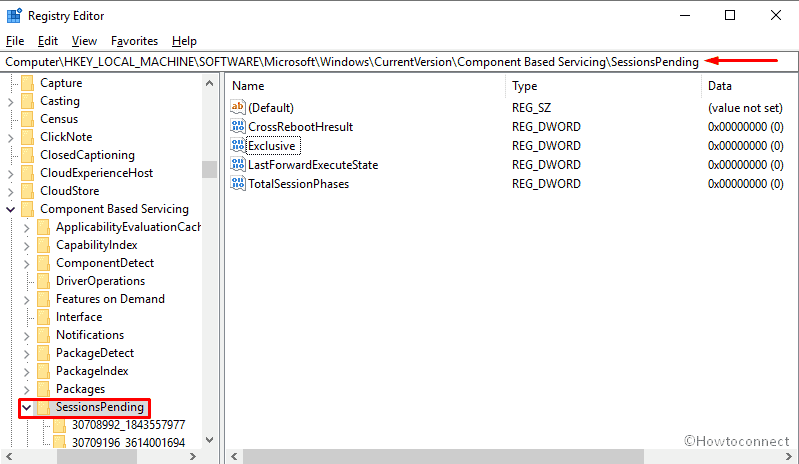 Step-5: Upon reaching to SessionsPending, shift to the right-pane.
Step-6: Reach out to Exclusive and put a double-click on it to Edit DWORD (32-bit) Value for it in an expanded window.
Step-7: Put value data 00000000 replacing 00000004 and click on Ok to proceed.
Step-8: Follow the same process as Step-6 for TotalSessionPhases and put 00000000 Replacing 00000001 in the value data box. Choose Ok to save the change.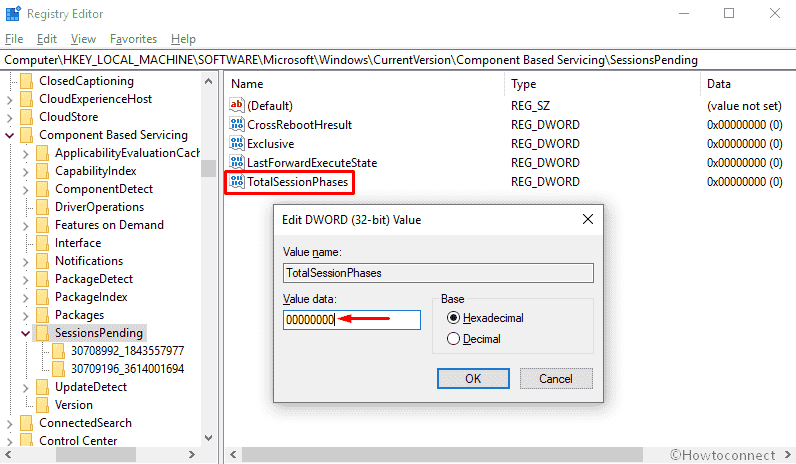 Step-9: Perform a Reboot to the Server and check for the existence of the issue.
If everything goes right, you won't see anymore the Error 0x800f082f in Windows 10 and hence the issue is finally resolved here. For more confirmation, you can now attempt to have Windows update, hopefully, it will work flawlessly. Since you have to work on the Registry entries, if you are not confident enough, seek help from the professional to avoid any further damage to your Windows.
Why the resolution is so demanding?
Error 0x800f082f in Windows 10 is necessary to resolve as fast as possible since it might cause following issues –
That's all!!!
Repair any Windows problems such as Blue/Black Screen, DLL, Exe, application, Regisrty error and quickly recover system from issues using
Reimage
.